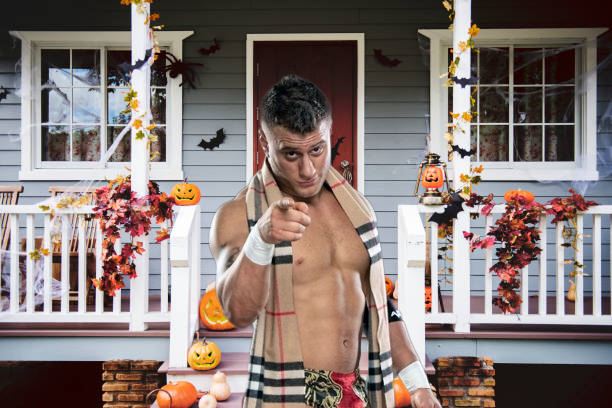 Plainview, NY – AEW star MJF has released his tips for children to have a safe Halloween. Feigning concern for young trick or treaters, MJF addressed the fans on Dynamite, giving several morally wrong and dangerous pieces of advice.
"I want to tell you kids something because kids mean nothing to me," said MJF with a sneer. "I hate bunches of them."
"There's a couple of rules you follow when it comes to Halloween," instructed Casino Ladder Match poker chip holder. "And these are the rules and you're going to follow 'em cause MJF says so and really, who are you going to listen to? Your stupid mom? Your deadbeat dad that went out for cigarettes three years ago and never came back?" laughed MJF cruelly.
"First of all, when you go out there, you're going to wear something neon 'cause it's dark and you want everyone to see that you're a giant nerd . There's idiots driving cars. And them idiots are going to run you over because you have bad taste in clothes.
"Some of them don't care, especially me. If any of you twerps get blood on my vintage Plymouth Prowler, there will be hell to pay," warned MJF.
"You're going to take care of yourself since no one else is going to do it. Now, you're going to go and knock on people's doors that got lights so you can see. That's why you're not going to Jon Moxley's house since he can't afford to pay his electric bill. Go inside people's house when they offer you candy or close the door because at least you'll end up on the news," he laughed despicably.
"You're going to stay on the doorstep and you're going to say 'Give me all your candy' and you're going to say 'Or else' and 'Up yours'," ordered MJF.
"Now, when you get all your candy, what you're going to do is you're going to take your candy back home to your parents because you don't deserve any. Your parents are going to send their candy to me and I'm going to eat it while you cry like little babies. Then I'll say 'Happy MJF-oween and 'I'm better than you and you know it'. See you all next week."
The horrible instructions received a loud babyface reaction from the AEW audience.