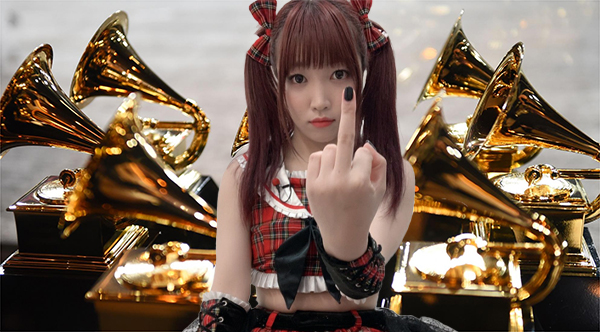 Los Angeles, CA – AEW star Maki Itoh shocked the music world last night by taking home every single Grammy award.
The 63rd Grammy Awards, held at the Los Angeles Staples Center, was unlike any other award ceremony in recent history. Due to the pandemic, most nominees were either social distanced or not physically present. The sparse audience allowed the wrestler and former idol to make her move.
The show opened with a video package of how the pandemic has affected the music business. Following the video, host Trevor Noah addressed the audience, making several painfully unfunny jokes. Suddenly, a gleeful 'Itoh-chan!' boomed over the Staples Center speakers, interrupting Noah.
"Good evening, motherfuckers!" shouted a smiling Itoh. The "Fired Idol" performed her hit song "Brooklyn The Hole" to the confused audience. Itoh's infectious harmonies and smooth choreography stunned attendees long enough for her to scoop up a bunch of Grammys and run off.
Itoh would return several more times throughout the night to steal the awards. Each time, Itoh would viciously bonk Noah on the head with her microphone, thank the audience with a string of expletives, and skip off stage with her award.
Following the ceremony, Itoh said, "Piss on Doja Cat and shit on Justin Bieber." 'The Cutest In The World' extended both middle fingers and winked.
Music and wrestling fans have already started a petition to have Maki Itoh host next year's Grammys.