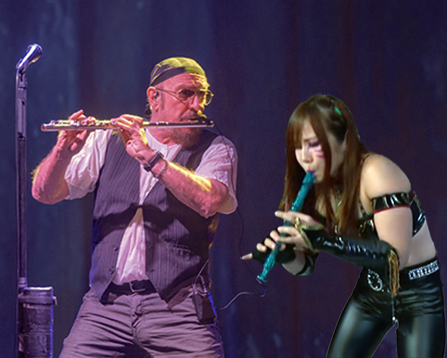 Orlando, FL – WWE Superstar Kairi Sane has officially joined British classic rock band Jethro Tull as their new flutist.
At last Monday's Raw, Sane honored her friend Asuka's WWE Raw Women's Championship coronation with a beautiful flute solo. Though it was interrupted by Nia Jax, the brief concert did not go unnoticed in the music world.
"She really was quite remarkable," said Jethro Tull leader Ian Anderson. "Her talent was obvious and her passion for the instrument was unmistakable. It was the notes she was playing and the notes she wasn't playing. Masterful!"
Although social distancing has prevented Sane from meeting with the group in person, she has practiced with them via Skype.
"At first, we were a little unsure, but once she played 'Bungle In The Jungle' while delivering an Insane Elbow, I knew we had to have her in the band," said drummer Scott Hammond.
"Playing their flute while standing one leg won Tull a Grammy. I can't imagine what heights we'll reach when she 'walks the plank'!" wondered keyboardist John O'Hara.
"Hello, Aqualung!" said Sane gleefully after finding out the band wanted her to join.
Not to be outdone, Nia Jax has been practicing the cowbell in hopes of joining Blue Oyster Cult.