Montreal, QB – WWE Superstar Sami Zayn hosted The Bloodline for Thanksgiving last week to rave reviews. Despite Thanksgiving taking place in Canada on October 9th , Zayn went all out for his adoptive family.
Roman Reigns, Jimmy and Jey Uso, Solo Sikoa, and Paul Heyman arrived at Zayn's modest condo on Thanksgiving Day ready to celebrate. Zayn, wearing a frilly apron, greeted his guests and welcomed them into his humble abode. Jimmy and Silo received complex high fives, Heyman a firm handshake, and Roman Reigns was given a bottle of vintage maple syrup. Jey Uso glared at Zayn before moving past him and turning on the television trying to find a football game.
"Sorry, Jey, the Alouettes aren't playing today," explained Zayn, taking a fresh pumpkin pie out of the oven. "I think I think the Chicoutimi Saguenéens might be playing the Gatineau Olympiques."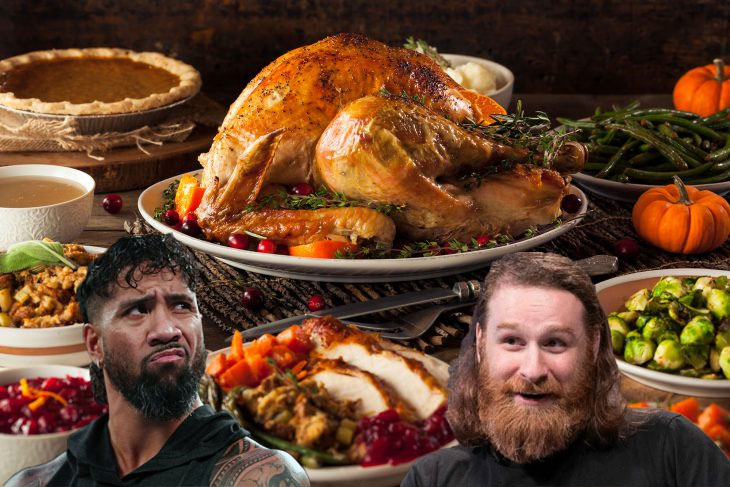 Jey threw the remote down in disgust and looked at his phone instead of watching French-Canadian minor league hockey.
Before setting the table, Zayn set the mood by putting on a record by beloved Montreal ska band, The Planet Smashers. The former Intercontinental Champion enthusiastically skanked to the delight of Reigns, Jimmy, and Solo, the confusion of Heyman, and disgust of Jey.
"Now, fellas, I know you do things a little differently for Thanksgiving, but I think you'll really enjoy what I've done," said Zayn proudly. The group gathered around the table, ready to eat.
"We've got all-natural organic cranberry sauce. I picked out all the seeds cause I know the Tribal Chief doesn't like them. The savory cornbread stuffing is homemade. Fried asparagus for Paul. I know how to get you to eat your greens, don't I, big guy? Oh! And I yeeted the potatoes myself! The piece de resistance is this lovely 10-pound Tofurkey. Bon Appetit!"
The skeptical group slowly dug in to their festive dinner. Their skepticism soon melted away as the flavors danced on their pallets. Even Jey enjoyed the Waffle House hashbrowns that Sami had flown in overnight.
"Do you like the Tofurkey? Would you say it's juicy? Or perhaps even…Ucey?" asked Zayn, a slight smile on his face.
The group exchanged glances, desperately trying not to laugh. Despite their differences, the group came together and had a lovely evening. Even Jey managed to have a mildly tolerable time. They all agreed to meet at Reigns's house for Christmas in a few weeks. Zayn is hopeful that he won't have to sit at the kid's table.