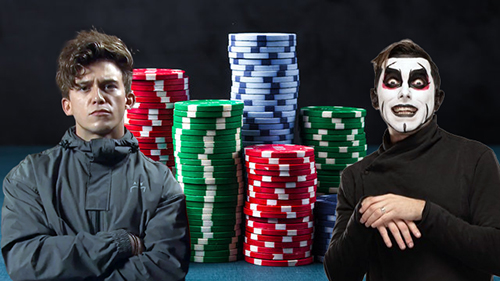 Las Vegas, NV – After their match at Double Or Nothing, AEW star Hook gambled away his teammate Danhausen in a game of blackjack.
The Diametrically Opposite Duo hit the blackjack table to celebrate their first pay-per-view match together. Or, more accurately, Hook went to play blackjack and Danhausen appeared from beneath the table.
"Hit me. Hit me. Please hit me," Danhausen kept repeating despite not actually playing.
Hook smacked Danhausen in the back of the head.
"Thank you, Hookhausen. I feel much better now! Here, have some more chips!" shouted Danhausen, sprinkling Herr's Creamy Dill Pickle potato chips on top of Hook's poker chips.
Unfortunately for Hook, Danhausen's intrusion turned his luck for the worse. Losing hand after hand, Hook pushed all of his remaining money in. To sweeten the pot, Hook also included Danhausen in his bet.
"Very sad. Very betrayed," said Danhausen dejectedly as he got up on the table.
A crowd of onlookers gathered around the wrestlers as Hook first received a King. Danhausen bit his fingernails as Hook received a Queen, giving him a total of 20. The dealer, improbably, received the same. Knowing his tag team partner was in trouble, Danhausen cursed the dealer. Sadly, the curse reflected off some gaudy jewelry from an onlooker and bounced back to Hook, who drew a Pokemon card.
"Oh, fiddlesticks," said Danhausen nervously. "I hope Robert Redford is nice."
Hook gave a casual head nod to Danhausen as he was being dragged off by security. Following several seconds of concern, Hook shrugged and left, heading towards the dirtiest strip club in Las Vegas.
Danhausen is currently property of the Bellagio Hotel and Casino. His duties include greeting guests, cursing gamblers, and some light typing.