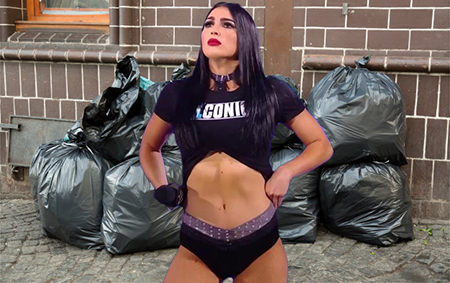 Sydney, FL – A garbage bag full of former WWE Superstar Billie Kay's personal belongings was accidentally sent to a Sydney, Florida resident late last week.
WWE recently came under fire after former wrestler Mickie James posted on social media about the billion-dollar company sending her personal items in a garbage bag. It appears that the same uncouth tactic was used for several future-endeavored wrestlers. This bag in question, arrived Friday at the doorstep of local resident William "Billie" Kay.
"I thought some kids left it as a joke," said the 47-year-old insurance salesman. "Y'know, like the flaming bag prank? Upon closer inspection, I saw 'Billie Kay, Sydney' written on the side of the bag. Well, I'm Billie Kay and this is Sydney, so I opened it up and took a look inside. Frankly, I was surprised and a little confused."
Contents of the garbage bag sent by WWE included Kay's wrestling boots, several lipsticks, glossy 8x10s, a pile of resumes, and a 'Pobody's Nerfect In Australia' hat.
"I don't have much use for this sort of stuff. I'm just going to hold on to it until someone from WWE comes to pick it up," said Kay. "It's all there. Nope, not keeping a thing," said Kay adjusting the Maleficent-style headgear similar to the one Billie Kay wore at Wrestlemania.
Upon learning that her property was sent to the wrong address, Billie Kay left a brief statement on her Instagram.
"I am iconic (dramatic pause) and this is no way to treat someone with a resume such as my own. I blame this entirely on Kayla Braxton. Hey, Kayla! You've got to be joking me. Also, it's Cathy Kelley's fault too! Good job, Captain Obvious! You've got to be joking me as well. You're all joking me!"