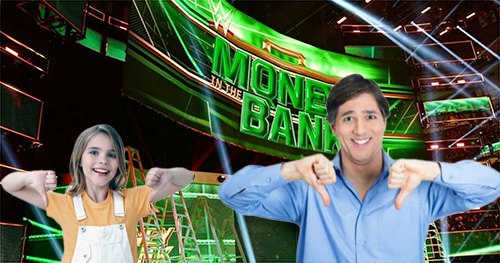 Fort Worth, TX – WWE fans were elated to finally see WWE events live this weekend and boo the product vociferously.
Following over a year of pandemic protocols, WWE has opened its doors to the general public for live events. After enduring cinematic matches, arson, zombie attacks, and magic, fans now have the chance to see their favorite WWE Superstars in person.
As fans filed into the arena to watch Money In The Bank, several people expressed their eagerness to jeer the company they supposedly love.
"This has been an awful year and WWE booking has only made it worse," stated Anthony Kim. "I've been saving this up for months: Boooooooooooooooooooooo!"
"Do you know how hard it is to sit through every Alexa Bliss segment?" asked Yolanda Beers. "Week in and week out, appearing on the ThunderDome and all I could do is give a thumbs down. Not anymore! I can't wait to give a thumbs down in public!"
"It was totally worth spending all my rent money on a front-row ticket," beamed longtime fan Joshua Mazer. "Worth every penny to tell this company they suck."
"I'm really going to stick it to these stupid idiots," laughed Emeliana Sierra, her arms full of WWE merchandise.
Not all fans in attendance were looking to voice their displeasure with the company.
"Have the past few months in WWE been perfect? No, but that's okay. They've done more than enough," stated Edgar Summers, tears welling in his eyes. "They've been there when the fans needed them the most. Each and every wrestler committed themselves to entertain us in the darkest of times and we should show our appreciation. And that's exactly why I'm going to toss this bucket of rotting fish heads at Seth Rollins."