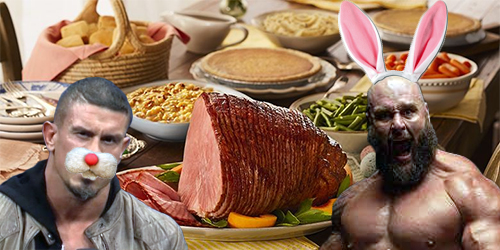 Nazareth, PA – Upstart wrestling company Control Your Narrative celebrated the Easter holiday weekend with a special event that managed to offend everyone.
The event, dubbed "Easter Feaster", took place in front of a capacity crowd of 49 people at the Nazareth Community Center Annex Room B. Fans expecting to see grappling and hard-fought victories were instead subjected to what the company says is a "blend of professional wrestling, cinema, and harsh reality."
The event started with EC3 being attacked by masked wrestlers labeled "Woke" "College Students" and "Banned Books". The beatdown ensued for several agonizingly long minutes until he was saved by three other masked wrestlers named "Freedom" "Purpose" and "Control". The on-the-nose superliminal display was met with mild confusion from the crowd.
Following the opener, Adam Scherr, formerly known as Braun Strowman, chased a man in a bunny costume around the ring for several minutes. While many believed this to be a comedic gag, laughs turned to screams as Scherr ripped the bunny's head off and began drinking liquid chocolate out of it.
"That's for Bugs Bunny putting on a wig and looking hot and making me feel all confused!" shouted Scherr, chocolate dripping from his beard.
Even the Kids Egg Hunt during intermission was marred with problems. Instead of candy, fans found the eggs stuffed with copies of the Epoch Times. Complimentary Easter baskets handed out contained jellybeans with obvious bite marks and melted chocolate. When a child complained, Austin Ares barked "Welcome to the real world, shorty!"
Things really fell apart when half the audience left during "The Last Supper Food Fight". The smaller-than-average ring made it difficult to place food on two card tables. Plates and bowls clattered to the canvas with every maneuver. Killer Kross powerbombed Josh Woods through the table, sending a bowl of bean stew flew into the crowd.
"I don't mind blood and guts, but I draw the line at bean stew," said one messy attendee.
"Freedom of expression is something I strongly believe in, which is why I like CYN," said 43-year-old Bert Roy. "No one told me there was going to be olives present. Frankly, I am disgusted and ashamed."
The event ended with Flip Gordon leading the crowd in an extended version of the Star-Spangled Banner. A retelling of the Ten Commandments by former WWE star Brian Kendrick was thankfully cancelled.
Show sponsor PragerU considered the event a huge success. The organization plans to sponsor CYN's next event, "I Don't Care If This Is A Wendy's, I Want A Whopper!"