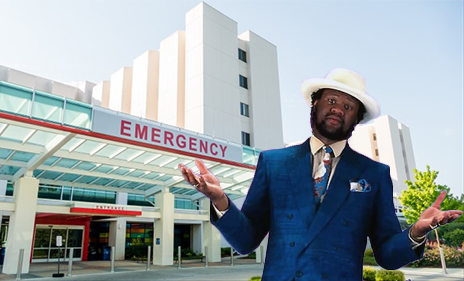 Louisville, KY – Legendary WWF manager Slick, commonly known as "The Doctor Of Style" is urging people to continue social distancing by staying at home.
Slick, who managed The Twin Towers, The Bolsheviks, and Kamala, has taken to the airwaves to help stop the spread of COVID-19. Stationed at the University of Louisville Hospital, Slick has been assisting in style-related issues.
"Listen, I've been on the scene a long time and I know what I'm talking about. Don't be a 'Jive Soul Bro' and don't lie to your friends. Stay home," said Slick during an interview on the Great Day Live morning show. "We have to maintain social distancing, baby. Six feet means six feet, even if you see a handsome fella like me. Wash your hands with soap and water. Then shampoo and conditioner your greasy hair."
"Slick is my name and protecting the medically vulnerable is my game," he continued. "As someone who has an MD in style, I know what I'm talking about. We've got to flatten the curve so people can stop wearing those nasty sweatpants. The sooner this is over, the sooner we can go get manicures and pedicures."
Although he is not actually a doctor, local residents have taken to Slick's message.
"I didn't think much of it until I heard Dr. Slick," said octogenarian Merna Bacon. "If I want to get to the salon and get my hair done, I'm just going to have to stay home. Anything to ensure that I look fly this summer."
"Well, I suppose if I want to add to by zoot suit collection, I'd better to listen to Slick," said bank manager Brian Fugate.
Slick's stylish message of social distancing has proven so popular that several governors are now enforcing his rules statewide.