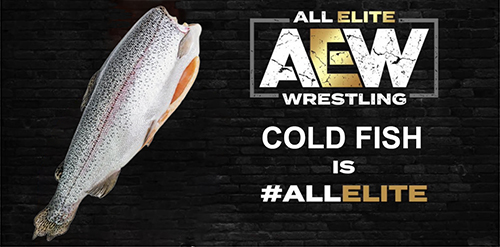 Jacksonville, FL – Hot off of the surprise acquisition of Miro, All Elite Wrestling has announced that they have also signed Miro's former partner, a cold, dead fish.
Cold Fish, last scene on WWE television being thrown at Lana, is just the latest former WWE star to appear in AEW. The signing has sent ripples of excitement throughout the wrestling world.
"Things are going along swimmingly," said AEW president Tony Khan during a conference call. "At this point, we're not looking to scale back. In this business, you can't flounder. It's important to always be moving upstream. When the oppor-tuna-ty came to sign Cold Fish, we were hooked. We expect arenas to be packed to gills in the future. It's time to make a big splash in the wrestling world!"
Anticipating a tidal wave of excitement, Cold Fish t-shirts and foam fishes are already available for purchase at ShopAEW.com. Cold Fish has already launched a Twitch channel and signed an endorsement deal with Bass Pro Shops.
While AEW officials are keeping mum on plans for Cold Fish, fans are already speculating angles and feuds. Many have expressed interest in seeing Cold Fish join the Dark Order. Despite having never wrestled, other fans are hoping for feuds with Matt Hardy and Sonny Kiss.
"Glub glub glub," said Cold Fish, defiantly pointing its fin at an All Out sign.