WWF RAW — September 29th, 1997 — Pepsi Arena, Albany, NY
Michael Cole narrates a montage of Stone Cold Stunners on announcers and authority figures, including Vince McMahon. "Tonight, Steve Austin will face Vince McMahon and hear the verdict".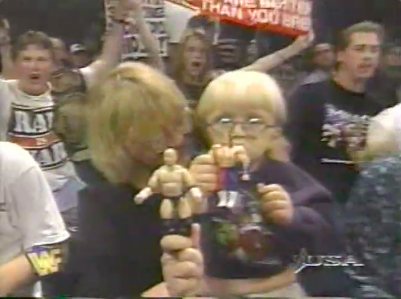 Too much blonde, and not enough style! It's time for WWF Raw is War! And it's a family affair, as a mother, a child, and some aunts holds their WWF action figures in the front row. Now here's D-X! Shawn Michaels leads the still-unnamed faction to the ring, where he puts bunny ears on McMahon. Vince asks Rick Rude who's paying him. "Which one of these individuals is the benefactor, so to speak?" Rude won't answer, so Vince turns to "the wise-ass of the WWF", Shawn Michaels. On a roll with the mild profanity, he asks Shawn, "Just how, or should I say, how in the hell, are you gonna get out of the Cell in the Hell [sic], Shawn Michaels?" Michaels gloats about his "Garden party" for The Undertaker last week at MSG (Ricky Nelson was not invited). He calls himself and Triple H, "the initial outlaws of the WWF", a name that won't catch on. Oh, you didn't know?
Triple H calls himself, Shawn, and Chyna a clique that Vince will never break up, then makes a strained analogy about the WWF and a "cheap whore". As for the Undertaker, Hunter enjoyed kicking his "dead ass" all around MSG. No really, dead ass. And he'll be lucky if he even makes it to "Hell in the Cell" [sic]. Commissioner Slaughter comes down to wish Shawn luck at "Hell in the Cell" [sic], because he's going to need it. Meanwhile, Michaels sticks the European belt in front of his face as a spit guard. After Slaughter books Triple H vs. The Undertaker for tonight, Hunter and Shawn are incensed. Their anger turns to feigned terror when Bret Hart promises payback; Jerry Lawler compares Shawn and Hunter favorably to Beavis & Butthead. Meanwhile, backstage cameras document a set of doors, through which Steve Austin is expected to walk any minute now.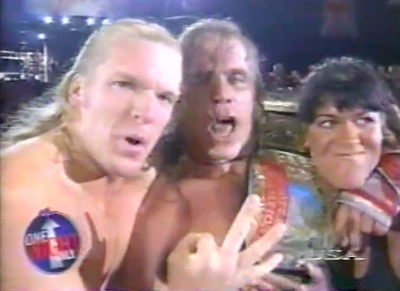 In other news, fans are still unable to pronounce, "Survivor Series Super Supper Sweepstakes". Vince McMahon narrates "actual footage" of One Night Only, where "Shawn Michaels unquestionably [knew] how to wow a capacity crowd". The "actual footage" consists only of the pre- and post-match, with the actual action still confined to screenshots. "It's the main event," says Hunter to the camera, holding up three fingers. "The Triple Threat!" "Triple Threat, right here", says Shawn. What a great faction name! How was it not already taken? As Hunter motions to Shawn's thrusting pelvis, the fans pelt them with garbage. The Hart Foundation don't even get to sing Oasis to calm the UK crowd down.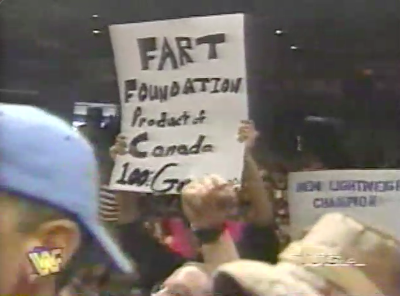 Vince McMahon clarifies the Stone Cold situation, explaining that "the moment Stone Cold Steve Austin arrives, ladies and gentlemen, we will ask him to come to the ring and do what is necessary, to do what Stone Cold Steve Austin gives us no alternative but to do". Got that? "Notwithstanding that", here comes the Bulldog to face Vader. "Conspicuous by its absence" is Davey Boy's knee brace, which Shawn Michaels ripped away at One Night Only. He didn't keep the knee brace, mind you. In fact, Diana Smith ended up with it at the end of the night. Nevertheless, Jim Ross explains that it was a custom-made knee brace that can't be replaced in just nine days.
Vince McMahon compares "the mastodon" Vader to the 1400-pound kodiak bear from the movie The Edge, starring Anthony Hopkins and Alec Baldwin. Jim Ross notes that Vader beat Ken Shamrock in Tokyo just last night, which is notable in that he's supposedly in Albany tonight, while Ken Shamrock is supposedly out of action with Internal Injuries™.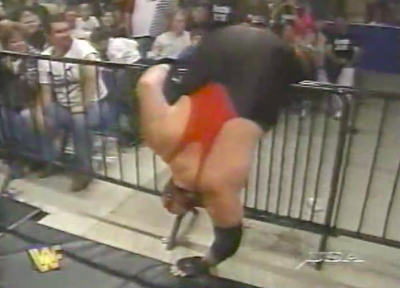 Vader shows no signs of jet lag against Davey Boy, leveling the Bulldog with several standing splashes. Smith eventually shifts the momentum by reversing a second-rope splash into a powerslam. Outside the ring, Bulldog lifts Vader as if for a vertical suplex, then dumps him gut-first on the railing, an Unbelievable Maneuver (#1). He follows this up in the ring with another Maneuver (#2 – back suplex). "A lot of people are surprised about Vader and The Patriot", says Jim Ross, unaware that he is about to get cut off by the commercial break.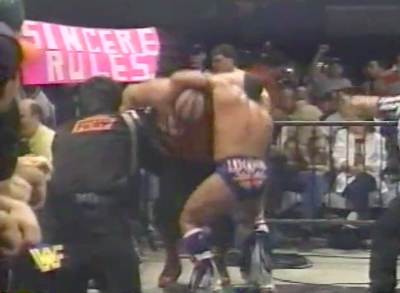 After the break, the two men are back on the arena floor, struggling to suplex each other while Tom Brandi's one fan waves a giant "Sincere Rules" sign. Vader does the same gutbuster that Bulldog did a few minutes ago, then Vader Bombs Smith. The Hart Foundation rush in to break up the pin, drawing a DQ. Bret, Owen, and the recently returned Jim triple-team Vader. While Bret has Vader in a ring post figure-four, The Patriot finally makes the save, only to get bludgeon with numerous Canadian flags. Now it's The Patriot's turn to get figure-foured on the ring post. I'm not saying it's a burial, but Bret does lay a Canadian flag over his body.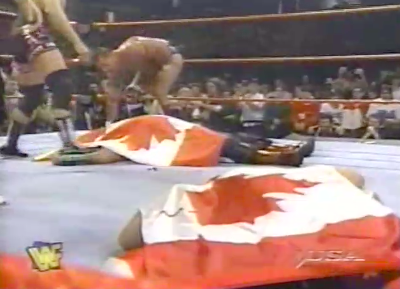 Before another commercial break, we get an update on the status of those arena doors (still closed, still Austin-free).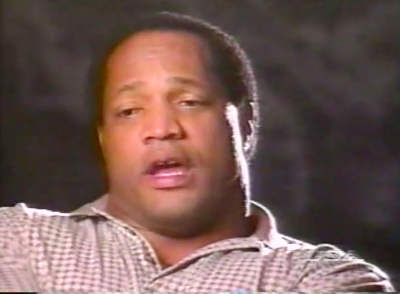 Michael Cole narrates football footage of the player formerly known as Ron Simmons. Who did Jim Ross piss off to get passed over for this assignment? Faarooq, with the Nation, faces Ahmed Johnson, with the Legion of Doom and Ken Shamrock. Johnson still has his hand in a bandage after cutting his hand on an exposed nail two weeks ago. Jim Ross says that Ahmed lacks feeling in some of his fingers. Has he tried burning his hand on a radiator, Hogan-style? Commissioner Slaughter seems to have relaxed his ban on wrestlers at ringside, as both factions remain there throughout the match. Rocky Maivia even sparks a "Rocky Sucks" chant, despite not being in the match.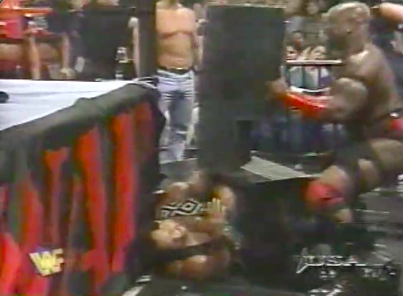 Faarooq, subbing for Ken Shamrock, targets Ahmed's hand. Vince McMahon explains that, although Ken Shamrock was healthy enough to wrestle last night in Japan, he suffered more internal bleeding and is therefore unable to compete tonight. What bad luck! Ahmed Johnson smashes the ring steps onto Faarooq's arm outside the ring, running a risk of disqualification. Just to make sure, Ahmed punches the referee, losing the match by DQ and eliminating the only man in this whole tournament to have advanced via pinfall. Faarooq, who lost his first round match, advances to face Owen Hart (who himself advanced via two disqualifications) in the finals.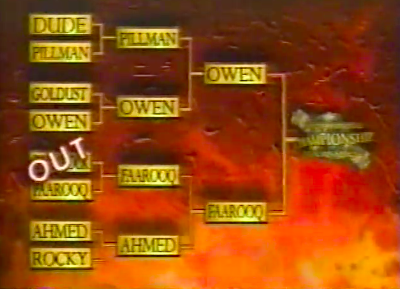 The two factions briefly brawl, but more importantly, Hawk tries on D-Lo's hat.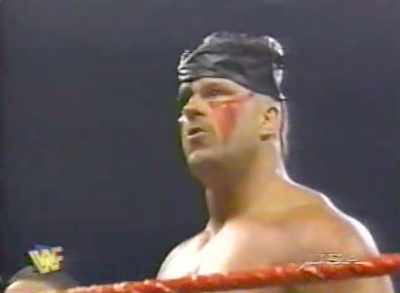 Meanwhile, those arena doors are still closed. Are we sure they're not looking at old footage?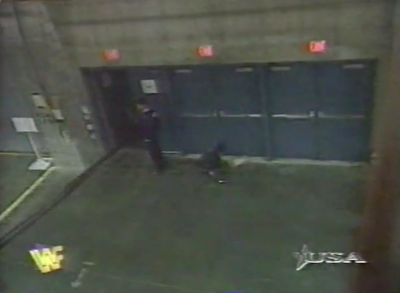 Dok Hendrix promotes the upcoming Nassau Coliseum live event for the New York market. Matches include Bret Hart vs. Undertaker (which will end in a DQ), Shawn & Hunter vs. the Legion of Doom (which will end in a DQ), and Stone Cold & Dude Love vs. Owen Hart & The British Bulldog in a Long Island Street Fight (which will end up being a singles match between the Dude and the Bulldog).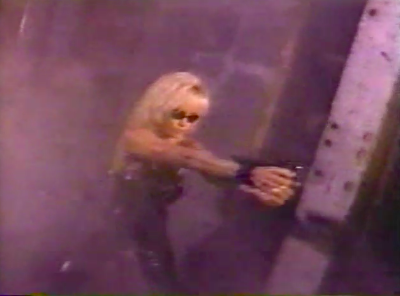 In another installment of Sable's Secret Mission, Agent Sable defeats The Head Bangers in a Lazer Tag handicap match after Mosh and Thrasher accidentally shoot each other (with the toys).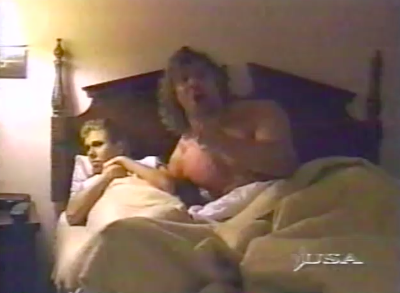 Vince McMahon warns viewers that the upcoming edition of Brian Pillman's XXX Files "may not be suitable for all members of the family". Thanks for the heads-up! Pillman, in bed with Marlena, is exhausted. "Licked" and "bushed" are his exact words. Courageously fighting through the fatigue, Brian demands that Goldust be handcuffed to the ringpost at Badd Blood when Pillman faces Dude Love. Jerry Lawler is just excited about the Polaroids Pillman promises to share at the pay-per-view.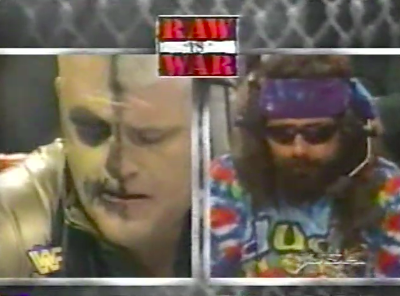 Dude Love sits at ringside for commentary as The Sultan returns to TV for some reason. His opponent is Goldust, who sports the Darby Allin face paint look. The Runnelses are on "Day 23" (actually 22) of separation but will renew their vows next week on Raw. Not only that, but Goldust will face Brian Pillman in a no-DQ match at Badd Blood, provided that Dude Love beats Pillman first. Apropos of nothing, Jerry Lawler references Marv Albert and the Giffords, just to prove Raw is live (which it isn't). Plus, he says, Marlena reminds Brian Pillman of the new Steven Seagal movie, Fire Down Below. "Oh you're a riot, King", says Vince. "You're a riot." You can tell Goldust is distracted by all this drama, as he spends most of the match getting beaten down by The Sultan, who sucks. Finally, Goldust hits a bulldog on the Iron Sheik's protege to score the only pinfall of the entire night.
In arena door news, Stone Cold arrived just moments ago.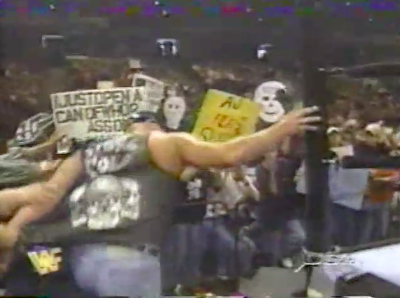 Too much charm, and not enough guile! It's time for War Zone! The fans, who came to exercise their freedom of expression, exercising their freedom of expression by cheering Stone Cole when his music hits. A few fans in the front row exercise their freedom of expression by grabbing Austin's arm and jacket, preventing him from climbing the steps. Vince McMahon is on high alert as Austin stares him down from inside the ring and repeatedly tells the boss to get his (carc)ass inside. McMahon gives Stone Cold an ultimatum: provide a doctor's note, sign a hold-harmless waiver, or the third option: "You'rrrre fiiiirrrred!" Or, as 1997 Vince puts it, "I've got to unfortunately do what I've got to do in terms of termination." Austin says it "doesn't make a damn" what any doctor says, but that with each of the three options, McMahon runs a greater and greater risk of physical harm. Austin won't say which option he'll take, but he does hang around until Vince takes a seat, then flips off the owner (which gets scrambled) (the middle fingers, not the owner).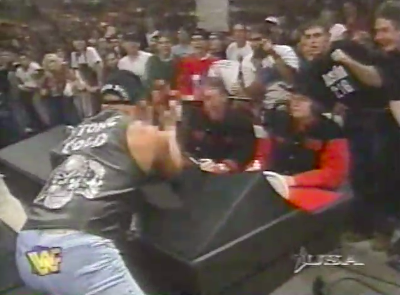 The announcers promote upcoming WWE events, including one in St. Paul this Saturday that is "too bad for broadcast".
After the break, McMahon is in better spirits, chuckling at Jim Ross's reading of suggestive Starburst ad copy. "Hopefully that rattlesnake Stone Cold doesn't come back out," says Vince, before re-assuring viewers that there's "no guarantee that's not going to happen". Jim Ross also plays up the potential for Stone Cold hijinks, deriding Commissioner Slaughter's decision to invite Steve Austin to Badd Blood for the IC title ceremony.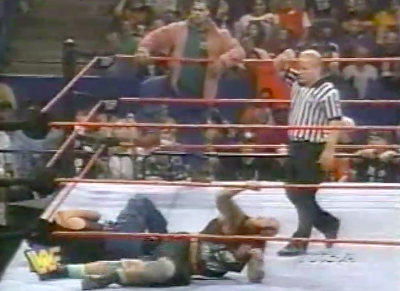 Two of Los Boricuas, Jesús and José, challenge the Head Bangers for the tag team titles, which the Bangers are tentatively scheduled to defend against the Godwinns this Sunday. The guys in skirts flapjack the guy in the hoodie before the Boricuas engage in a long, ostensible heat segment. Despite the absolute silence on the part of the crowd, the match continues throughout the commercial break.
Vince McMahon takes a dig at WCW, promises that there will be a winner and not a twenty-man brawl at Hell in a Cell, which he calls, "the largest edifice ever constructed" by the WWF. The fans lightly pop for a brief comeback by the Head Bangers, then fall right back to sleep as the Boricuas go back on the offense. The Godwinns rush in to break up the Boricuas' pin, ensuring that their match against the Head Bangers will be for the titles. The rest of the Boricuas fight off the Godwinns as the segment mercifully ends.
On the WWF Superstar line, fans can learn whether Goldust blames Marlena for her thirty days with Brian Pillman, or whether he believes she is being forced. Oh, how we all pray that her sex with Pillman isn't consensual!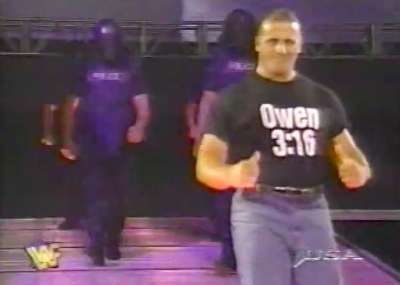 Owen Hart arrives wearing an "Owen 3:16 — I just broke your neck" t-shirt, accompanied by police in riot gear. Does Austin at least get a cut of the royalties from that merchandise? Vince McMahon questions the wisdom of wearing such a shirt. Regarding his upcoming Intercontinental title match, Owen claims that he can beat Faarooq with both hands tied behind his back; for the only time in wrestling history, this does not result in that becoming an official stipulation for the match. However, Owen still needs to make sure that Austin doesn't interfere, hence the added security. He also urges Vince to fire Austin, prompting Jim Ross to speculate about a potential case of the limber tail (but I suppose that's between Owen and his doctors). One of the police officers takes off his helmet, revealing himself as Stone Cold. Austin gives Owen a Stunner, then flees through the crowd. This will likely get him suspended from the force with pay, pending an internal investigation.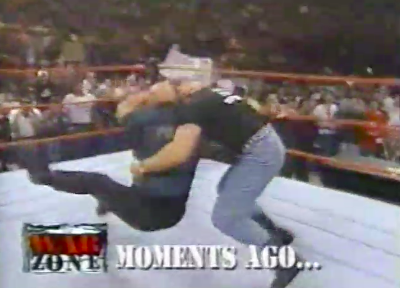 Austin's stunner to Owen airs repeatedly after the break. In the locker room, Jim Neidhart tends to Owen Hart, who is laid out on a stretcher grasping his neck. If I ever had a potential neck injury, I'd pick The Anvil over an EMT any day.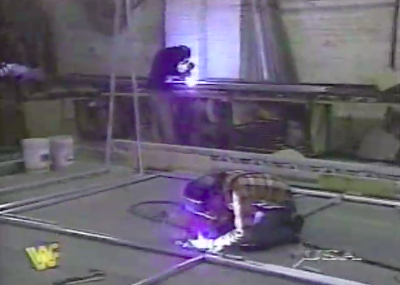 Footage airs of welders putting together the Hell in a Cell cage as Vince McMahon predicts that Shawn Michaels will finally fall prey to The Undertaker. Jim Ross notes that the cell is not AARP approved and lacks wheelchair access.
Triple H arrives with Pre-Generation X before the final commercial break.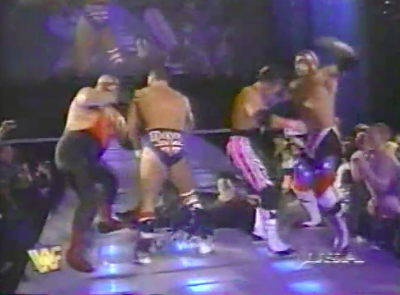 The Undertaker begins his entrance with just seven minutes remaining in the broadcast, only to be ambushed by Bret Hart and the British Bulldog. Vader and The Patriot arrive to fight off their Badd Blood opponents, leaving The Undertaker to Shawn and Hunter, who stomp him on the ramp. The Undertaker eventually fights back, causing Michaels to retreat to the ring.
Triple H follows Taker, and the match gets underway with four and a half minutes to 11 pm. Hunter whips Undertaker to the buckle (with authority), but Taker responds with a shoulder tackle. The Dead Man chokeslams Helmsley and sets him up for the Tombstone, but Rick Rude hits him with a briefcase to end the match at the 1:53 mark. That's the fourth disqualification of the night.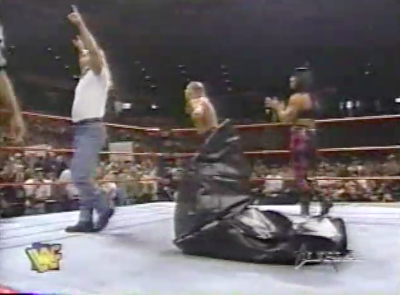 Rude then pulls a body bag out of his briefcase; after Shawn superkicks Taker, he, Shawn, and Chyna put the Dead man in the bag. Taker sits up, rips his way out of the bag, and very gradually pursues Michaels up the ramp, punching Helmsley occasionally along the way. Shawn tries to step through the curtain on stage but is met with a red light; Kenny Rogers Roasters has opened up across the street from the arena. Spooked, Michaels instead climbs onto the Titantron while The Undertaker tombstones Triple H on the stage.
Final tally:
2 Maneuvers (Year total: 114)