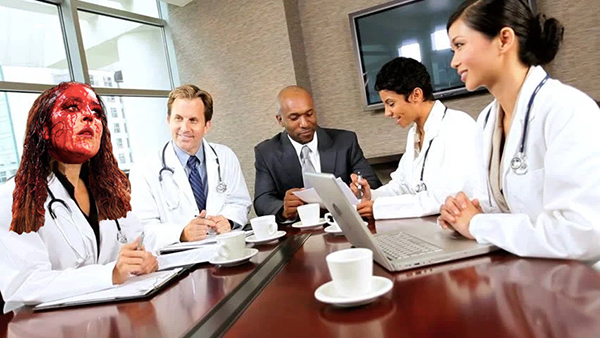 Harrisburg, PA – AEW star Dr. Britt Baker has lost her dentistry license following her brutal "Lights Out" match against Thunder Rosa.
Baker, a dentist in the state of Pennsylvania, appeared virtually before the State Board of Dentistry on Friday. Members of the board discussed Baker's conduct during last week's match.
"Dr. Baker, the members of this board viewed your match on Dynamite and we have to say we are appalled by your conduct," said chairperson Julio Varga.
"I am a role model and would never intentionally break the rules," protested Baker. "The match stipulations clearly stated that weapons were allowed."
"Dr. Baker, the board's issues do not revolve around the outcome of your match, but your conduct as a licensed dentist," interjected Varga. "Violations include not washing your hands, not providing a protective apron during x-rays, and not asking Thunder Rosa if she wanted wintergreen or bubblegum flavored toothpaste,"
Baker tried to explain how she sterilized all the thumbtacks and used an FDA-approved ladder, but to no avail.
"The board is disturbed by your lack of asking your opponent personal questions while her mouth was propped open for better cleaning," said Department Of Health designee Armand Odwir.
"You didn't even offer Thunder Rosa a complimentary toothbrush, mini mouthwash, and floss," board member Tabitha Wu. "We have no choice, but to revoke your license to practice dentistry."
Following the hearing, Baker vowed to blame Reba for her misfortunes.