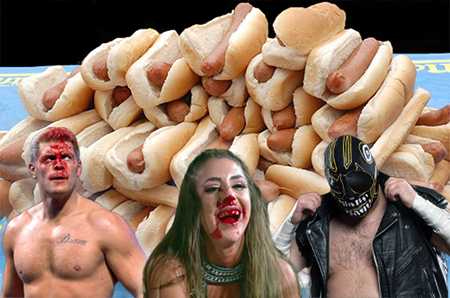 Jacksonville, FL – Tragedy struck All Elite Wrestling's First Annual Hot Dog Eating Contest this Fourth of July as a number of injuries ruined the event.
The mandatory fun-filled day in the sun was devised by AEW CEO Tony Khan in hopes of building community and spreading cheer. It was also a good excuse to finish the surplus food from Dailys Place before it spoiled.
"What better way to bring the entire AEW roster together and celebrate the birth of our great nation than with a hot dog eating contest?" said Khan. "The rules are simple: the person who eats the most hot dogs before time runs out is the winner. We have also provided plenty of drinks and other food for those that want. If anything smells funny, it's just your imagination.
After being forced to sing Fozzy's "Judas" for several minutes, the competition finally began. Wrestlers hungrily devoured the piles of meat and bread in hopes of attaining AEW glory. Unfortunately, a series of mishaps occurred, leaving many members of the roster hurt.
Sean Ross Sapp of Fightful.com compiled a partial list of injuries which included:
Evil Uno will be out 3-4 weeks after poking both of his eyes with hot dogs
Big Swole sprained her ankle after slipping on a pile of sauerkraut
Miro is day-to-day after getting relish on his pink Mickey Mouse shirt
Britt Baker, DMD cracked a premolar on a stale bun
Jungle Boy suffered scalp abrasions when his hair was caught in a hot dog roller
Chris Jericho briefly died of embarrassment after eating a hot dog with ketchup
Cody Rhodes severely beat Anthony Ogogo for putting Chef Brown Sauce on his potato salad. Ogogo will not miss any television time
Every member of the Inner Circle is experiencing symptoms of food poisoning
Jack Evans will be out 6-12 months after performing a 450 splash through the side dish table and lodging coleslaw up his nose
Despite the numerous wounds, cuts, and bruises, Khan has vowed to continue with the group outings.
"We are still scheduled a potato sack race and cookout for Labor Day in September," said Khan. "I have to get rid of all those hamburgers and potatoes somehow."