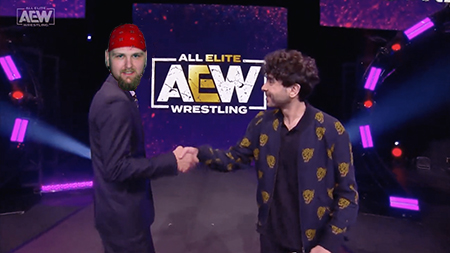 New Albany, IN – All Elite Wrestling has once again joined forces with another promotion for a joint pay-per-view. AEW president Tony Khan announced during a taping of AEW: Dark Elevation that his company would be joining forces with IWA: Mid-South.
Formed in the mid-90's by former ECW star Ian Rotten, IWA: Mid-South is best known as the early home of current AEW stars CM Punk and Samoa Joe. It's also known for promoting bloody and often times dangerous matches. The combination of technical wrestling and excessive violence made it a hit among tape traders, including a young Tony Khan.
"I've loved IWA: Mid-South ever since I was little, so this is a dream come true," said an excited Khan. "We're kicking the forbidden door open again for another once-in-a-lifetime even! Although, if we're being honest, that door was already kind of open. The screen is broken and the hinges are rusted. At least, I hope it's rust. Either way, we're proud to announce our dream card, AEX x IWA: Mid-South: That's Not Supposed To Bend LikeThat next month at the Circle K parking lot on Grant Line Road!"
Several members of the audience cheered at the thrilling news. Others quickly went to Youtube to watch clips of the lesser-known promotion.
Rotten weighed in following the shock announcement.
"AEW and IWA: Mid-South just makes sense," said Ian Rotten following the announcement. "Many AEW and ROH wresters made their way through here. Punk, Joe, Sonjay Dutt, Matt Sydel. It's a mutually beneficial partnership. AEW strengthens ties to their past and I get some legal fees taken care of. Win-win, brother."
A tentative card, written on the back of a Get It On A Bun At Bootys napkin, was leaked to the press. Despite some chili cheese dog stains, matches include Samoa Joe vs Necro Butcher in a 10,000 Thumbtacks and Hardtacks match, Britt Baker vs Mickie Knuckles in a Lights Out 'Cause We Couldn't Pay The Electric Bill match, Ian Rotten vs Chris Jericho in a 2 Minutes To Midnight 2 minute time-limit match, and CM Punk vs Chris Hero.
While details of the partnership remain unknown, many believe that Rotten came out on top.
"Three hot dogs and some Big K Cinna-Roll Soda?" crowed Rotten. "Ol' Ian fleeced another mark!"