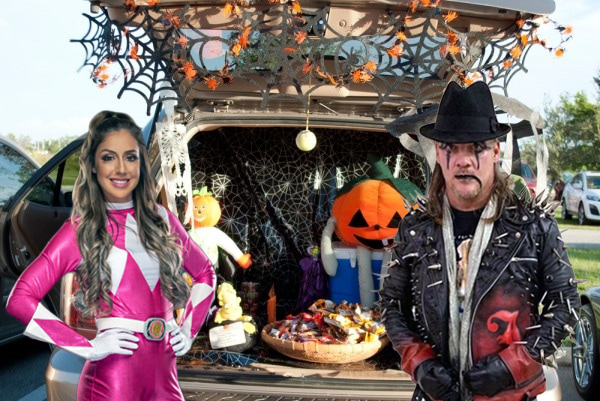 Jacksonville, FL – All Elite Wrestling celebrated the Halloween season with their first ever "Trunk Or Treat" Battle Royal.
This past weekend, members of the AEW roster parked their decorated cars outside TIAA Bank Field and filled their trunks with an assortment of candy. Fans and children walked from car to car, collecting the treats along the way.
"It's a safe and fun way for people to enjoy the Halloween season," said AEW head Tony Khan. "And it's also to determine the newly created AEW Transcontinental Intergender Halloween Spooktacular Champion!"
The somewhat confusing rules stated that the first competitor to successfully give away all their candy would be declared the winner. Wrestlers cut promos and tried to sell every passersby on taking their treats and snacks.
Jade Cargill and Wardlow desperately tried to unload excess cases of Muscle Milk and protein bars. PAC glared menacingly at children as he handed them half-melted Cadbury eggs that have been sitting in his glovebox since Easter. Danhausen passed out cursed pennies.
Not every car was a hit as several AEW stars struggled to move their candy.
Many passed sports entertainer Chris Jericho's spread of decades-old Laffy Taffys, Bonkers, and those little hard candies in wrappers that look like strawberries. AEW World Champion Jon Moxley's candy cigarettes were left unsmoked. FTW Champion Hook stared at his phone and refused to even open his trunk. MJF was disqualified after trying to close his trunk on children's hands.
Dr. Britt Baker's goodie bags filled with toothbrushes, floss, and mini toothpaste did not go over well. A group of teenagers egged her car in response to the dental hygiene products.
"Get back here, you little snots!" yelled Baker, shaking her fist. "This is a Honda Accord! You show some respect for a D.M.D.!"
Sadly, the event ended in a No Decision. Dozens of unused members on the AEW roster showed up asking Khan why they weren't notified about the event. Rather than addressing their concerns, Khan put on a ghost costume and hid in the trunk of his car, literally ghosting them.