I went to see Extreme in concert for the first time ever last week. That may not mean much to you, but as they are my favorite rock band and I'd never seen them live before it was everything to me. Most folks know them for their biggest hit, "More than Words", but that type of song comprises maybe 5% of their catalog, with the rest of it being much harder rock with clever takes on of all things the English language (ie, "Pornograffiti", "Politicalamity", "Hole Hearted", etc.). So after being a fan for more than thirty years (!!!!), I finally decided to go see them and it was incredible. Their lead guitarist is a guy by the name of Nuno Bettencourt and many have said that since Eddie Van Halen's passing, he is the greatest living rock guitarist. I wouldn't argue.
What was also very cool was what happened before the show. I bought the VIP gimmick, but I was disappointed reading what came with it – basically a lanyard, a sound check, a "group photo" with the band and everyone who bought the VIP, and a signed poster. Those were cool but I really wanted a meet and greet, a chance to get one on one photos with the band. And a chance to tell them how much I appreciated being the soundtrack for the last three decades of my life, you know?
But as is often the case, I was blessed and had something VERY cool happen. At the sound check, I was sitting a couple rows from the stage. The guys played a trio of songs not on the set list – "Lil Jack Horny", "When I'm President", and something else even I didn't recognize which is bizarre as I thought I had everything they ever put out. Nuno was super chatty with the group of about 50 people but the lead singer Gary Cherone seemed very reserved. Like reserved to the point that I was concerned if this concert was going to be what I was hoping.
So the sound check ends and we go to get the group photo (and one of the reasons the mailbag is later than usual is I was hoping to include that but it's not posted yet – I'll update when I have it). As I am getting up, Gary points at me and says "Awesome!!!" I'm like looking around thinking there's some hot chick behind me or something. Anyway, the guys are on stage and since I'm tall I get to the back of the group. As I'm there, Gary is pointing at me and smiling. I finally asked what was up and he said, "I love your shirt!" I was wearing my Batman '66 shirt that I often wear for Joker's Mustache with Russo. So I started laughing and we started talking about it. Just a quick little chat and we shook hands, laughed about Frank Gorshin, and shook hands. That was awesome and an incredibly blessing.
If you've read this far, let me just say this – if you've got a favorite band or wrestler and you've never seen them, figure out how to do it now. Don't wait. That band, that person, or you may not be around in five years, five months, whatever. Go live your life to the fullest and experience what you want to experience. You never know what God may throw in as a bonus. To the mailbag…
My good friend and DJ at my wedding (!!!!) Derrick G kicks us off with…"Just saw this posted in a FB group.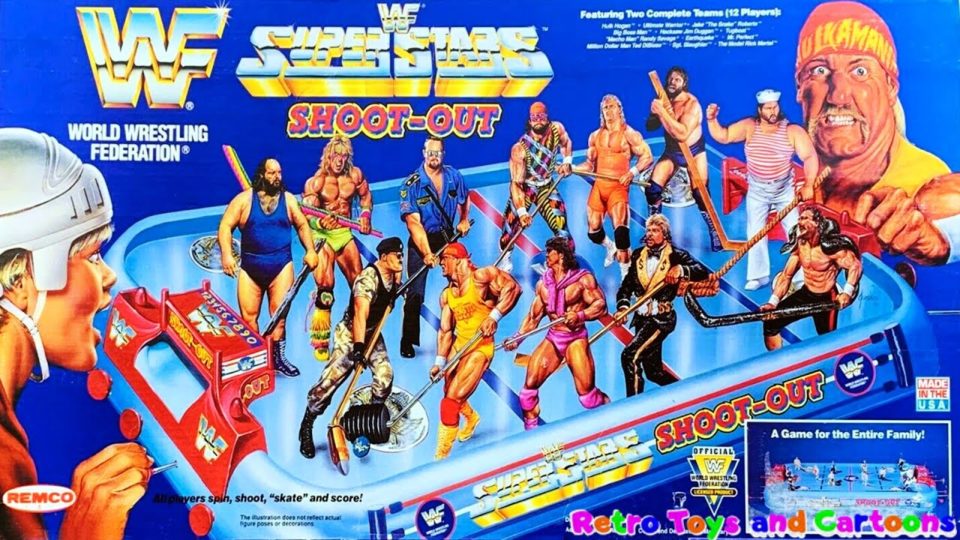 This was in the height of my fandom and never saw it. Did you? Certainly a SOMEONE BOUGHT THIS contender!!!"
Not only saw it, but used that exact image turned greyscale and super subdued for the background of WrestleCrap for many years. AND…and this is the biggie and a lost RD Reynolds secret…my buddy Casey owned it and we played it as a DRINKING GAME. Yes, back the day I actually consumed alcoholic beverages. Not all the time, but I dunno, once a month or something. We would play it and if you scored, you took a drink. Then since we could never score, you took a drink when you HIT THE PUCK. That made it far more interesting.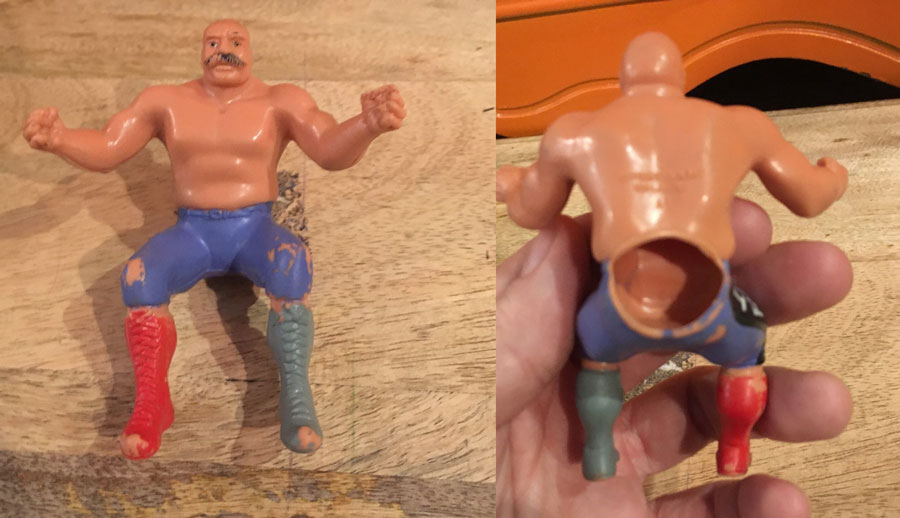 I should also note we took shots out of the back of an Iron Sheik thumb wrestler. I don't think that was very sterile but if you want to recreate it some guy has one for sale on eBay. I doubt seriously they still sell the Purple Passion we used to drink though. (What can I say? I was never a hardcore drinker!!!)
SPEAKING OF TAKING A DRINK, Mike M ponders…"What do you think Marty Jannetty's "ceiling" was if he'd stayed out of trouble? Personally I could've seen him as an upper midcard guy in either WWF or WCW, along the lines of Ken Shamrock or Curt Hennig"
I think right below that. It was clear even in the earlier days of the Rockers Shawn was by far the better performer. I hate the term "good hand" but I think that would have been accurate. Bigger thing is if he'd had stayed clean he'd still be out on the convention circuit making money. Casey and I met him and he sang "Wrestle Rock Rumble" with us. He could charge $100 a shot on Cameo doing that and just rake it in.
Cyndi S asks…"I refound Ox Baker's appearance on The Price Is Right recently. Is there a more bizarre combination of wrestler to game show than that?"
I don't know, but I am pretty sure we've never inducted that and I probably should. Even if I just sneak it in with the next "Wrestlers on Game Shows" induction I do it's overdue.
Arya W wants to know…"Do you get recognized as "the wrestlecrap guy" at your day job?"
I made a rule when I started the site that I would never let those two worlds collide. However, it has happened over the years and I've even cut RD HEEL PROMOS on folks at their request.
Ahmer A channels his inner Divynyls with…"What current wrestler would be best served by adopting "I Touch Myself" as their entrance music?"
I always thought the Beautiful People in TNA should have used that, or maybe Joel Gertner as the oblivious heel manager like I portrayed. It's such a great song with the big build up at the beginning. You could do that with the lights being out and coming on when the lyrics hit. I'd always walk out of the curtain when she started singing. It's the perfect entrance song.
Rudy Y wants to know…"Have any wrestlers reached out to you negatively after being mentioned on WrestleCrap? Or any that came at you with a reaction that surprised you?"
I mean Oscar of Men on a Mission was famous for HATING me saying he was a, and I quote, "RAPPING FOOL OF A MANAGER." He got his revenge years later at Starrcast as he buried me six feet under with an amazing dis rap.
Ralph A wraps us up with…"Rd would you sing hole hearted with me at karaoke?"
You be Nuno, I'll be Gary, and it's on buddy!
And with that I take leave of y'all. Be good to each other and keep sending those questions in rightchere.