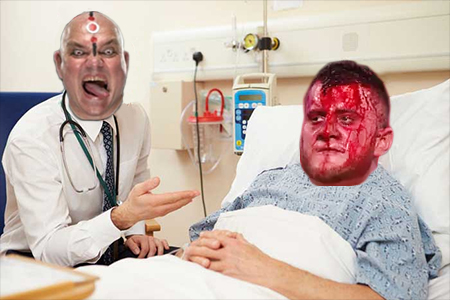 Jacksonville, FL – On this week's episode of AEW Dynamite, members of the Inner Circle and The Pinnacle will be given tetanus shots and antiviral medication as a direct result of participating in the 'Blood & Guts' match.
"We value realism in AEW so naturally 'Tetanus & Hepatitis' would follow up the Blood & Guts," explained Tony Khan. "We're going to see AEW wrestlers receive proper medical care following their bloody match. Our fans deserve to see every doctor's appointment, every shot, and every long wait in line at the pharmacy."
Last week's violent match, which saw several wrestlers bleed and Inner Circle leader Chris Jericho fall from the top of the cage, drew a over a million viewers. Despite the pain and long-term effects, both sides projected an air of confidence.
"It was worth it," said Inner Circle leader Chris Jericho through lockjaw-clenched teeth. "The Demo God just needs a little bit of the bubbly and some tetanus shots."
"No one can defeat The Pinnacle," bragged a jaundiced MJF. "Wardlow! Wardlow! Call CVS to see if my prescriptions and Capri Suns are ready!"
Presiding over the treatments will be AEW star Dr. Luther
"As a practicing hematologist with an PhD in pain, I will ensure that my patients will receive the best care," said Dr. Luther. "My expertise in owies, boo-boos, and ouchies, allows for quick diagnosis and treatment. These boys will be back up and bleeding in no time. Now open wide and say "AAAAHHHHHHH!"