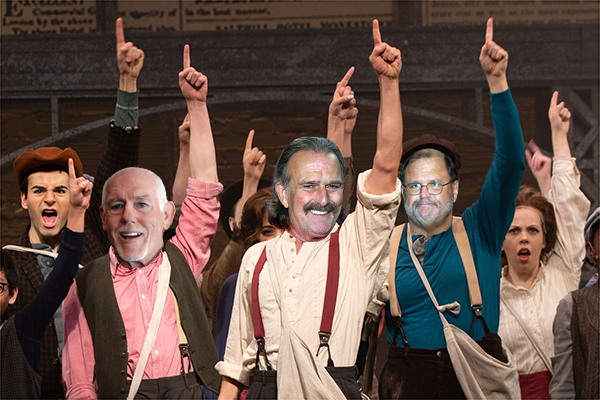 Jacksonville, FL – Building off of this past week's Chris Jericho/MFJ musical number, All Elite Wrestling will now be producing their own version of the Broadway hit, Newsies. The musical, based off the 1992 Disney movie about the Newsboys Strike of 1899, will feature wrestling legends Arn Anderson, Tully Blanchard, and Jake "The Snake" Roberts in lead roles.
"The response to last week's musical number was amazing," explained AEW CEO Tony Khan. "People couldn't stop talking about it online. It's important for AEW to maintain our 7-to-800,000 viewers every week and we feel another Broadway-style skit will do that.
The AEW crew has been running through rehearsals all week in preparation for their big debut next week.
"Arn has an amazing singing voice," said AEW Executive Vice President Matt Jackson. "He may have been hell in the ring, but he's heaven on the stage. Arn is really 'enforcing' his love of song up there."
"Jake is really pulling off his dance moves," said fellow AEW Executive Vice President Nick Jackson. "I mean, I really believe that he's a 17-year-old newsboy protesting for better compensation. Jake just gets the psychology, y'know? Jack Kelly was the role he was born to play."
Not all of the legends are working out perfectly, though. Rumors have been swirling that Tully Blanchard is unhappy with his role as Katherine.
"This is a new venture, so there's a bit of a learning curve," explained Khan. "I know it's not the role you were hoping for, but we really need you to show more expression. Come on, Tully. Let's see a smile."
The ornery former NWA World Television Champion twitched and contorted his face. The muscles seldom-used to make a smile strained under pressure. Blanchard, through sheer force, exposed his teeth in what can only be generously described as a smile.
"There! That's much better!" said Khan. "Now we have to work on our choreography, people! This is all wrong. I said 'Step, pause, turn, pause, pivot, step, step.' Not 'step, pause, turn, pause, pivot, step, pause.' Oh, shudder!" shouted Khan through a megaphone. "We have to hit our marks so we can hit our key demos, people!"
If this proves successful, AEW will ramp up production on other musicals. Future plans include The Butcher and The Bunny in 'Beauty And The Beast', Joey Janela in 'Jersey Boys', and Brit Baker and Reba in 'Mean Girls'.