For every step forward, though, there seems to be a half-dozen steps back, where stuff I never wanted to see again continues to reappear like a horrible rash you just can't get rid of. Steph, I am looking at you. And I know there ain't no calamine lotion that will cure that ailment.
Recently, though, I was leafing through some old magazine and I found something incredibly cool – the picture at the top of this induction. I see that and I just start smiling. But not just because of that particular card. No, rather it brought me back to the very first wrestling shows I ever attended, and the very first souvenirs I ever purchased: an official WWF Program. In hindsight, those things were rather chintzy – think of a WWF Magazine, but make it like 8 pages. Nothing much to it.
Inside was something at first glance of even less value. An 8.5″ x 11″ piece of paper, printed on one just side, in the cheapest manner possible. But what was on there was truly magical. For revealed on that sacred parchment was what you were going to see once the lights dimmed and the bell rang.
As I noted on the most recent WrestleCrap Radio (click here to join the fun), for me the opening match was usually something involving WrestleCrap inductee Jimmy Jack Funk. If that sounds horrible, well, yeah. It was. But reading on the paper that he was going to be out to battle the likes of Leaping Lanny Poffo somehow, some way, elevated it to must see proportions.
Engaged, I started looking for those papers online. I didn't even know what to Google – oddly enough, "Paper inside WWF Program" didn't yield the desired result. After about an hour of trying different things, I came up with "WWF lineup card". And from there, it was on like Killer Khan.
Before I get too far into this, though, I should note that yes, lineup cards have been around since way before I ever knew what professional wrestling even was. They were generally used as flyers that promotions would hang up around town like posters to stir up interest (and hopefully ticket sales) in the weeks leading up to a show. Sometimes, it was more than just text. For instance…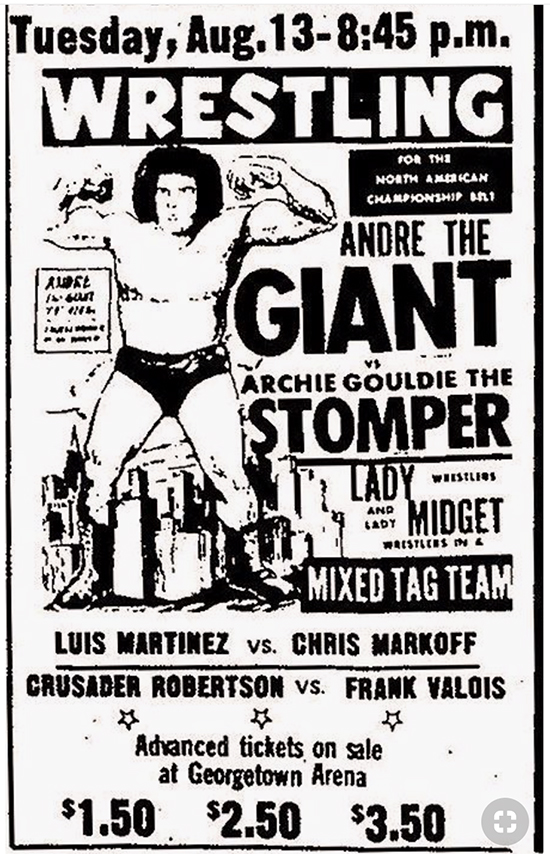 …who could possibly pass up seeing Andre the Giant, a man who apparently was larger than the Empire State Building? And while you may not be familiar with Crusader Robertson (pretty sure that was the guy who would become The Missing Link), the inclusion of Lady Wrestlers…and Lady MIDGET Wrestlers…had to be something to behold!!
If all that's not worth a buck and half, I don't know what is!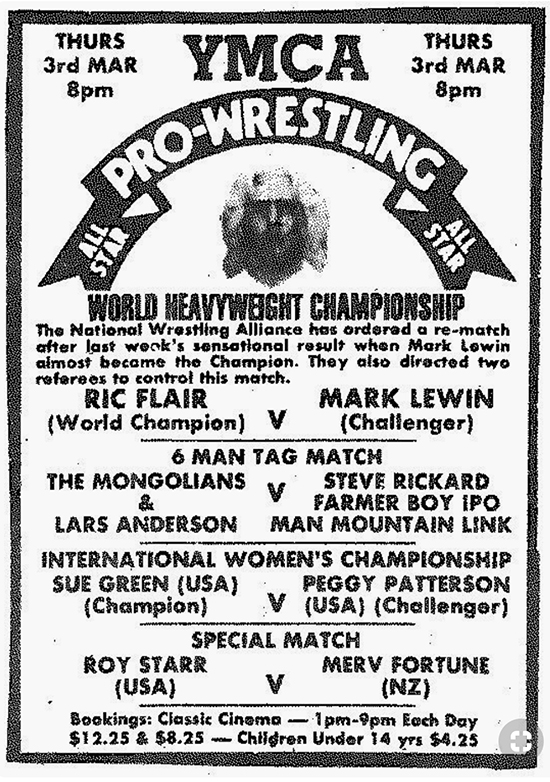 It was way more expensive, but seriously…surely you would be willing to pay $8.25 to see Ric Flair…at the local YMCA, right? Especially after Mark Lewin almost became champion last week?
And Farmer Boy IPO! That sounds like some unholy mix of a hillbilly with an investment broker. Count me in!
Here's another great one. Man, look at that hair on Ricky Steamboat. By golly that's almost worth sitting through stuff like Ken Patera vs. Tony Atlas or Dino Bravo versus Greg Valentine!
Especially if you're a senior citizen – you can get in for half price!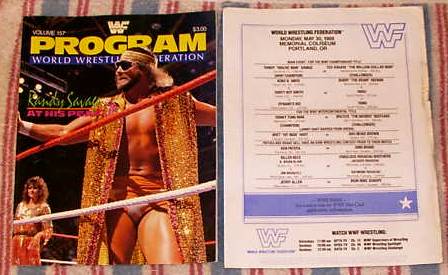 But this…THIS…is what I always remember and what brought on this induction today. That glossy little program and the card inside. What was waiting for me that evening? Sure, I would know the primary matches – we would get local promos on television. If Hulk Hogan was going to be on the show, he'd for sure be talking about how he was going to swim down the Ohio River, Jack, and crawl out of the water, shake himself dry, then run up that steps at the Riverfront Coliseum to take down Kamala, Dude!
Keep in mind – prior to the night of the card, we did not know everything we'd be seeing.
That was the magic of the lineup card.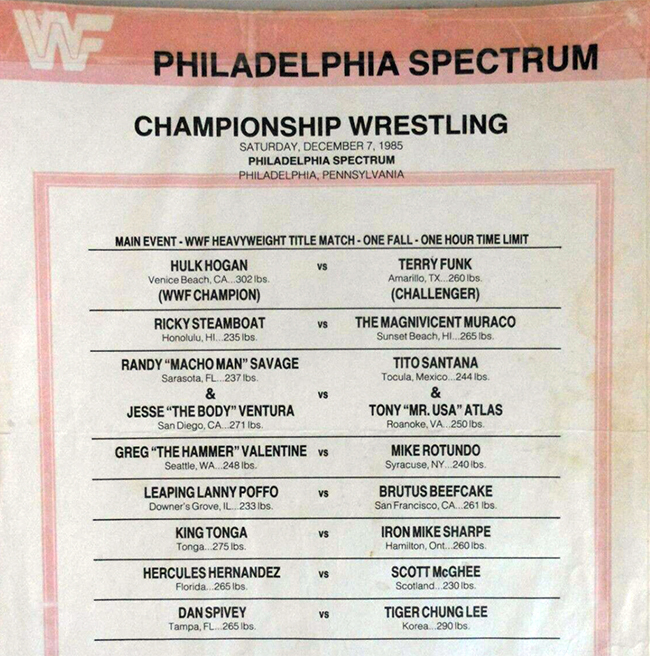 One can only imagine the anticipation of young Justin Henry as he came into the Philadelphia Spectrum on December 7, 1985 (no question he'd have been the happiest two-year old in all of Pennsylvania). Hogan versus Terry Funk would be a lot of fun, definitely, and Ricky Steamboat was always able to bring out the best in the Magnificent Muraco (even if the guy who typeset that document couldn't spell the poor guy's name right). Seeing Randy Savage in his prime would have been great, especially against Tito Santana as those two had insane chemistry. Here's to hoping they just told their partners to stay on the apron.
The folks at the Spectrum would also get a preview of a 1990 Royal Rumble match in Lanny (would become the Genius) versus Beefcake and a 1991 SummerSlam match with Valentine versus Mike Rotundo (who would become IRS).
Further down the card we would get to see King Tonga. The question for me in that match isn't if he came to the ring with crown (as would be illustrated on the back cover of the next three years of Apter mags), but if he'd introduce "Iron" Mike Sharpe to the eye wash station.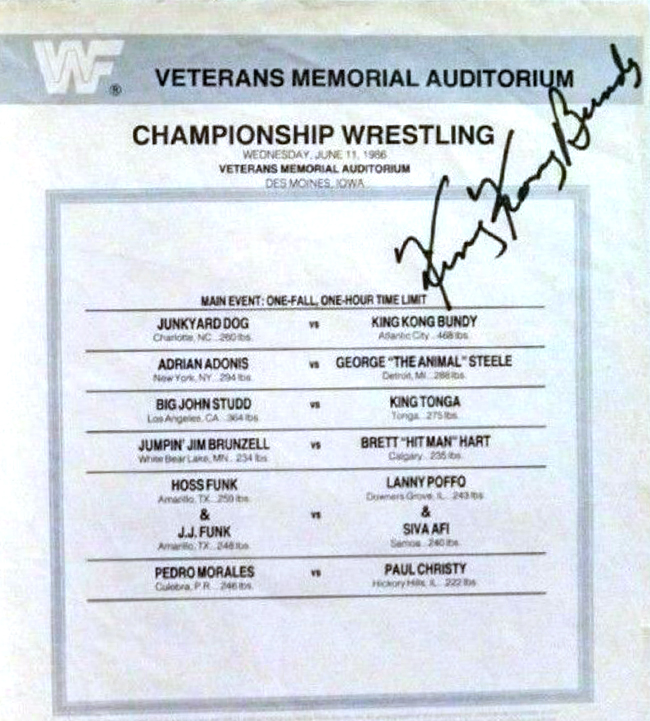 From the "I'm sure glad I didn't live in Des Moines" file, I present to you this stellar extravaganza. The main event featured King Kong Bundy (who signed this one!) battling Junkyard Dog in what I sure the hell hope didn't go to the one-hour time limit. Good thing this wasn't in California, or Dave Meltzer would have had his first negative six-star match. In fact, I can pretty much guarantee our opening contest would have been superior, as Pedro Morales goes one on one with Paul Christy.
A wrestler. Magician. Hypnotist. Apartment Building Owner.
I bet he had women lined up at Holiday Inn room #214.
Woman. Sexual. Alright?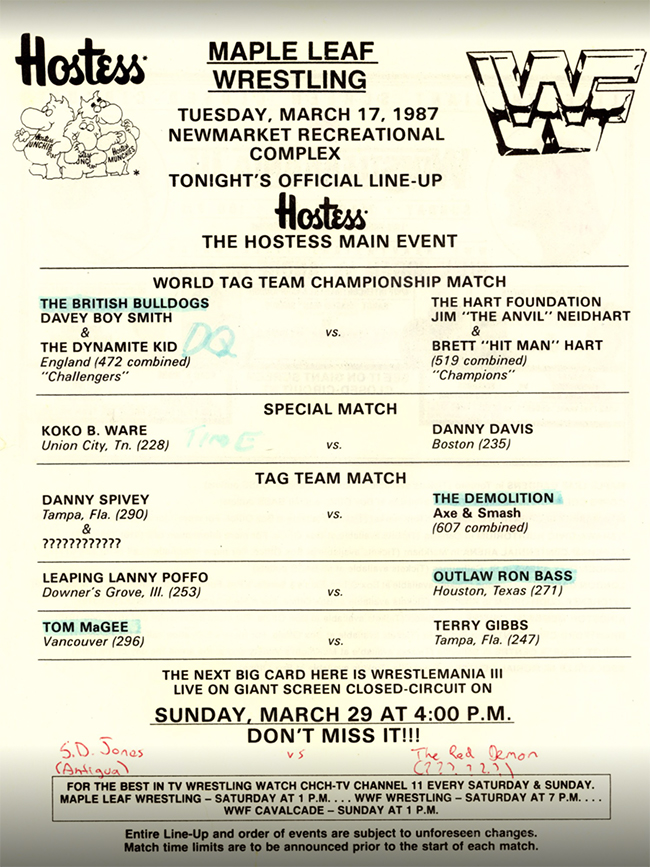 The night of March 17, 1987 was indeed the stuff of legend, as no less than HOSTESS sponsored a night of action at the Newmarket Recreational Complex! Not only did fans get to see The Hart Foundation take on the British Bulldogs, but they got Demolition vs. Danny Spivey and ??????????.
The mind spins at who that possibly could have been.
I would have said Lanny Poffo, but he was already booked to lose to Ron Bass. I could look it up, but I'll just say it was Barry Windham. Yes, I know he was in the NWA at the time, but my site, my rules. It is only in this manner that my dream of having the guy who replaced the guy in the US Express tag with the same guy can happen.
And holy guacamole…the infamous TOM MAGEE was on this show as well. Man I was I was there to witness the in-ring glory of the man who Vince McMahon legit thought could be the next Hulk Hogan.
Last but not least, I have to mention Koko B. Ware versus Danny Davis in a special match. You know how I know it was special? Because the lineup literally says it! SPECIAL MATCH!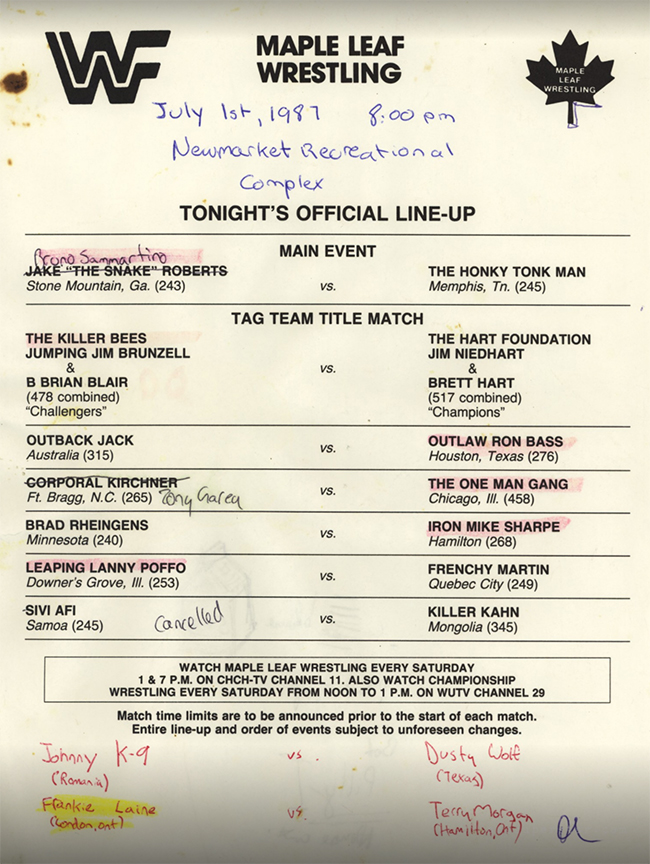 Three months later, and back we go to Newmarket. Mad props to the person who bought this originally, as that dude went to painstaking detail to ensure I'd have an accurate account of this card for my "Worst of Pro Wrestling" website 32 years later. I don't even need to do a search to see where Jonny K-9 was from – right there it is! He's from Romania! In red ink no less!
I also see that Killer Khan vs. Sivi Afi was cancelled. Probably a good thing for Sivi, as he was outweighed by exactly 100 pounds.
Only thing I can knock this guy for is while he did note that Corporal Kirchner was replaced by Tony Garea, he did not list Garea's hometown. That or Garea was also from Fort Bragg. I know he isn't, but in my world from now on he will be.
The lineup said so!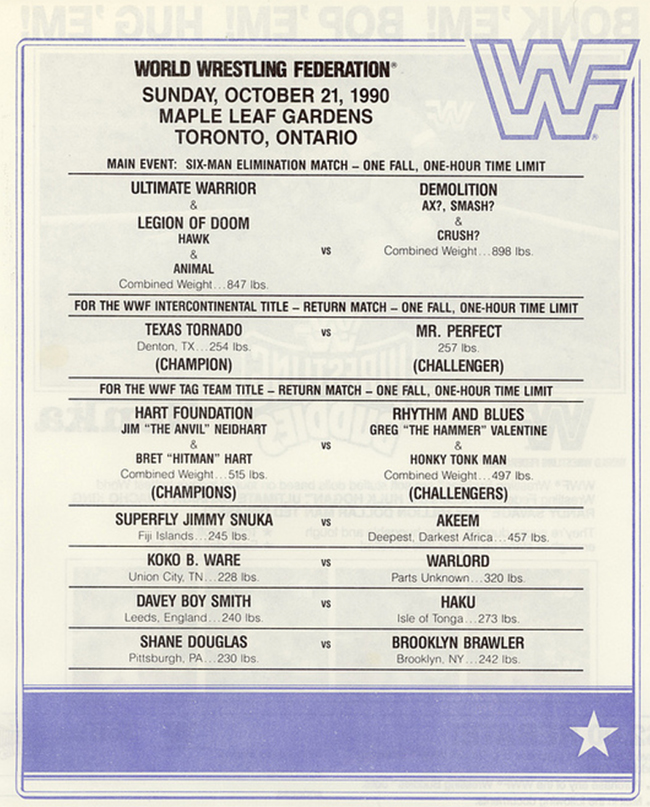 Skipping ahead a few years, fans in Toronto were able to witness a rare Intercontinental title defense by Texas Tornado (Kerry Von Erich), as well as a return match for some reason between the Harts and Rhythm and Blues. That's kinda a step down from the British Bulldogs to say the very least.
What would have been cool though is to see Shane Douglas learning how to fight dirty against the Brooklyn Brawler. I have no doubt it was this exact encounter that planted the seeds in young Shane's mind to become a nogoodnik himself, which would eventually land him a role as a key player in ECW.
Most importantly on this card, though, would be the main event – The Legion of Doom and The Ultimate Warrior versus Demolition.
Or WAS it Demolition?
Ax?
Smash?
Crush?
Seriously, what was the deal with the question marks there?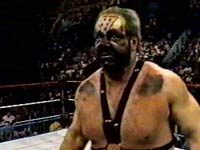 Did they think Randy Culley was going to come back as Demolition Pizza Face?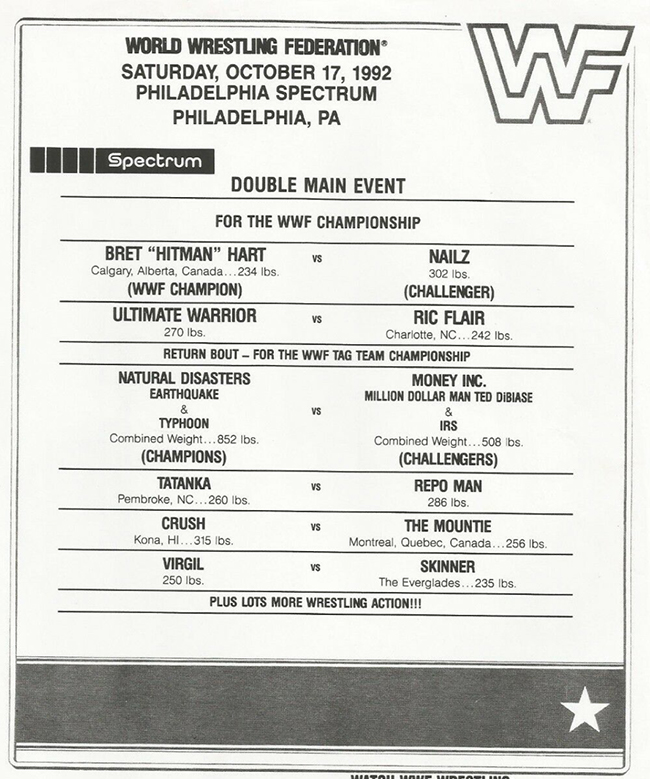 Jetting ahead two more years, we dive head first into the WrestleCrap Central – check out the bottom of that card! SKINNER! REPO MAN! MOUNTIE! NEON YELLOW AND PURPLE AND ORANGE CRUSH! TATANKA (BUFFALO)!!
Whew, I need a second to regain my breath.
But hey, we had Bret Hart AND Ric Flair on the show as well. Not facing each other, mind you – that would have been good. Instead we got Flair versus the Ultimate Warrior (!!) and Bret defending the WWF title versus NAILZ!
Seriously, someone put that card together and didn't think, "You know what? If I just changed this to Warrior vs. Nailz, we could give the fans Bret vs. Flair. People may like that."
No.
No.
We got Bret vs. NAILZ. That sounds horrific.
But I have to admit – I kinda want to watch it now and see if Bret could pull a rabbit out of his hat. Thinking back upon the Nailz matches I've seen, if he got it above DUD level I'd be mighty impressed.
You know what? This was kinda fun. And like I said, it rekindled my love for wrestling all over again. Thinking maybe we could do these from time to time as another feature here at WrestleCrap.com – call it "Card Subject to Change". What do you guys think? Good idea or bad idea?
Let us know in the comments below!
---
Thanks so much for reading another WrestleCrap induction! We appreciate you doing so. We'd also appreciate your consideration in supporting us on our Patreon by clicking here. For just $2 a month, you will get exclusive content, including the newly relaunched RD & Blade Show. $10? That gets you access to the WrestleCrap Archives! Most importantly, it helps to keep the site alive by paying our hosting bills. Thanks so much and keep on crappin'!