A recap opens of last week's Raw, specifically Bret Hart's surprise, which was apparently that he hates Shawn Michaels. Vince, on the other hand, says Bret didn't get to reveal his surprise by the time Raw went off the air. At 10 pm, Hart stood up (Was that the surprise?) and said HBK didn't have the "insides" to hit him. I suppose the insides are where HBK's "jam" is. But Shawn did indeed have the requisite insides, superkicking Hart. This drew the Hart Foundation, where an unintentionally comical chase in and around the ring ensued, which could do with the Benny Hill theme as a soundtrack. The British Bulldog gorilla-pressed Michaels and looked set to toss HBK off (the stage) until Steve Austin intervened with Chekhov's crutch. Tonight, McMahon promises, Bret will deliver his "big surprise" (for real this time).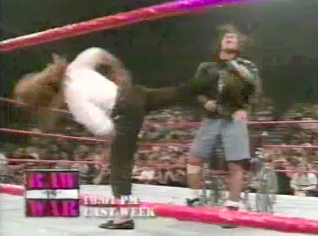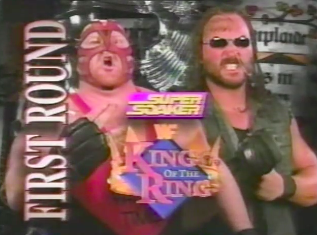 Steve Austin is on the mic to clarify whether he gives a rat's ass about Shawn Michaels (He doesn't). Shawn Michaels comes to the ring, not in his usual suit jacket, but in a muscle shirt with a bandanna around his head. Sounding somewhat inebriated, Shawn again tells Austin (at about 3/4 speed) not to flatter himself, and that he doesn't want to be Austin's friend, either. Michaels explains how he has fallen off ladders and cages (and wagons) long before Stone Cold ever got to the WWF. The two end up brawling like the rotten stinkin' Americans they are. Owen Hart comes onto the Titantron to laugh at them, issuing a challenge to Austin and Michaels for him and Davey Boy's tag team titles next week. That is, if they can get their "crap" together. Shawn says he'll find himself a different partner, while a lucid Steve Austin says the same. Michaels attempts to string words together on the mic before he and Austin fight again "like two pit bull dogs". Does JR mean pitbulls, or bulldogs? Tonight, Vader was supposed to wrestle Crush in the King of the Ring tournament, but King says that won't happen. One of those men has been pulled from the match, and unfortunately it's not Crush.
Vader can't compete due to a broken nose, via Ken Shamrock, that impairs his breathing. Thus, Crush's opponent will be Hunter Hearst Helmsley. You might recall that last week, Hunter was DQ'ed against Ahmed Johnson and eliminated from the tournament. But, says Gerald Brisco, referee Timmy White had erroneously told Helmsley before the match that one could only advance in the tournament by pinfall or submission. Helmsley, who had been in the WWF for two years already, and who had seen the likes of Savio Vega and Jake Roberts advance in the tournament by countout or disqualification, apparently thought there had been a sudden change of rules to the King of the Ring. I must also assume that in Helmsley's mind, since his opponent couldn't advance via disqualification, Helmsley could just lose by DQ in rematch after rematch until someone scored a pinfall or sumbission. I guess the concept of a single-elimination tournament really is hard to grasp, even for an American Blue Blood educated in the finest and most exclusive schools in the country. Thus Helmsley, a heel, is replacing Vader, a heel, against Crush, another heel. This all seems too stupid to have been deliberate, but I wonder what the original plan was?
The match begins between Crush and Helmsley, both of whom Jerry Lawler praises for not trying to be "fan favorites" (when they are, in fact, rulebreakers). Jim Ross says Hunter and Chyna are as lucky as the San Antonio Spurs winning the #1 draft pick, which they'll no doubt use to draft Tim Duncan of Wake Forest. For once, I know exactly what this topical reference is about. He then presses his luck, saying that Triple H will be the Silver Charm of the WWF if he wins this match. You lost me there, Jim. Silver Charm, he explains, is the horse that won the Kentucky Derby (presumably after coming in last, complaining that he didn't know he couldn't win the race by losing, then winning the re-run). Hunter pins Crush after Savio accidentally kicks his Nation brother. It's quite a pleasant surprise, because Wikipedia erroneously says this Brian Adams match lasted nearly nineteen minutes. A brouhaha brews (haha) between Crush and Savio, leading Faarooq to intervene. Crush is upset because (per referee's instructions) by being pinned, he is unable to advance in the tournament. JR compares the scene to the dinner table at the Gifford house. Shut up, JR.
Todd Pettengill gives the details again on buying an Austin 3:16 shirt before we head to commercial.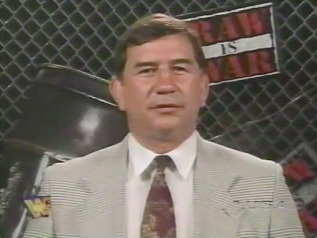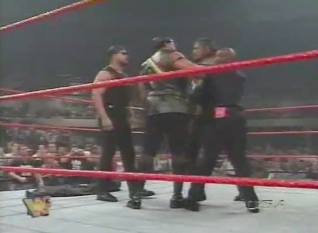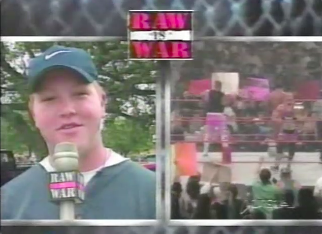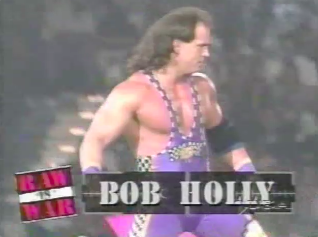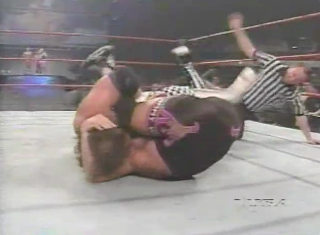 The Hart Foundation, whose Titantron opens with Bret, Diana, and Davey Boy posing at Wembley Stadium, is out next. One fan at ringside holds a sign calling the group the "Crybaby Foundation", while a bunch of others just flip them off. Call it growing pains for the Attitude Era. Owen Hart, accompanied by Bulldog and Anvil, wrestles "native Alabaman" Bob Holly in a match where no titles or Slammys are on the line. Two residents of Mobile (who aren't named Crash or Molly) wish Bob luck via split-screen. In a bid for equal time, Jerry Lawler present footage of his own interview with two Alabamians in attendance: a man and his son. King asks how many cars he has on his lawn, and whether he and his wife would still be brother and sister if they got divorced. Well, at least they got to be on TV, so that's nice.
Bob Holly, wrestling on Raw for the first time in three months, is a former tag team and Intercontinental champion according to Jim Ross, although that last one didn't count. Holly is partying like it's 1995 here, looking strong against Owen, whom he takes down with a huracanrana. Owen, who has asked his brothers-in-law to stay on the stage, soon takes control. To add insult to injury, Lawler insults the intelligence of Alabama residents incessantly. Owen attempts a Sharpshooter, but Holly rolls him up with an inside cradle for the upset victory. Well, what did you expect? It is his hometown, after all. On a replay, Lawler complains about Holly pulling Owen's hair (which didn't happen). Holly's previous victory on Raw, I should note, came precisely nine months earlier (and aired precisely eight months earlier) in another non-title match against the Smoking Gunns, when Holly pinned Billy following a distraction by Owen & Davey Boy.
As Jim Ross recaps the Undertaker situation, where Paul Bearer has threatened to reveal a terrible secret if the Dead Man doesn't join him tonight, we see a replay of Taker "very, very cryptic message" from last week. Well, "see" isn't exactly the right word, as technical difficulties have knocked out the picture. All we see instead is the old Monday Night Raw logo. The, announcers unaware, then introduce the latest episode of "Sunny's Search and Soak Mission". There's a knock on the door and what sounds like Jim Cornette beckoning. "What part of 'No' don't you understand?" says Sunny. Wow, get that picture back on!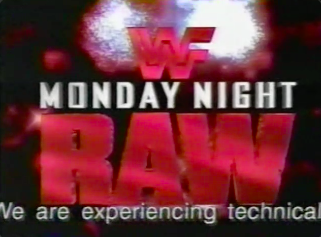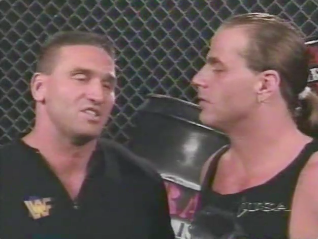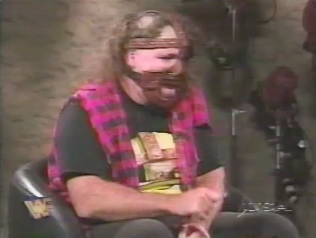 Shawn Michaels is with a sober Ken Shamrock, his hand-picked tag team partner to challenge Owen and Davey next week. Jim Ross apologizes for the previous satellite issues, blaming them on a thunderstorm. It's Beware of Dog all over again! Lawler urges Shamrock not to trust the cripple-kicking Michaels, while fans in the front row start a now-rare "Dairy Queen" chant. Jim Ross introduces his sit-down interview with Mankind. "What makes a man love pain so much that he willingly mutilates his own body?" says Ross in a voiceover. Mankind, whom JR says is named Mick Foley, recalls playing cowboys and Indians — not as a cowboy who'd "rape and pillage innocent women and children", but as an Indian, an underdog. They must have edited out the part where JR slaps Mankind on behalf of John Wayne. We see childhood photos of Mankind and a clip of him jumping off his roof. He realized he could bleed for a living as a wrestler after a schoolyard mishap at age eight. Later, he ate a worm after students in gym class taunted him by throwing them at him; rumors said he liked to eat worms all the time, and that was it for his social life. No girl wants to kiss a boy who eats worms, even though, he yells, "I'm a good kisser!" (Ironically, unlike the worm story, that line would not haunt Mick for the rest of his career as it might have done to a lesser promo guy). He never got the chance to show the world that he could love and be loved (and be a banker).
In keeping with the spirit of the Goldust interview and now the Mankind interview, Jim Ross promotes the latest issue of WWF Magazine, which features an eye-opening story on the Legion of Doom's childhood. Yeah, yeah, they had a dummy named Rocco. We already know, JR. Oh yeah, and they tortured animals. Leif Cassidy is in the ring as Jerry Lawler complains that Paul Heyman has barred Rob Van Dam from appearing on Raw. Cassidy's opponent Scott Taylor is making his Raw debut (minus all those times he wrestled as a jobber). Cassidy planchas himself over the top rope onto Taylor, who grew up in Maine, whose dad is a carpenter, and whose mom works at a convenience store. And you can find out all this in more in Ross's upcoming five-part sit-down interview with Scott Taylor. Not really, but Ross does think Taylor can "make his mark here in the WWF, perhaps in the light heavyweight division" (which doesn't, strictly speaking, exist yet). Taylor nearly slips attempting a springboard crossbody to the outside. Inside the ring, Cassidy catches Taylor trying to float over him in the corner, wowing the fans in Alabama with a particular slam whose name eludes me. Cassidy then suplexes Taylor into a sitout facebuster, but on a second attempt, Taylor rolls him up for the 1-2-3 just as Bob Holly did to Owen. Cassidy gets up on the announce desk and yells at JR that he can't take it anymore.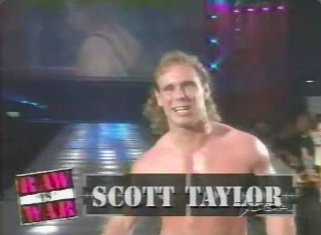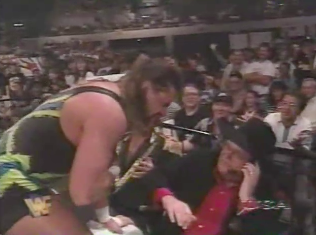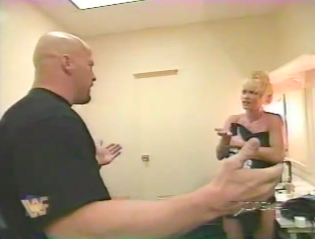 Jim Ross says Stone Cold is backstage looking for a tag team partner. Instead, he barges into Sable's dressing room (the one marked, "Sable") and catches her with her top off. At least she has an Austin 3:16 shirt to cover up with. The Stone Cold Creeper says he's just looking for a tag team partner, but Sable declines, despite what her t-shirt suggests. "Austin doesn't want a partner," says Ross, trying to make sense of this weird segment. "It's quite obvious." As far as I can recall, this is the only time Austin does anything remotely sexual on TV. Speaking of which, JR announces an upcoming live event at Dayton's Nutter Center, which he says is named after the King, although I imagine he's calling Jerry crazy. Plus, two weeks from tonight in West Virginia, "Raw will be War", says Ross, conjugating the show's title in the future tense. The Hart Foundation is up next.
It's the second hour, which means it's time to replay the exact same recap of Shawn-Bret that aired at 8 pm. Vince McMahon, now on commentary, welcomes us to the War Zone. Jim Ross speculates that Bret's big surprise is a new member of the Hart Foundation. "Anything can happen in the World Wrestling Federation!" says Vince, as Bruce Hart surely watches at home in Calgary, licking his chops. Bret Hart, who is without his wheelchair, complains that the "great American hero" Shawn Michaels denied Bret Hart the freedom of speech that Americans always talk about. Shawn might be coming back to the ring at the King of the Ring with a "bad knee", but so is Bret. And tonight he's challenging Shawn Michaels to a match at the King of the Ring, where if he can't beat Shawn in ten minutes, he'll never wrestle in the US again. Michaels appears on the Titantron and tells Bret, who is not drunk, that the Hitman couldn't even beat him in sixty minutes last year. Shawn agrees, but only on the condition that the other four members of the Hart Foundation be handcuffed to the ringposts. Michaels makes some innuendo about Bret not being able to go ten minutes ("if you know what I mean"), then makes the "Sunny days" comment to imply that the Hitman was shooting Sunny with his Super Soaker CPS 2000. In reality, it was Shawn Michaels who had had the affair with Sunny (and driven her boyfriend Skip out of the WWF), while Bret had a faithful, long-term relationship with a different woman in each town. Bret agrees to the stipulation, but Shawn says the Hitman doesn't have a snowball's chance in hell (which is not the tagline of the next pay-per-view).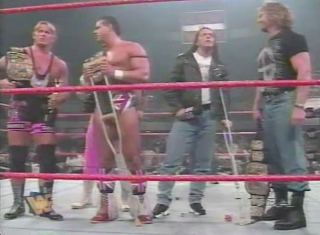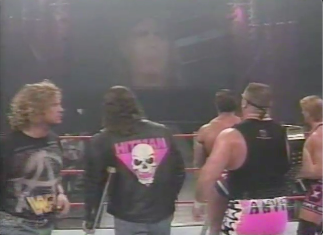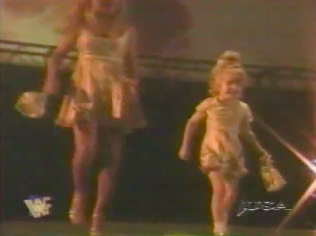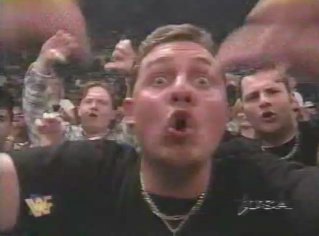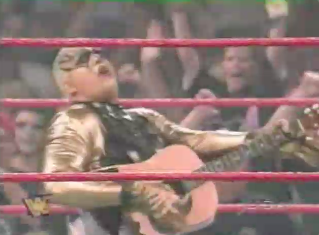 Goldust asks the fans whether they'd like to see Marlena. Then he asks if they'd like to see two Marlenas — "maybe a big one and a little one". Out come Terri and Dakota Runnels (For the record, Terri Runnels, who stands 5'0", is the "big one"). Now it's not just Shawn Michaels who's seeing double! And what does Jerry Lawler think about seeing a little girl made up like a grown woman? He thinks it's sickeningly sentimental, that's what! Goldust hands Dakota the mic, but her promo skills are terrible. "I bet the stork that brought that kid got arrested for carrying dope", says Lawler. Vince tells him to "stop it". Rockabilly, who last Sunday on the Free-For-All beat Jesse Jammes again, comes to the ring for his match. The fans aren't pleased, especially not one particular fan in an Austin 3:16 shirt.
Goldust does his standard turnbuckle punches and kiss to Billy Gunn, which Vince calls "psychological tactics" now that we know "who he really is" (heterosexual). Gunn shifts the momentum with a Fame Asser, but bungles big time when he attempts a flying nothing on a prone Goldust, who gets his boot up. Mr. Runnels does his dad's Bionic Elbow; Lawler says Dusty Rhodes is turning over in his grave. Obviously, he would live another 18 years, but he did wrestle in the first casket match, so Lawler may not be completely wrong. King repeatedly calls Goldust a sissy, which is as strong a word as he will use this week. Rockabilly gets caught in the ropes, distracting the referee while Honky Tonk Man sneaks in with a guitar; Goldust grabs it and smashes Honky with it, leading the referee to disqualify… Goldust? Do I need to point out that the Honky Tonk Man was not even supposed to be in the match? It's the wrong call, but at least Billy Gunn gets revenge on Goldust for squandering last year's Best Buns Slammy nomination.
For the seventieth consecutive week, it seems, Jim Ross has news on Sycho Sid on his Ross Report. This time, someone is "romancing" Sid (but not Kathie Lee Gifford, as he has to clarify to the King).
Backstage is Ahmed Johnson, who is wearing a t-shirt with his own picture on it, just in case he forgets his ID. Vince asks him to comment on what Faarooq had to say about him last week, where he played the "race card". Ahmed agrees with Faarooq for once, and says Vince couldn't answer the Nation leader's question about Black wrestlers getting title shots. But, Ahmed insists, he's not "going there" because he's not a racist. Okay. But, Ahmed vows to be the Hank Aaron of the WWF and be the first Black WWF champion.
A fan holds up a sign showing a skeleton in an Austin 3:16 shirt urinating on a heart labeled "Foundation". Not an Isaac Asimov fan, I take it. Stone Cold Steve Austin is talking to a prospective tag team partner, telling him that he just has to stand on the apron as Stone Cold wrestles Bulldog and Owen by himself. The partner is Harvey Wippleman. The Brooklyn Brawler stops by and pleads his case, but gets knocked into trash cans and stomped (by Austin, not Wippleman). Harvey is Austin's partner, and he's gonna win, whether he wants to or not.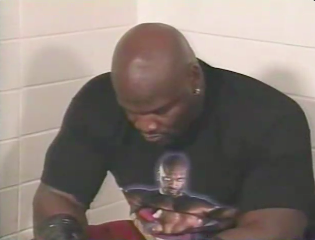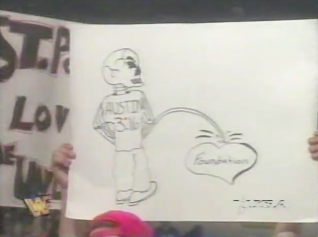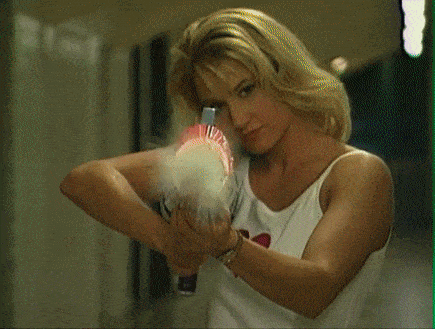 We see the video of Sunny that we couldn't see earlier. When we last heard from Sunny, she was telling Jim Cornette that no means no. It turns out, it's just a water gun commercial. Cornette tells Sunny that if she doesn't sign these contracts in his hand, she's going to be "all washed up". Sunny refuses and instead soaks Corny from three slightly different camera angles, which he sells hilariously. Sad to say it, but the intervening years have proven Cornette exactly right.
Due to time constraints, a scheduled Godwinns match will not take place, robbing Henry Godwinn of his triumphant comeback from a "broken neck" he suffered four weeks earlier. The match will take place on Shotgun, with the hillbillies beating Furnas & LaFon. Rocky Maivia is already in the ring to face #1 contender Faarooq, who arrives with his entourage, minus PG-13. Vince McMahon chides Faarooq for playing the "race card", but acknowledges that "there has never been, as of yet, a World Wrestling Federation champion of color". The first Black champion is in the ring right now, but it won't be Faarooq (who, while not acknowledged on this broadcast, was the first Black WCW champion). Faarooq gives Rocky the Nation salute, but Maivia responds with the old forearm jerk. The #1 contender backs the former IC champion into the corner and makes a clean break per the ref's instructions, only to hit Maivia in the abdomen with a sneaky back kick that Vince calls a Clever Maneuver (#1). McMahon also addresses the elephant in the room: the two wrestler's common "background" (by which he means amateur athletics). Vince lets Jim Ross go into football mode before Jerry Lawler puts his foot down. Faarooq hits the ropes to crotch Maivia, who was attempting a flying body press, then wins with the Dominator. Savio and Crush start to stomp Maivia until Faarooq stops them and lets Rocky go. Because Vince McMahon doesn't see color, he is confused by the show of compassion. We abruptly go from "race card" to "race car", as the Hart Foundations gang up on Bob Holly backstage in yet another case of white-on-white violence.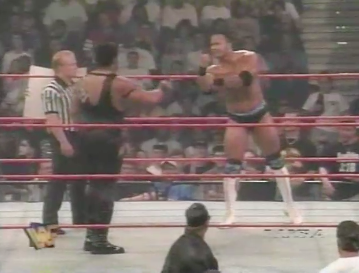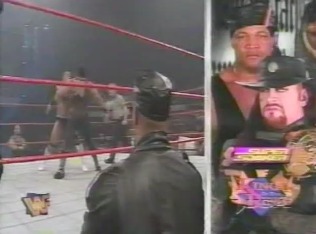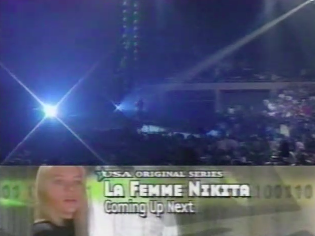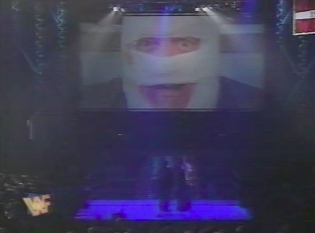 The Undertaker enters, and viewers are minutes away from finding out what they've wanted to know all week: Will Nikita be able to escape from Section One? But before La Femme Nikita, Taker has to respond to Paul Bearer. Vince asks The Undertaker about this terrible secret that Paul Bearer is blackmailing him with; Taker sidesteps the question to tell Faarooq that he's not racist. "The Undertaker, he's not the white savior, because I don't recognize color. I'm not white, I'm not Black. What I am is the reaper of wayward souls". He tells Faarooq that after King of the Ring, Faarooq won't be champion, and "it's not because you're Black, it's because you couldn't beat The Undertaker". Vince tries to get the Taker back on topic regarding Paul Bearer's blackmail — except he never says "blackmail", as that would only confuse the Undertaker, who doesn't recognize color. "This is not the time", says Undertaker. You're not the time, Undertaker. You're not the time! Paul Bearer speaks on the Titantron threatening to spill this dark and terrible secret right here and now on… what date is this? Oh right, May 19th. The Undertaker says he needs more time, so Bearer gives him seven more days.
It's 9:55 pm, and Jim Neidhart is already in the ring for what promises to be the last match of the show. Steve Austin, accompanied by Bret Hart's crutch, enters second and starts slugging it out with The Anvil. Brian Pillman immediately comes to the announce desk, where he usually sits on Saturday nights. An annoyed Vince says, "This isn't Shotgun Saturday Night", which won't begin taping for another ten minutes or so. Regarding Austin, Pillman says that at King of the Ring, it will be payback time. "And you know what paybacks are, King", says Pillman, not needing to elaborate any further. "Paybacks are a bitch!" Austin attacks Pillman at the desk until Neidhart pulls him away. They return to the ring, where Pillman whacks Austin with a crutch. Bulldog and Owen join the beatdown, followed by Shawn Michaels, who hits the Foundation members with a steel chair. Jim Ross tells Austin and Michaels that, by order of President Monsoon, they will have to team with each other next week against Owen & Bulldog. That means Ken Shamrock and Harvey Wippleman will have to put their respective championship aspirations on hold for now. Harvey won't get to wear gold for another three years! "Neither individual is thrilled about this," says McMahon before the two individuals start punching each other.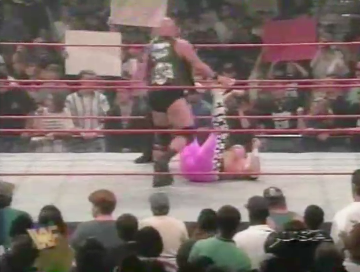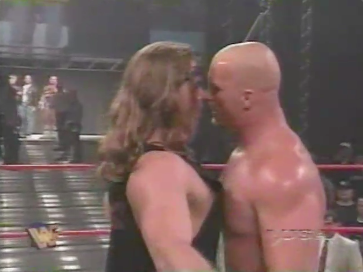 Final Tally:
1 Maneuver (Year total: 63)