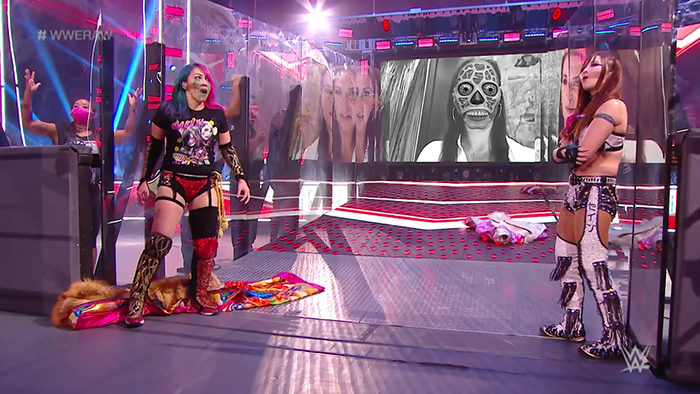 Orlando, FL – After this week's Monday Night Raw, WWE staff have installed giant video screens throughout the Performance Center. These screens will allow WWE CBO Stephanie McMahon to address her employees and Superstars at all times.
"We care deeply about all of our employees," said McMahon via Skype interview. "These screens, along with hidden cameras, listening devices, and heat sensors will allow us to make sure they everyone is working in a safe environment. It's a new morning in the WWE Universe!"
"Happy thoughts. Don't talk about going to AEW. Happy thoughts," muttered Cesaro through gritted teeth.
"Must. Push. Network. Must. Push. Network," said WWE Smackdown Women's Champion Bayley in a monotone voice.
Similar thoughts and feelings have spread to WWE fans, as evidenced by annoying and inane comments on social media.
Technicians are still working out glitches within the system. During Smackdown, one of the screens turned black and white. McMahon appeared as some sort of alien and the words 'Obey' and 'Consume' appeared behind her. McMahon whispered something into her watch and disappeared from the screen.
"These things happen from time to time," said McMahon later. "Just remember to sign up for the WWE Network and never stop watching it. Ever."
While most within the company have fallen in line, a few have resisted the omnipresent screens.
"I'm not saying there's an alien conspiracy forcing us to accept bad wrestling shows, I'm just saying there's some interesting theories," said AJ Styles.
"I have come here to chew bubble gum and kick ass. And I'm all out of ass," said Daniel Bryan.
In an unrelated piece of news, all sunglasses have been banned by WWE.