6.6 RATING, 11 MILLION VIEWERS
WIDEST VIEWED MATCH IN CABLE HISTORY
IMBD GAVE IT 8.3/10
Yeah, what DIDN'T YOU UNDERSTAND about "HALFTIME HEAT"!?
I don't say this often, as a matter of fact I hardly say it at all, but the match between Mick Foley and The Rock on January 31, 1999, during halftime of Super Bowl XXXIII, was one of my proudest moments as a sports-entertainment writer.
Man, this was PRIME TIME at halftime during the FREAKING SUPER BOWL!! What's NOT to be proud of? This was NATIONAL TV in front of a MASSIVE audience! I knew that day this was going to be spoken about for decades and here we are some 24 years later!
I only WISH that I could say that putting on an epic match during the Super Bowl's halftime show was MY IDEA, but it wasn't—I can't and I won't. From what I can recall the idea actually came from the television side of the WWE—Kevin Dunn and the boys. They were the ones that came up with the concept and then pitched it to Vince.
My first reaction was that I thought it was ABSOLUTELY BRILLIANT. Man, I could always take or leave the Super Bowl halftime show; it always just came down to WHO was performing. I also knew that many others felt the way I did, you're either a fan of the featured performer or you're not.
After Vince agreed to the concept, it was now my turn—so what is it going to be? How are we going to use the 20 minutes needed to fill the time between the 2nd and 3rd quarters? Now, I hope you're sitting down, because this is where JIM CORNETTE comes in.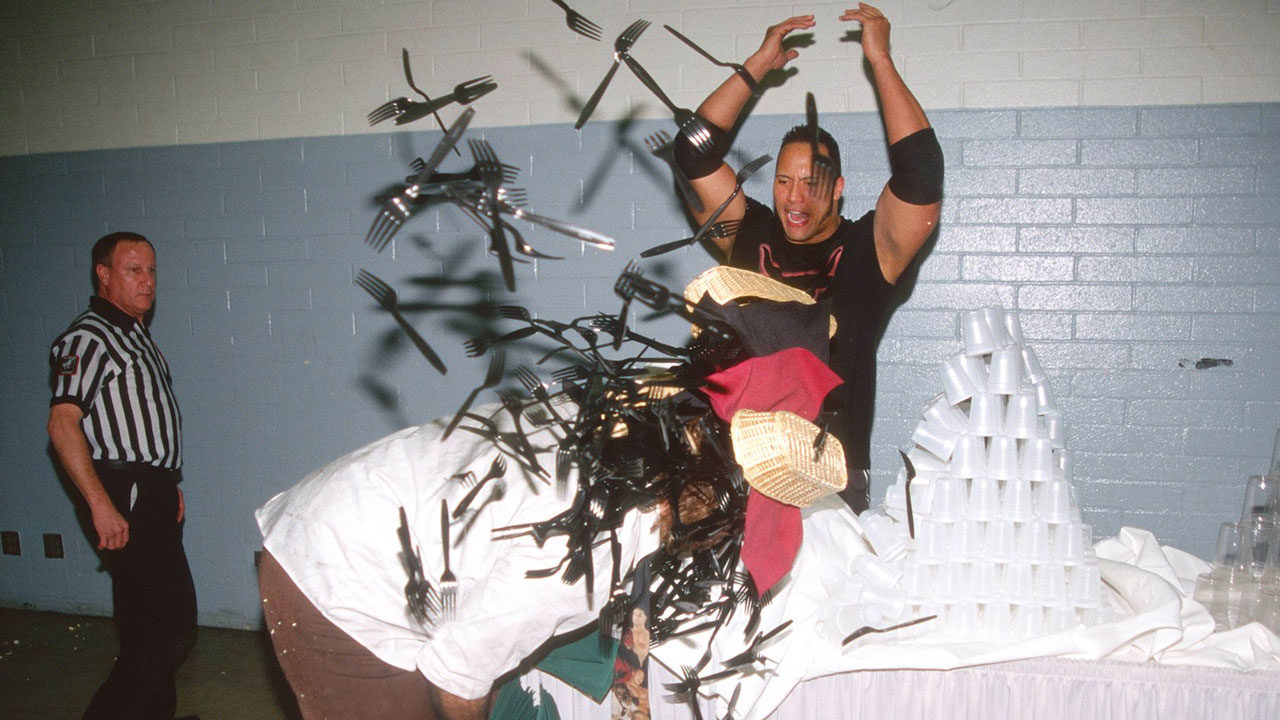 It was probably a few months earlier where Jim Cornette brought me a box of VHS tapes to watch from the old USWA in Memphis. I know Jim was really trying to school me on what he thought good wrestling was, and quite frankly I appreciated the gesture. So I started going through these tapes, watching as many as I could. Believe it or not, I was very familiar with the USWA, particularly for the work that Jerry Lawler had done with Andy Kaufman. Man, that was classic, classic stuff.
So, as I'm going through the tapes I come across a legendary empty arena match with Jerry Lawler and Terry Funk. To be honest—this was one of the greatest things I had ever seen. I mean Lawler and Funk were just off the charts—I couldn't take my eyes off it. THIS was going to be it! THIS was going to be 'Halftime Heat'.
I remember going to Vince's house, pitching it and him being lukewarm, BUT, I knew this would work—especially if we had the right two guys involved. Once I threw Mick and Rock out there—Vince was all aboard.
I remember being there for the shoot. What building, which city—you tell me and we'll both know—I'm HORRIBLE with arenas and cities. Anyway, I remember most of the match being laid out by the late, great Pat Patterson. NOBODY knew wrestling psychology like Pat. Matter of fact, no one ever will.
Pat, Mick and Rock walked through the entire production, using every inch of the arena they could. The creativity was RUNNING WILD between the three. To see their minds all meld together as one was something I will never forget. I also want to make sure to give props to the GREAT Jerry Briscoe as there was NO DOUBT that he played a role in this heavenly production as well.
So, the match went off without a hitch. In my opinion, I felt the finish may have been a little flat, but at this point I wasn't going to nit-
pick… it was a success.
6.6 RATING, 11 MILLION VIEWERS
WIDEST VIEWED MATCH IN CABLE HISTORY
Yeah, RD—put that in your pipe and smoke it!!!
Vince Russo is a wrestling booker, writer, and pundit best known for his work with WWE, WCW, and TNA. You can check out his podcasting network at RussosBrand.com or ChannelAttitude.com and are encouraged to support his Patreon.