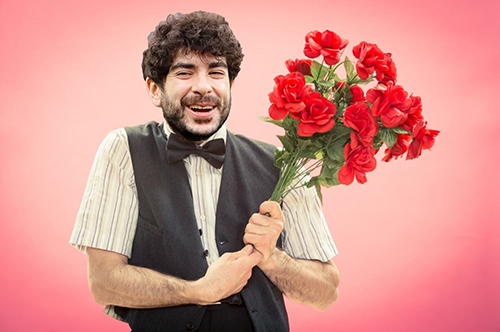 Boston, MA – AEW President Tony Khan attempted to win over WWE Superstar Sasha Banks after she walked out of this week's Monday Night Raw.
Wearing his best button-down shirt, pressed khaki shorts, and tie, Khan went over his plan.
"Okay, Big T. You can do this," Khan told himself. "You're great. You're wonderful. Everybody likes you. Giver her the old 'Tony Khan charm'. Be confident, but not full of yourself. Smile, laugh at her jokes, and accidentally drop the AEW Women's Championship belt. She'll be yours in no time!"
Splashing more Drakkar Noir onto his neck, Khan headed towards her front door. Flower in hand, Khan fixed a few strands of hand, and checked his breath. After popping a few more Certs into his mouth, Khan wiped the sweat from his brow and knocked on the front door.
Khan's hopes were dashed when WWE CEO Vince McMahon opened the door.
"How ya doin', Pal?" asked McMahon with a little extra bass in his voice.
Shocked at the appearance of his rival, Khan awkwardly fumbled for his words. Eventually, he blurted out "Is Sasha home?"
"Lots of people are home right now," said McMahon. "What are you doing here, little guy?"
Flustered, Khan sputtered trying to think of something to say.
"Stick up for yourself, Poindexter!" guffawed McMahon, slapping Khan on the back surprisingly hard. "Look, Sasha and I are patching things up so why don't you just run on home.
Dejected, Khan slowly walked back to his Vespa. All his hopes and dreams gone up in a puff of smoke like an exploding ring match. Sitting quietly, Khan quietly sang along to Mariah Carey's song "We Belong Together" while fighting back tears.
Suddenly, a thought occurred to Khan. He attached his helmet, checked his mirrors, started the engine, and flipped the turn signal.
"I have to make it to Naomi's before Vince gets there!" said Khan, slowly merging onto the road, obeying all speed and traffic laws.