NWA, 1989
Welcome to yet another new column here at WrestleCrap.com, the Squash of the Week!
As many of you know, the late, great Blade Braxton used to do a column called Jobber of the Week where he'd glorify those who glorified others, namely the enhancement talent of the days of yore. I wanted to do something to honor Blade so I'm going to do something similar, but look solely at fantastic one-sided beatdowns in match form. I hope he is looking down and laughing as we do this.
And if ever a match deserved our brand spanking new logo up top, it would be this one!
This was a tale of two teams going the exact opposite directions, with the pathetic Ding Dongs facing off with the rising Skyscrapers of Dan Spivey and Sid Vicious. The match consisted of a few forearms, a kick, and only two more moves.
Unfortunately for Ding and Dong, they would be these two moves: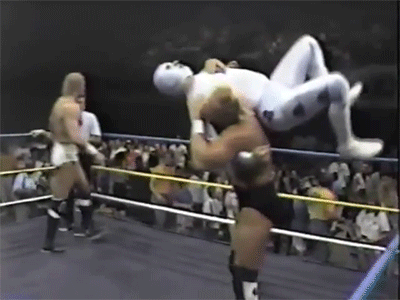 So that first one doesn't look THAT bad. So much so in fact, that the man from Bellville barely sold it. Pretty sure Spivey noticed that and decided to put just a BIT more mustard on the second one.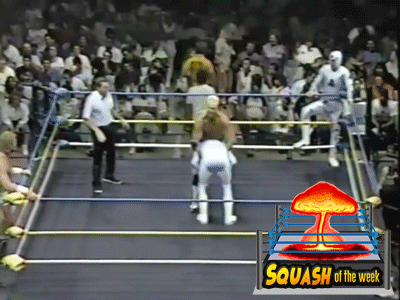 Is it wrong I laughed so heartily at that?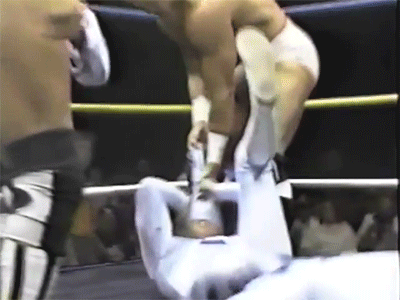 And just to add insult to (possibly very real) injury, the Scrapers yanked the masks off the Ding Dongs…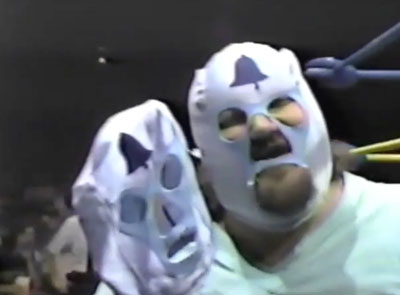 ….and gave them to their stable mate, Norman the Lunatic.
That would be the last we ever saw of the Ding Dongs…but trust me, this is not the last you'll see of WrestleCrap's Squash of the Week!
Join us every Wednesday for more brutlizations. And if you have squashes you want to see here, let us know below!