I stumbled onto this wrestling magazine from the late 90's and the cover made me laugh.
Roddy Piper Vs. Steve Austin is a dream match?
Who thought this was a dream match?!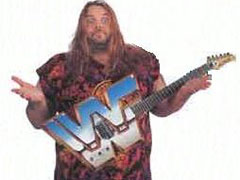 Yeah, I don't know either, Mr. Mountain Rock!
"Revenge"?
Revenge for what?!
Did Steve steal Roddy's newspaper?
Did Roddy let his dog poop on Steve's lawn?
Inquiring minds want to know!