From the late 1990's it's the WWF Slam Cam digital camera made by Jakks Pacific.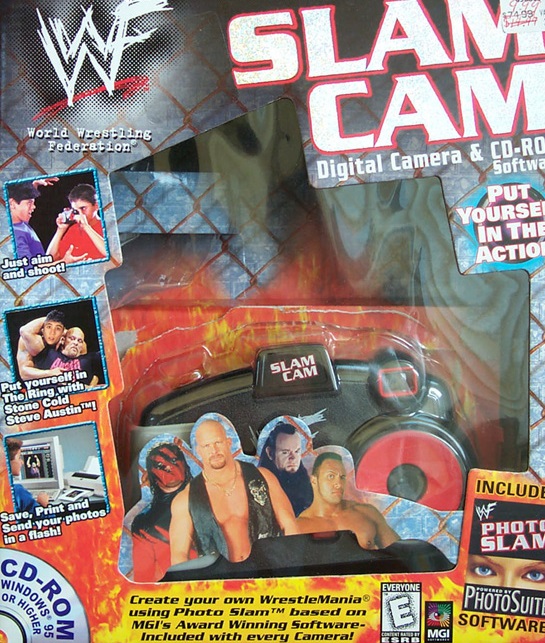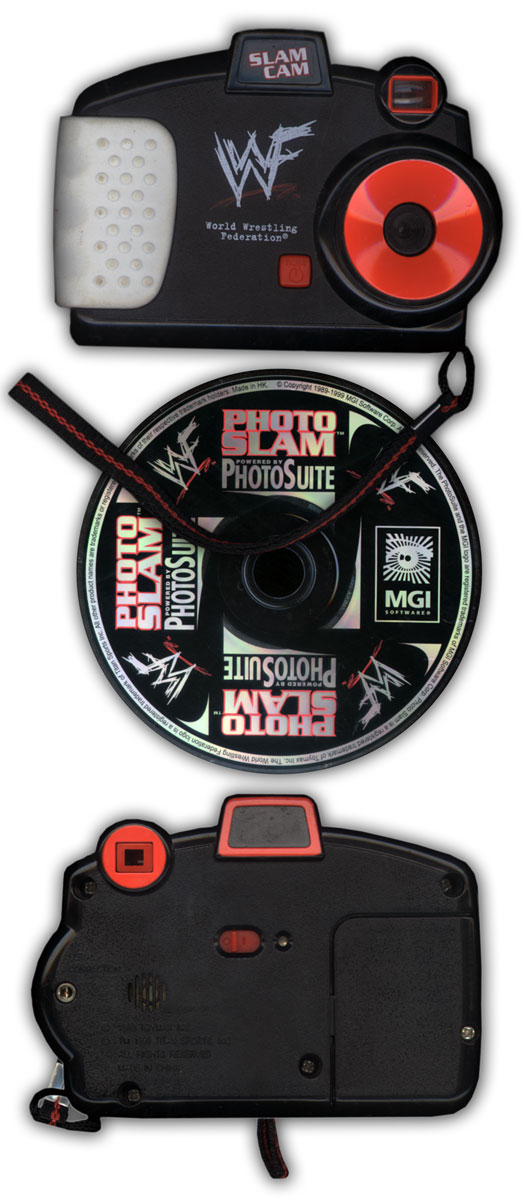 Here's the official product description and system requirements:
The World Wrestling Federation figured that just watching their "brashing brawlers" on television isn't enough for their fans. Watching them slam and bam each other for your entertainment just doesn't cut it. You want to be in the ring. You want to see what it looks like to have Steve Austin's head in a vice, and you want photos to prove it. Well, now you can get it.

The WWF Slam Cam Digital Camera and CD-ROM allow you to place yourself in the thick of all the sweat, heat, and primitive behavior the WWF lives for. And, boy, is it fun! After installing the Slam Cam's software on your computer, hooking up the included camera, and accessing the included CD, the world of "professional" wrestling is yours.

The three steps are: 1. Aim the Slam Cam and shoot as with a regular camera. 2. Transpose your digital images into an array of preformatted scenes with WWF wrestlers. 3. Save your images, and then print them or e-mail them to your roughhousing loved ones. That's all there is to it.

To access the Slam Cam CD-ROM, which features Photo Suite and MGI's award-winning software, you must be running Windows 95, Windows 98, or Windows NT 4.0 with a minimum of 32 MB of RAM (64 MB is preferable) and 90 MB of disk space. A standard 28.8 modem or higher is required, and video and sound cards are recommended.
So yet again; just like with the Interactive Stone Cold Steve Austin figure that we've already covered; if you were a Mac user; then tough luck, pal because you weren't going to get to use this camera!
Did any of you Crappers have this? Was it fun to play around with? This is one of those toys that I always wanted to buy but never bothered to actually get.
Leave a comment below!