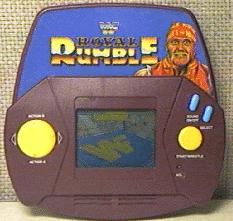 These two handheld video games were released in the early 1990's by Tiger (WWF Superstars) and Acclaim (WWF Royal Rumble) respectively.
I've never played these particular games, but I remember handheld LCD games were a great time-waster even if the graphics were primitive. They weren't as advanced as the original Game Boy but they were a lot cheaper and still had fun gameplay.
And look! WrestleCrap friend the late John "Earthquake" Tenta made it onto the artwork for one of them!
I want to give full credit to The Handheld Museum (an excellent resource) for the images and the information used in this article.
Did any of you have these games or similar LCD handheld games like them? Comment below and tell us which ones you had. Did these WWF games play very well?