Fellow Crapper (And WrestleCrap Radio Co-Host Contest Winner) Triple Kelly writes: "I recently visited my local BIG LOTS! store and found these ECW "thumb wrestlers" in the form of the heads of The Big Show and RVD.
Yes, for a whopping THREE DOLLARS, I can now re-enact the epic July 4, 2006 ECW champion title change by knocking their bodiless heads together repeatedly.
And if you don't believe I bought it, here's a picture of me in my car with the heads of Big Show and Rob Van Dam: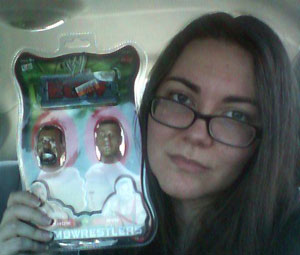 Dear Lord, I need a life. "
RD: "Eh, don't feel bad, kid. I own a Hulk Hogan Thunder Mixer. And Blade owns the (now forever soiled) Katie Vick outfit. I think it's part of being part of the WrestleCrap crew.
Besides, it could be worse. When I first saw that shot, I thought it was RVD vs. Mike Knox. The day that dude gets a Thumb Wrestler, it's time for us all to give up on this business."