Things have been downright kooky for your old buddy and your old pal RD Reynolds recently, as we continued to tour college campuses to figure out where RD Jr. is going to be headed next fall. It's exciting, it's fun, it's exhausting, it's a wee bit stressful. So if you see stuff like this here Mailbag being a bit late from time to time, well, that would be why. But enough of my yakkin' – whaddya say? Let's boogie.
John B gets the party started with…"Am I reading too much into the fact that MJF is playing a babyface now but is still coming out of the heel entrance?"
Probably, yeah. But somewhat tied to this…I know everyone wants Adam Cole and Roddy and his cronies to be the guy in the devil mask…BUT WHAT IF…it's actually The Elite instead? They beat the crap out of Max and it's Kenny who is the devil? The Elite could talk about being disrespected by MJF and newcomers like Cole when they started the company. It could set up two sides pretty nicely, and that is a way bigger name feud which would also give Cole time to heal up before he, well, heels up.
Arya W asks…"Is there a wrestler who you didn't appreciate when you were younger, for whatever reason, and now you look back and go "Holy shit, they were great""
Tons of them. Stan Hansen for sure. I love hunting down SQUASHES featuring the man as he was incredible. I've also grown to utterly love Sid.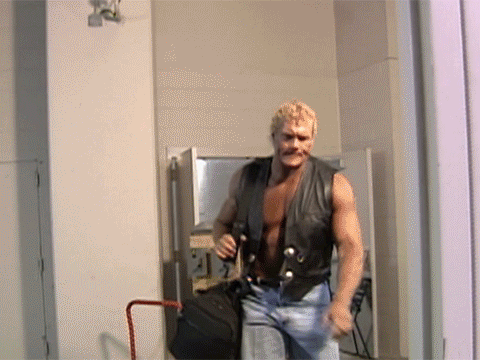 And not just for this.
Joseph from Manhattan ponders…"If allowed to time-travel but only for wrestling-related events (I hate when this restriction is placed on me, by the way), which show are you going to first?"
It will sound weird, but I never attended an ECW show at the old bingo hall. I think I'd want to do one of those just to experience the insanity just once. Would also be cool to have been in MSG when Hogan beat the Sheik for the belt.
Mike M wants to know…"Have you ever been to the Indy 500, and if so what did you think?"
I haven't been to a live race, no, but I used to go out to the track during May ALL THE TIME. It wasn't for fun though – I worked at a company where we helped with photos they'd take (yes, with film). In fact, we did so much work for the Speedway that we were forbidden from taking days off in May at all. I didn't grow up in Indy (moved here after graduating college) so I've never had a deep affinity for the 500 despite my unending love for racing video games.
Jason W opines…"Would you agree with me that watching Penta and Swerve kick out of all those finishing moves on Dynamite was like watching someone empty out an entire desk drawer to find one pen that worked?"
No, not really. The wrestling business changes all the time. I never want to be that old guy in the Apter mags that complains about the evolution what is presented; I used to read constantly that the WWF was a circus and was going to destroy the business. Folks hate Orange Cassidy but he's probably my favorite wrestler today. Like what you like and ignore the rest.
Sean B asks…"When will we see the Honky Tonk Man's WCW's exploits inducted at the 'crap?"
That one is overdue. He had a very strange stint in the company so yeah, I could totally see it happening here.
Eric K gives us this age old gem to wrap us up…"When are we allowed to put up our Christmas decorations?"
My rule would be the nanosecond Halloween is over. I am super blessed as I don't get to give just the Reynolds Ranch the yuletide makeover, but Rupert's Kids Arcade too. In fact, the Christmas tree with the vintage bubble lamps all over it is now there for all to enjoy. The Popeye spinach can ornament from my childhood stays here though – I need to be able to see that every day!
And with that, I bid you farewell for the week. Remember to say something nice to someone you don't know today, and of course, keep sending in those questions rightchere!