Pro wrestling has had its fair share of deadly oriental martial artists from the far east invade the ring over the years. Fans have bared witness to everyone from the high flying Great Muta, to the downright diabolical Mr. Fuji and Mr. Saito. Metaphorically speaking, those guys were as lethal as a samurai's sword. The same thing can not be said about our Jobber Of The Week this week. While he also hailed from Japan, inside the ring he was about as deadly as a half-eaten eggroll.
Submitted for your amusement, the master of "kung-fool" himself, the immortal Riki Ataki. Allegedly from Osaka, Japan, Riki would learn the craft of pro wrestling on the west coast of California. Alongside his running buddies and fellow future jobbers Louie Spicoli and Stephen DeLeon, he would be trained by California veteran "Big" Bill Anderson. By the late 80's, his ultimate destiny would soon arrive. The World Wrestling Federation. In 1987, Riki was ready to take on the WWF's finest.
It was here where he would debut perhaps the most ludicrous pre-match ritual known to mankind. When introduced, Ataki would appear to become possessed by the spirit of Spider-Man and attempt to shoot his imaginary spider-webs out to the adoring crowd. I'm sure more than a few fans in the crowd wished the webs were real and Ataki had kindly shot the webs right in their face. Anything to blind them from the horrors of watching poor Riki's impending squash.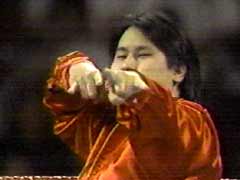 From the late 80's to the early 90's, opponents would tear up poor Ataki like Yokozuna would tear up an all-you-can-eat Oriental buffet. Speaking of oriental cuisine, perhaps Bobby Heenan put it best in regards to Riki: "There's one thing wrong with Riki Ataki. When you wrestle him, an hour later you'll want to wrestle him again." Methinks "The Brain" probably wouldn't get away with that comment these days.
Perhaps Ataki's most infamous moment in the ring would be the time he was responsible for sending a wrestling legend into retirement. After losing a match to Greg Valentine, the Hammer would refuse to let Riki out of the figure four leglock. Out would come Superstar Billy Graham to the rescue. After initialy clearing the ring, Superstar would attend to the welfare of an injured Riki. Valentine would reenter the ring and unleash an attack on the aging Superstar. It would be the last time Graham entered a WWF ring.
You know doing this weekly column, in spite of overwhelming negatives, I always try to point out a few positives in regards to our nominee. Yours truly would love nothing more than to say that despite all the losses, at least Riki possessed the in-ring martial-arts skill of a second-rate Tiger Chung Lee. Or at least those of resident Hanna-Barbera assclown Hong Kong Phooey. However, in every match I ever saw, I never saw poor Riki land one bit of offense. His bump taking style however, would be the stuff of legend. To properly describe the "Ataki fall", as he would collapse to the mat after being pummeled, you need to visualize a man stumbling around and failing a DUI field sobriety test. Failing said test however, due to a massive HEROIN overdose. Riki would get hit and then usually take a two step slow-motion weeble-wobble tumble onto his face. Over the years Ataki, and his Jimi Hendrix style of bump taking, would also make stops in the AWA and Herb Abrams' UWF before stepping away from the mainstream and returning to the west coast independent scene where it all started for him.
Out west over the last decade, Riki has since incredibly added a few regional titles to his resume. He was last seen in the off the wall ISW – Incredibly Strange Wrestling federation. It was here, in 2003, when Riki would meet up with his old mate Stephen DeLeon (now known as the masked Anarchy). As if poor Riki needed any more bad things to happen to him, he would lose a hair vs. mask match to Anarchy, resulting with him ending up with a purple mohawk!?!
In case you misread that, let me say these four words again for you rrrrreal ssssssslowly: Riki Ataki, purple mohawk.
Now that is a truly frightening image that only the trio of Ray Charles, Stevie Wonder, and Nidia could love!!!