The American wrestling scene has seen its fair share of imported grapplers over the years. The most impressive of these visitors to the USA would have to be those hailing from the wonderful continent of Asia. Whether you're talking about men from Japan like the Great Muta and Mr. Fuji, Korean legend Tiger Chung Lee, or heck, even the mighty Mongolian Stomper, no one can deny the impact these men brought with them from overseas. But as good as all those men were, one day there would come a man destined to become THE true legend of the continent. Why, after all, just take a look at his name. Antonio Inoki be damned, here is the guy who tried to have his name become synonymous with the term Asian wrestling. He is the crappy antithesis to Hulk Hogan's Mr. America, and this week's Jobber Of The Week – Mr. Asia.
Now, I must admit, not much is known about this dude. His real name? Unknown. True point of origin? Not a clue. Always one to try and dig up the dirt on all the various JOTWs, I dusted off my trusty atlas, and took a peek at the Asia map to see what I could uncover. It didn't take Inspector Blade too long to uncover where I believe he was born. Take another look at Mr. Asia, would you. If ever there was a wrestler who would hail from the region known as "Mui Bai Bung," this dude is it.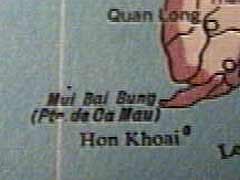 *Note to the American Males if reading. Please calm down, what I'm referring to is Mui Bai Bung, a location in Vietnam. Clearly not to be confused with "My Boy's Bung," a gay porn film at the top of Rico's must-see list.
Imagine if you will, long days of training, a diet consisting of only raw fish, and countless moments of meditation and reflection at Mui Bai Bung, all for his one singular goal – domination of the American wrestling industry. By the time he made it to our shores in 1990 he was determined, and he sure didn't waste any time trying to make an impact.
If he had the balls the call himself the be-all and end-all of Asian wrestling, he sure better back it up the ring. And he did. In his first WCW appearance in January of 1990, he was slated to take on WCW's franchise player, the one and only Sting. Surely the world was about to see a ol' fashioned clash of USA vs. Asia, rivalled only by Rocky IV, right? Uh….not so fast, Drago.
The first kinks in Mr. Asia's armor began right as Gary Michael Capetta was introducing him. Yeah, that's right, the first split second Asia was seen on the tv screen. That's when the world could take their first real close look at him and his ….uh…. Asian permed red hair?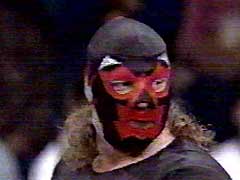 Capetta may have been fooled, but this botched disguise job certainly didn't fool Jim Ross, who chimed in with these comments, "he's supposed to be from the far east…but he certainly looks Caucasian to me." Ahhh, for once, honesty at the broadcast booth.
You can throw out that hokey origin I concocted earlier. From the looks of him, if he had any history whatsoever in Asia, odds are it involved a plane ticket, one Thailand ho-bag in a school-girl outfit, and a fistful of fifties. All right, so he lied about his identity. He's still a big 300 pound threat to Sting right? Well, so much of a threat that in mid-match, Sting just exits the ring and high-fives the fans on all four sides of the ringside seats.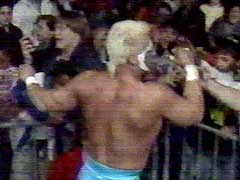 How's that for respecting and fearing your dastardly opponent? While Sting may have showed no respect for Mr. Asia, he definitely showed some for all the fans in attendance and those viewing worldwide. He hopped back in the ring and quickly ended the five-minute slopfest with his Scorpion Death Lock.
Thankfully, it was the last time Mr. Asia would be seen on WCW programming. Amusingly, while that match was the first appearance of Mr.Asia, it wasn't the first appearance of his mask and outfit. A few months earlier at Clash Of The Champions: New York Knockout, Jack Victory donned the black, red, and silver striped outfit, calling himself the Super Destroyer, as he faced off against Dr. Death Steve Williams.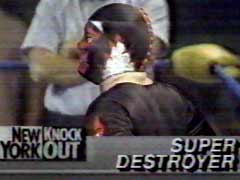 You know, whether you call him Mr.Asia or the Super Destroyer, I believe the Japanese have a better term for both of them:
Sucki, Sucki.