WrestleCrap was saddened Monday by the news that "Canada's greatest athlete," Iron Mike Sharpe, had passed away. When I started our Jobber Of The Week column here at WrestleCrap over twelve years ago, I don't think anyone was more requested to be profiled than the man with the loaded forearm pad, Iron Mike.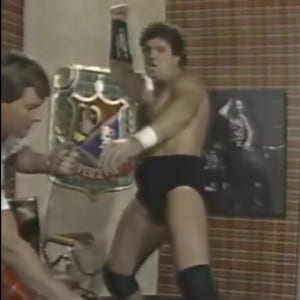 Any wrestling fan who grew up in the mid-80's to the mid-90's will never forget Iron Mike's penchant for losing matches, his loud bellowing of "NONONONONO" when he got into trouble or that pesky injured forearm of his which never properly healed in over four decades. For a generation of wrestling fans, Iron Mike is one of the all-time lovable losers, but it wasn't always that way.
Breaking into the sport in the late 1970's at the age of 25 after being trained by the Missing Link, aka Dewey Robertson, Sharpe honed his craft up in Canada. Working for various promotions such as Nick Kiniski's NWA All=Star Wrestling, he ended up getting his first taste of gold, winning the NWA Canadian tag team championship on two separate occasions, once with future fellow WWF enhancement talent, Salvatore Bellomo. Regional stops in the USA would follow until 1983 when Iron Mike finally found the place he would call home for the next decade, the World Wrestling Federation.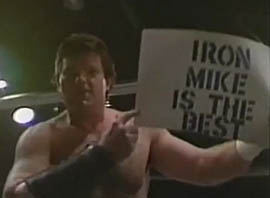 Upon entering the WWF, Iron Mike was far from the "loser" most fans remember him being. Many victories would be had by Sharpe, managed early on by Captain Lou Albano, as he ultimately moved into his moment of glory, a WWF world title shot against champion Bob Backlund om April 30, 1983 at the Philadelphia Spectrum. While he didn't win the big one that night, he trekked on in the WWF, to the dismay of the WWF fans, who loved to call him a "wimp." Here is a great video showing Iron Mike at his best, working the crowd up into a frenzy and then gaining a victory over the future Conquistador #1, Jose Luis Rivera…
[embedyt] http://www.youtube.com/watch?v=kiM01IaMFyo[/embedyt]
Being the mid-80's and the start of Vince McMahon's push towards "sports entertainment," Iron Mike definitely had his time to shine in other aspects besides the squared circle, such as promos…
[embedyt] http://www.youtube.com/watch?v=ILXNF-o08YY[/embedyt]
Hijinks with the legendary Rowdy Roddy Piper on Piper's Pit…
[embedyt] http://www.youtube.com/watch?v=1PVOsmGnD1o[/embedyt]
And guest appearances on the WWF's Tuesday Night Titans talk show…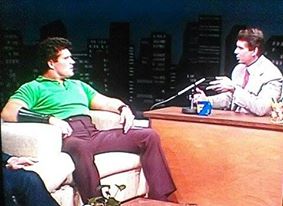 An appearance on said Tuesday Night Titans that also highlighted one of Sharpe's most infamous matches – the time he beat the hair piece off of his jobber opponent, Steve Gray…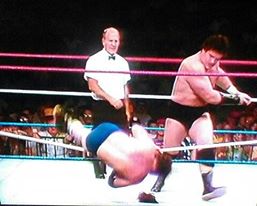 The winning times wouldn't last long, however. By the time the Rock N' Wrestling era was in full swing in the mid-80's, Iron Mike was mostly seen like this…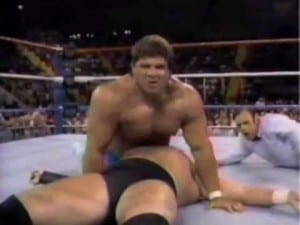 And perhaps even worse, he was seen losing to, gulp, Ted Arcidi of all people…
[embedyt] http://www.youtube.com/watch?v=mDqh5nSz-Xs[/embedyt]
In fact, from 1985 to late 1988, I don't think I ever saw Iron Mike Sharpe win a match on television. Then came an unforgettable episode of WWF Prime Time Wrestling on December 19, 1988. Sandwiched inbetween spotlighting the usual glory of the Megapowers, Ultimate Warrior and Demolition was a rare showdown between Sharpe and his fellow heel enhancement talent, Barry Horowitz. The crowd decided to side with Iron Mike and he was so pumped up as a babyface that night, after he rammed Horowitz's head into the turnbuckle for the token "count of 10" with the crowd chanting along, he kept ramming Horowitz's head an additional ten times until he reached the count of 20. He also picked up the rare win over Horowitz, too. I only saw that match once, over 27 years ago, but seeing the crowd cheer a victorious Iron Mike Sharpe and having him raise his arms in victory is a memory you never forget.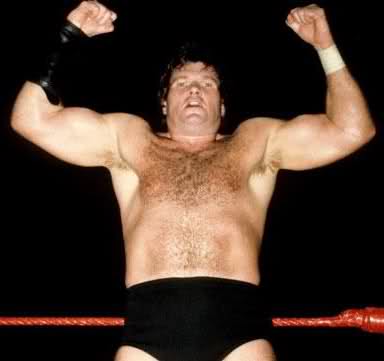 As he entered the 90's, the faces may have changed but the results were the same. Whether Sharpe was battling the then-king of the hill, Ultimate Warrior…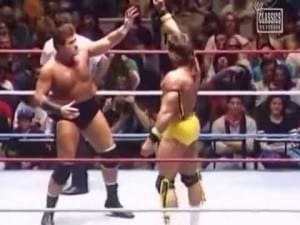 Or going toe-to-toe with the new generation of WWF stars during the early days of WWF Monday Night Raw…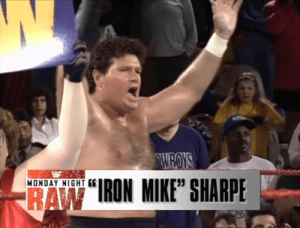 You always knew Iron Mike Sharpe was going to be entertaining…and that he was going to lose. However, the losing would eventually stop for good on June 6, 1995, as he lost his last televised match, a tag team encounter with his old rival/pal Barry Horowitz against the The Smoking Guns. Iron Mike would soon leave behind active competition but continue in the business, opening up a pro wrestling training school in New Jersey. Nova, Crowbar and Charlie and Russ Haas were some of the notable workers who were trained by him.
Iron Mike Sharpe had kept a very private, very low profile in recent years. In fact, I hadn't heard a peep about him in forever until today, when news started to spread on social media that he had passed away at the age of 64. Tributes came pouring in from fans and fellow workers showing their love and respect for Sharpe, so much so that news of his passing became the top trending topic of the day. But just a little later, Glenn Frey of The Eagles passed away, bumping Sharpe out of the trending topic top spot, proving that even in death, Iron Mike Sharpe had to do the job to someone else. In all seriousness, rest in peace, Mike. You and the forearm pad will be forever missed.