Once upon a time, many years ago, there was no such thing as the internet. Older wrestling fans can recall the days of literally mailing tapes to each other, and the joy of going to your mailbox to discover what your pen pal (so named because you actually wrote to each other via a ball point) had sent you. I'll never forget the day I received the Memphis TV where Vince McMahon and the WWF crew had begun 'invading' Jerry Lawler's territory. Not only did we get awesomeness like heel Doink hitting Lawler in the face with a pie, but the genesis of the Mr. McMahon character as he basically used the territory as a trial run for his vile counterpart. And if you've never seen Howard Finkel as a heel, you've not lived. His talking about how he was coming from "the Big Apple" as he literally pointed to said fruit is one of my favorite "lost" promos of all time.No doubt you are asking what all this has to do with some horrible tape showcasing hillbillies. Well, there was a time before tape trading too. There was a time when your only chance to watch wrestling was to do so on a first run airing or to head down to the local video store and see what they had for rent. I remember the video store in my rinky dink hometown, and it had a grand total of, no joke, TWO wrestling for nearly its first full year of existence. We got a Hulk Hogan tape. That thing sucked, because even when I was young (to be fair, I didn't watch wrestling until later in my teens) I wasn't a fan of his. But that thing was the holy grail compared to the other tape.Care to guess what that was?Hint: It's what we're here to discuss today.
Yeah, it sucked. But it was wrestling, and it was either that or watching the Hulkster for the 37th time. So I rented it and watched it multiple times. Did I enjoy these multiple viewings? No. The question therefore becomes why on earth did I do it? My only guess, and I do mean ONLY guess, is that somewhere in the recesses of my mind I realized one day I would be writing about horrible crap like this, and would have to watch far worse, and thus needed to steel myself to it.
You know what? That sounds like some rigamaroled backstory of RD Reynolds, like if George Lucas decided to give me an origin and it didn't quite fit (like Yoda giving Darth Vader's kid to his own family so he couldn't find him) but it kinda made some sense (like Yoda giving Darth's other kid to Senator Organa so when they blew up his planet 28 years later/earlier, she'd get upset about it).
More likely, I was just an idiot.
But the thing started out ok, because you got that awesome intro where they talked about the Egyptians, the Greeks, the Romans, the Indians, and the Japenese practicing wrestling (and yes, they did use that word) because it utilized strength and speed. OH! And because it was, and I quote, "FUN."
I should note this is all set to thegreatest background music ever created, which for some reason is missing when they show it on WWE Classics on Demand.
But don't fret, because we stole it and use it for our current news segment on WrestleCrap Radio.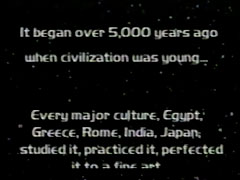 You know, I could fast forward to the main part of this show, but I just can't. Man do I still love this intro. And how couldn't I, considering you get hieroglyphics of ancient wrestling interspersed with Ken Patera doing an AWESOME swing neckbreaker?
And yes, I did use "Ken Patera" and "awesome" in the same sentence. Man I'd love to see THAT move come back.
Hey wait a minute…I think one of those ancient drawings has two guys doing it in the anus. I will say I had never noticed THAT before.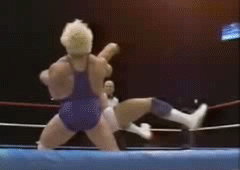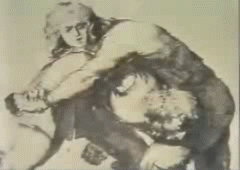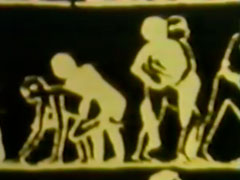 So we go to "Video Control" with Gene Okerlund who promises us "great wrestling action."
I don't mean to cast aspirsions, but I am suspecting Gene is not being honest with us here.
More from Gene: "They sing. They dance. And they can all more than hold their own when it comes to sitting down at the dinner table."
So if you wanted to watch a tape where people sing, dance, and eat, THIS IS FOR YOU!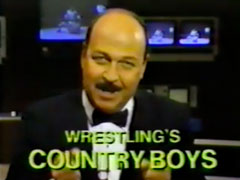 First up we get Hillbilly Jim getting diet tips from, no joke, Hulk Hogan. He whips him up some of his special "gasoline", and urges Jim to down it. "Out of the can and into the man!" states Hogan.
Oddly enough, he would revise this message to "Out of the man and into the can" when training Gene Okerlund.
~~shivers~~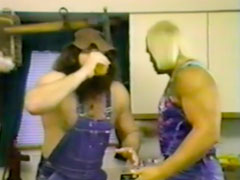 Weight training follows, as Hillbilly is naturally confused by new-fangled equipment such as dumb bells.
I'd mock this more (and Jim not knowing how to do a bench press does deserve it), but I can't, since it is set to the most synth-tastic music you will ever hear.
Remember when I said that background music for the intro was the greatest ever?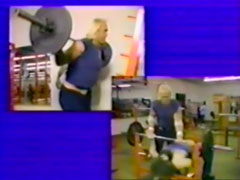 Next the Hulkster gets Jim into the ring, and he promptly falls down climbing through the ropes. A precusor of a career to come.
The highlight here would be Hogan telling Jim, and I quote,"Get that hat off, JESUS!"
Not quite sure why Hogan felt the need to use the Lord's name in vain there.
Can only surmise he must have REALLY hated that hat.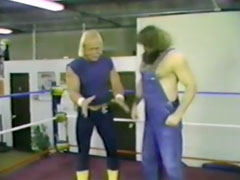 So they do some squats and stuff, then Hogan pie faces the poor guy and throws his hat out of the ring. Anyway, Hogan teaches him how to run the ropes.
I should note that even trying to run the ropes horribly, Jim runs them better than say, Mason Ryan.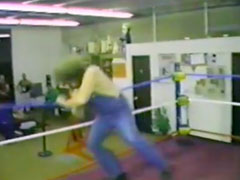 Then we get yet more weight lifting, as Hogan tosses Jim's hat aside AGAIN, not once, not twice, but THREE FREAKIN' TIMES.
A plea to my fellow Crappers: if anyone ever gets the chance to talk to Hogan, please ask him why he hated Jim's hat so much.
I MUST KNOW.
Screw the Dusty Rhodes-Baby Doll photos, THIS is wrestling's ultimate mystery.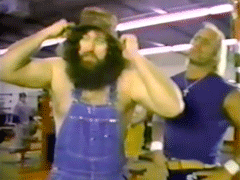 So after many pleas to Hogan, we get Jim's first ever televised match, against Terry Gibbs, which he wins handily with a bear hug. The fans are going absolutely ballistic, which I thought was bizarre, until I saw Hogan outside the ring cheerleading them.
If you ever questioned just how over Hogan was in the mid 80's, you need only know that he had the fans going absolutely bananas for a Hillbilly Jim squash match.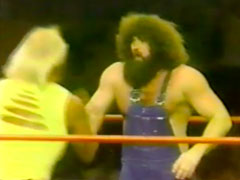 Back to footage of Hogan and Jim training in the gym. Apparently, Hogan is now happy with Hillbilly's progress as he puts the hat back on his head.
Had I seen this in today's WWE, I would have been certain that at some point Hogan and Jim would have feuded over that damn hat.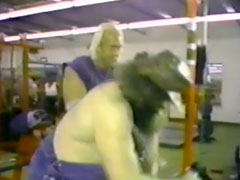 As Jobber of the Week AJ Petruzzi looks on, Hogan then teaches Jim, and I cannot even believe I am typing this, CHAIN WRESTLING. And even more unbelievably, Hogan does this REALLY well.
I know that sounds like I am making this up, but I swear to you I'm not. This is as big an eye opener as watching Hogan in Rocky III (which I maintain is still a ***** classic) in what Hogan could actually do in the ring when he felt like it.
Hogan then gives Jim some real wrestling boots.
Sadly, Jim does not give Hogan a hat to reciprocate.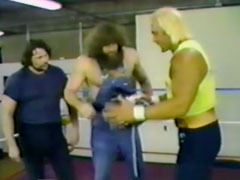 To Madison Square Garden we go for Jim's New York debut against Rene Goulet. I would likely just fast forward through this, but I thought I should mention that there are celebrities in the crowd.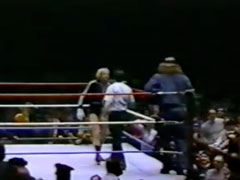 Danny Devito. Not a huge star at this point, so yeah, I can believe that.
Joe Piscipo. Ok, him I can see being there too. In fact, I could see him at ringside today (as part of the ring crew).
But PLEASE TO EXPLAIN…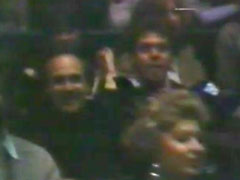 …Andy Warhol in the crowd!
Yeah yeah, I know he was a fan and all, but I totally forgot that was on there and it's still completely bizarre to see the guy being entranced by watching Rene Goulet and Hillbilly Jim engaged in battle.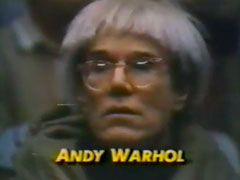 Sadly, Hulk Hogan isn't there. But don't worry – Gorilla Monsoon is there to tell us that Hillbilly needs to get rid of the hat.
I can only surmise that Hogan was in Gorilla's earpiece just like Vince is in Michael Cole's these days.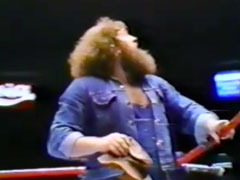 Oh, and speaking of surreal, Jim pulls out a variation of Randy Orton's draping DDT.
Except Jim's looks about 10,000 times more devastating.
Anyway, Jim wins with a bearhug.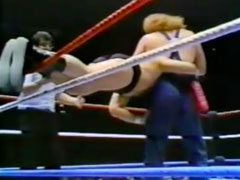 To the Body Shop we go, with Jesse interviewing Jim. If you've never seen the Body Shop, it's basically the single most ghetto Piper's Pit you will ever see. I don't mean that Jess isn't good in the role (I've always thought Jesse was great), but that the set itself is terrible. It's white walls with a couple pictures of Jesse on them.
Still, all is forgiven when Jesse asks what Jim smokes in his corncob pipe.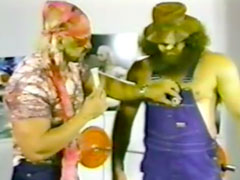 So Jim introduces us to the next member of his inbred family, Uncle Elmer, which causes Jesse to appropriately jump back about six feet in an awesome sell job.
Elmer then cuts an interview proclaiming his love for eating.
Yay eating!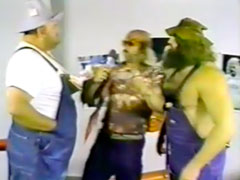 We get a couple Uncle Elmer matches next, including one that would probably cause Dave Meltzer to go into convulsions, Uncle Elmer vs. Big John Studd.
While the match is incredibly awful, thankfully it is also very short.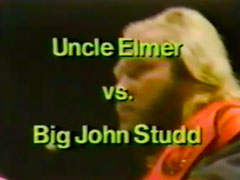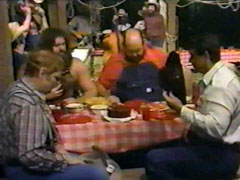 Still, Vince wearing a stetson is always good for a laugh.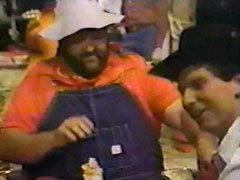 Not good for a laugh is Cousin Junior, who is yet another hillbilly in a seemingly never ending line of them. And we get no less than three Cousin Junior matches.
Amazingly, Junior didn't last long, either going insane or getting fired for drugs. Maybe both.
Anyway, he was replaced somethereafter by Cousin Luke.
Man I know way too much about WWF's obscure wrestling hillbillies.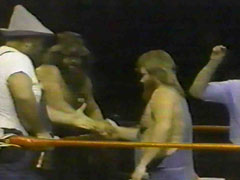 Next up, we get a tag match with Elmer and Junior against Randy Orton's uncle, the great Barry O and someone else they don't bother to identify.
Egads, I just noticed that Elmer decided to ditch the shirt for this, which would be bad enough, but it also appears that Elmer is wearing no underwear.
I'd heard all the rumors and everything, but even I don't think I ever realized just how bad a time poor Barry had in his WWF days.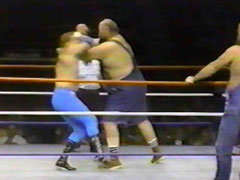 The end of the tape of course is the infamous wedding of Elmer and Joyce.
Oh no you don't, tape!
I already inducted that so ain't no way I'm watching it again!
Love the credits in which we give "Special Thanks" to Vince McMahon!
Not just thanks.
SPECIAL THANKS!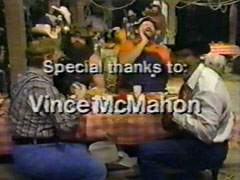 So yeah, the next time you start to bellyache about how there's no good wrestling to watch in this day of DVDs, YouTube, and On Demand, do me a favor and punch yourself in the mouth. Because when I was younger, all I had was this tape.
And I rented it over and over and over again.
How stupid was I?