Blackjack Brawl was so named because it emanated from Las Vegas's MGM Grand Arena, a venue with an official capacity of 17,157.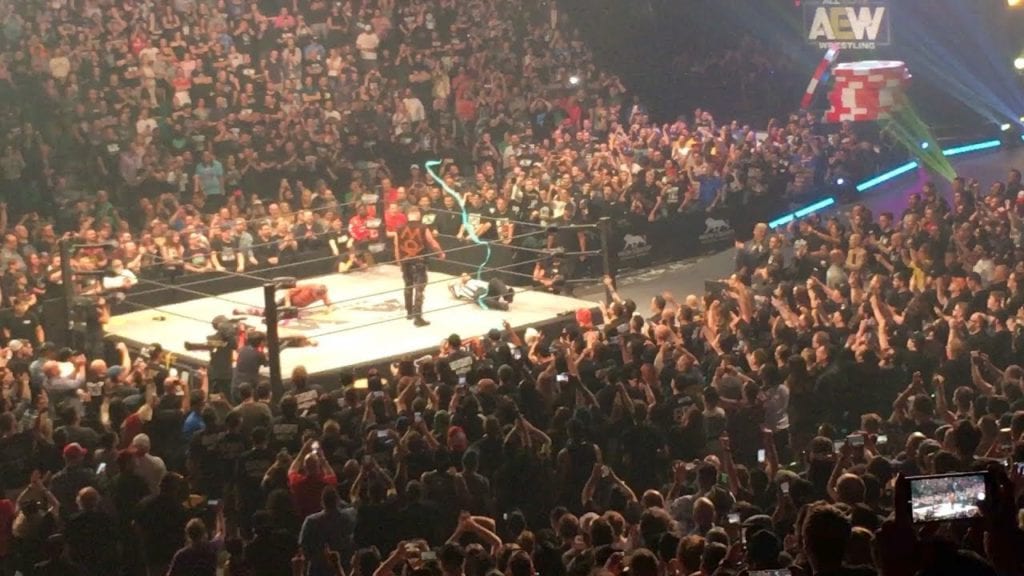 Now, that doesn't mean that wrestling events actually sell out the place. AEW's Double Or Nothing hosted only 11,000 fans, while at its peak in 1997, WCW drew around 12,000 to the arena.
The UWF similarly fell short, drawing fewer than 10,000 fans to its Blackjack Brawl. I mean, technically 600 fans is fewer than 10,000, right? Because only six hundred fans showed up to the UWF's Blackjack Brawl.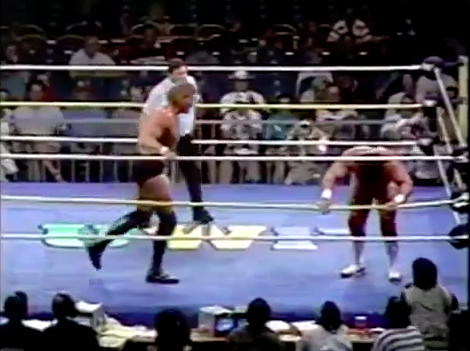 Whenever WWE has poor attendance, they move everyone to the side facing the hard camera to hide the empty seats, but I guess there weren't even enough bodies in the arena to do that at Blackjack Brawl.
With the show losing so much money at the box office, UWF was really tempting fate by having the announcers constantly refer to the event as "Blackjack Brawl One" and promising a second and third installment in the near future.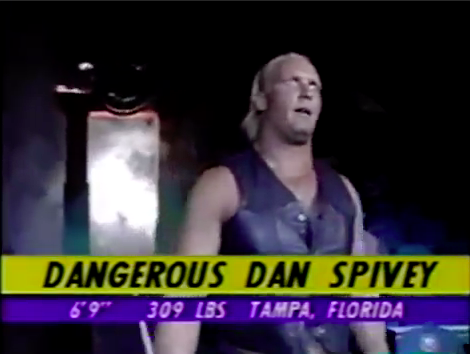 The event kicked off with a match for the brand new Americas Championship: Dan Spivey…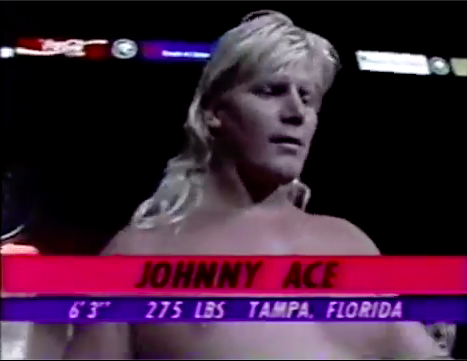 …vs. Johnny Ace, whom announcer Steve Rossi did his best to hype up by practically begging the fans to cheer for him. They didn't.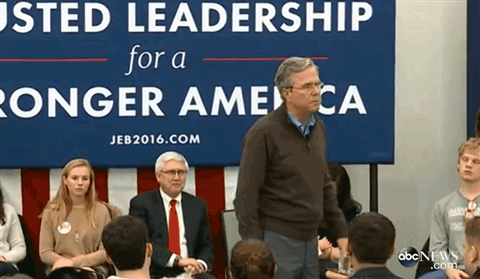 Make fun of Jeb Bush all you want, but at least when he asked his audience to clap, they did.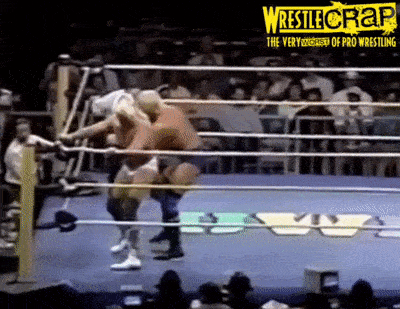 Ace tried to electrify the crowd with this body press that was as saggy as the seat of his trunks.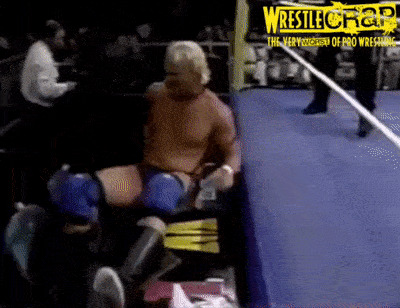 Dan Spivey followed that up with this table bump.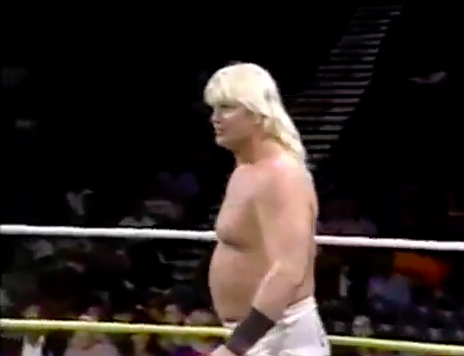 "They got guts", said announcer John Tolos, referring to both men's courage.
For his part, play-by-play man Carlo Giannelli really added to the realism of the action by noting that the moves the two men were casually exchanging would kill a man under normal circumstances.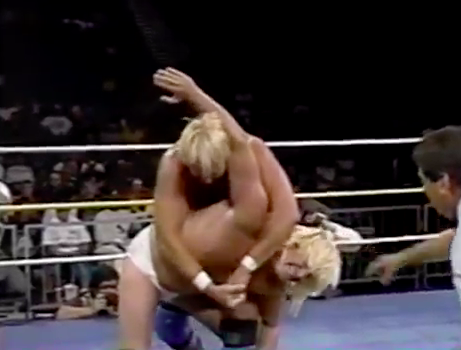 Spivey put Ace in an abdominal stretch that would have given Gorilla Monsoon a fit, but it was punishing enough for Missy Hyatt to throw in the towel for her man, Johnny Ace.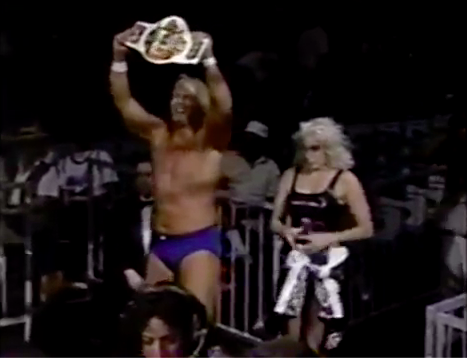 But no! It was a double-cross, as Hyatt was really aligned with the irresistible Spivey. "You double-cheatin' cross!" yelled Herb Abrams, but Missy couldn't care less. Rumor has it she was wailin' mercy all night.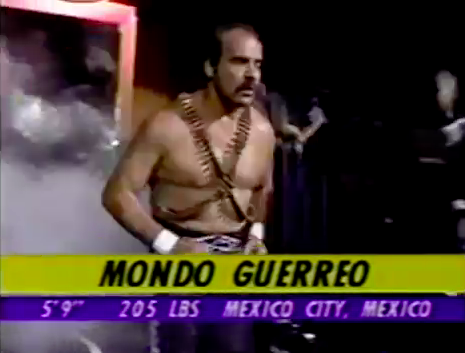 The next match would determine the first-ever Junior Heavyweight champion, with Jack Armstrong taking on Mando "Mondo Guerreo" Guerrero.
Not wanting the fans to take the member of the legendary Guerrero family too seriously, the UWF used a parody of "Rico Suave" as Mando's entrance music. It was about tacos.
"Mando knows what he's doing" said Tolos, just as Guerrero started chasing after his opponent like this: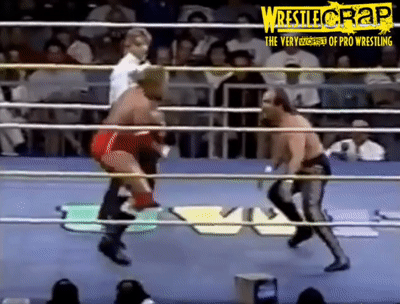 Armstrong picked up the victory with a standing elbow drop to win the title.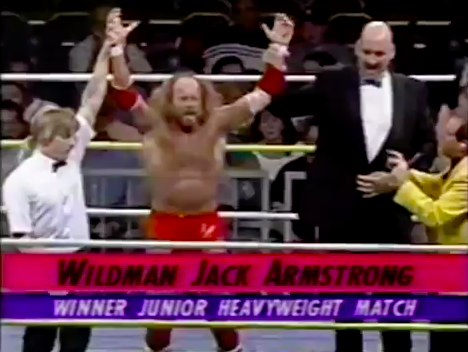 I say title, not belt, as there was none.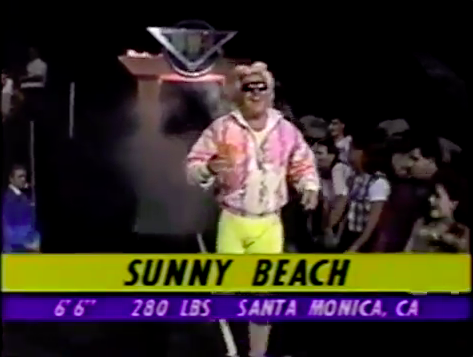 Out next was Sunny Beach…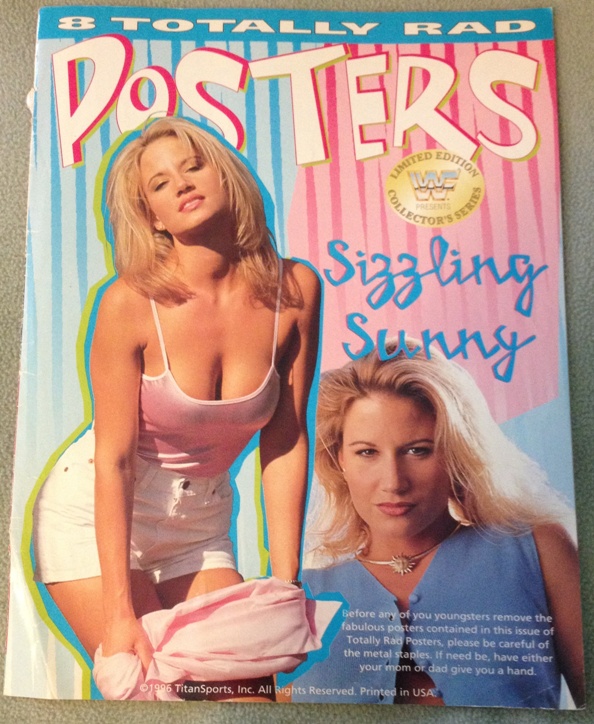 …not to be confused with Tammy Lynn Sytch…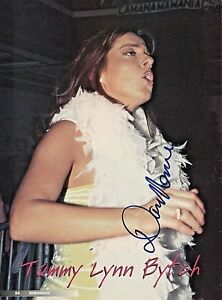 …or, for that matter, Tammy Lynn Beach.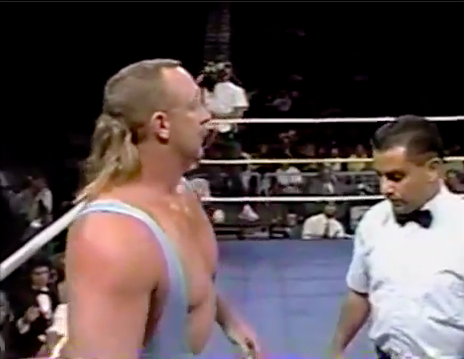 His opponent was another of Missy Hyatt's charges, Dr. Feelgood, who I can say without hyperbole had the worst hair in all of sports and entertainment. If you ever need to illustrate the concept of a tree line, show 'em a pic of the good Doctor.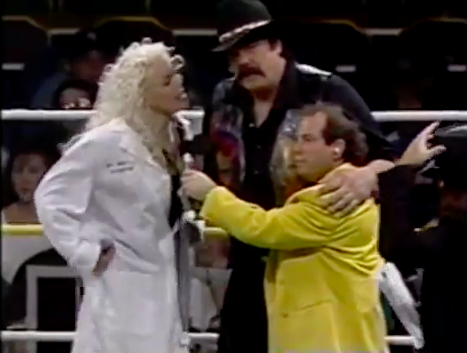 Sunny Beach won the match, and Missy pitched a fit because she wanted, in her words, "another championship belt". Did we miss something?
Well, no one mentioned it before, but yes, this match had been contested for the vacant UWF SportsChannel Television Championship. And yes, that was the name of the title.
In all, nine titles were up for grabs at Blackjack Brawl. Now guess how many of them were actually held by anyone going into the event.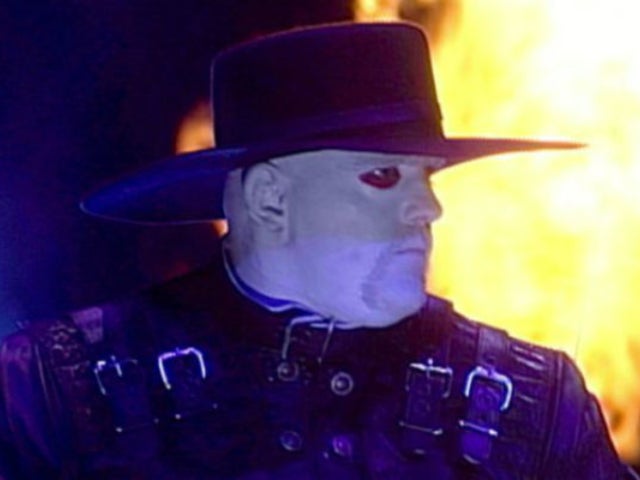 Seven?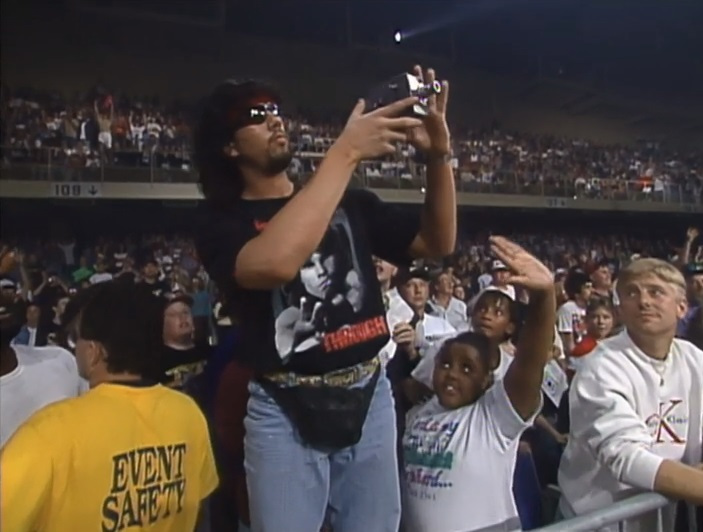 Six?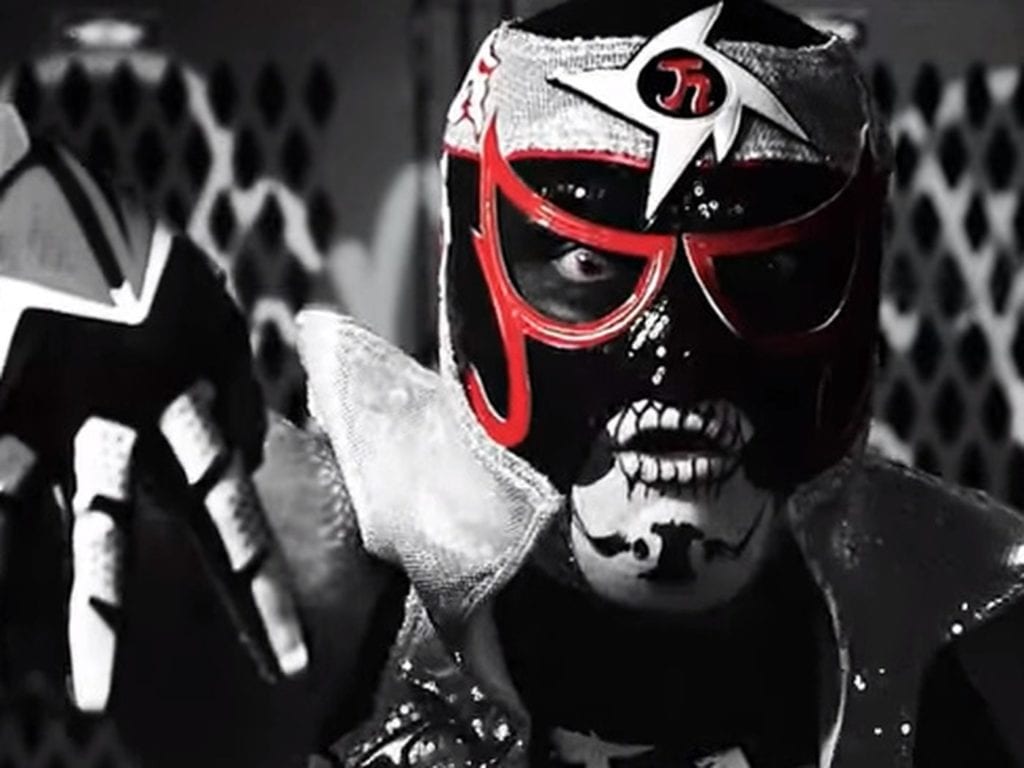 Try zero. Every title was either brand new, vacant, or awarded that night before the card.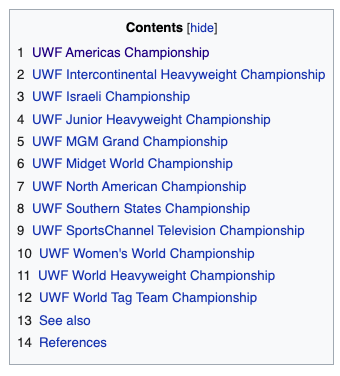 See, Herb Abrams was in the habit of making up titles and then forgetting about them. You'd think that with so many titles on the line, Abrams would have just made every match a title match, but for whatever reason, he didn't want to revive the UWF Intercontinental, North American, or Israeli championships.
For any trivia buffs reading, Bob Orton was the only man to ever lose a UWF title, having dropped the UWF Southern States title to Paul Orndorff back in 1992 after a three day inaugural reign. Orndorff left UWF, like every champion before him, leaving it vacant until this night.
But voilà! On this night, Orton was suddenly champion again with no explanation.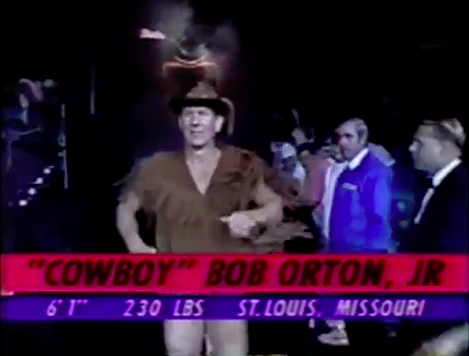 Bob's entrance had the same energy as a 50-year cast reunion for some old Western. The Wild Wild West, specifically, since that's the theme Bob used.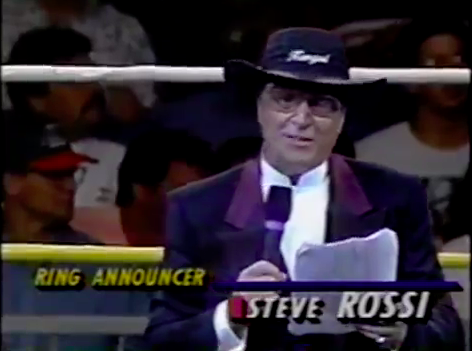 Speaking of old TV, the aforementioned ring announcer Steve Rossi used to be part of the comedy team of Rossi & Allen and was once even on the same Ed Sullivan bill as The Beatles.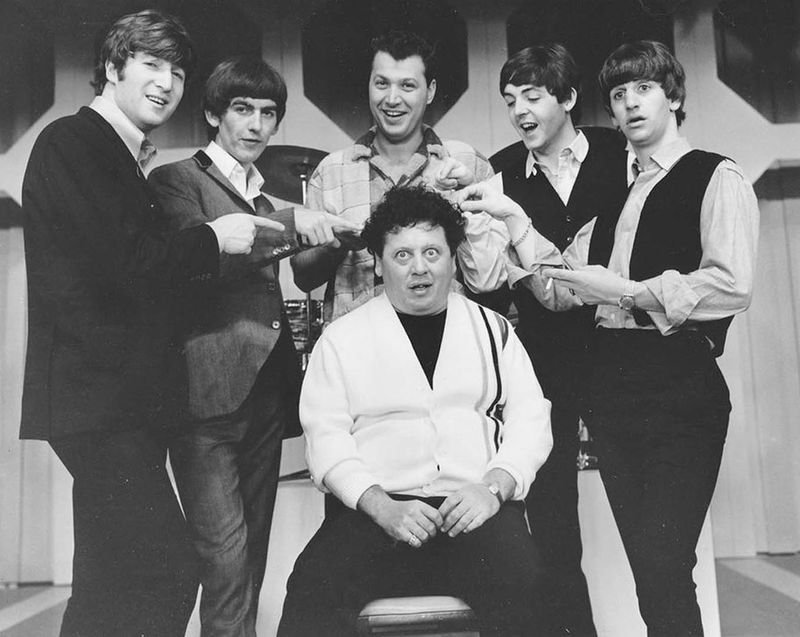 The excitement level on this night was, in my opinion, lower than that of the Fab Four's first US appearance.
The fact that he's not a wrestling ring announcer might explain why he gives no indication as to who's a heel and who's a babyface. For the record, Bob Orton is the babyface in this match. Yes, really.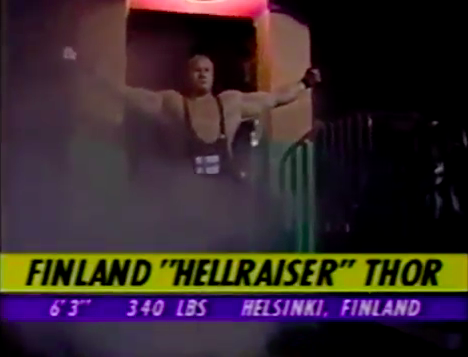 The heel? Finland "Hellraiser" Thor, a man whom Rossi called, "a big man, ladies and gentlemen".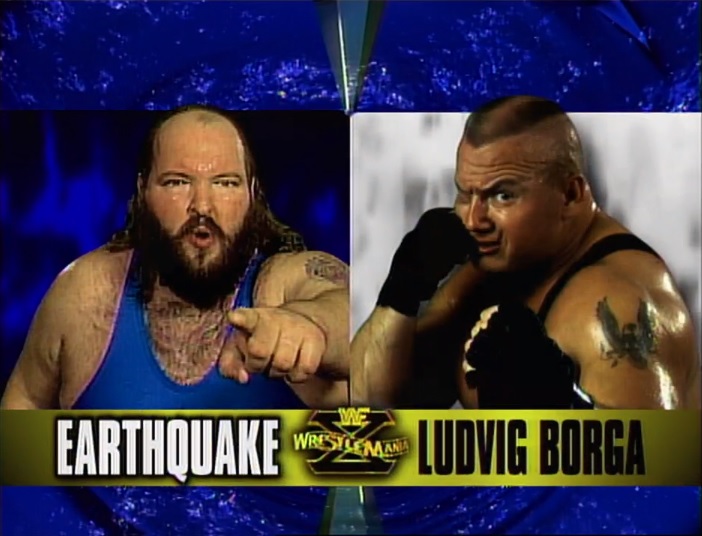 A man who just a few months earlier was pencilled in to compete at Wrestlemania.
A man who was named by someone who doesn't understand quotation marks. Either that, or they really did mean for his first name to be the same as his native country…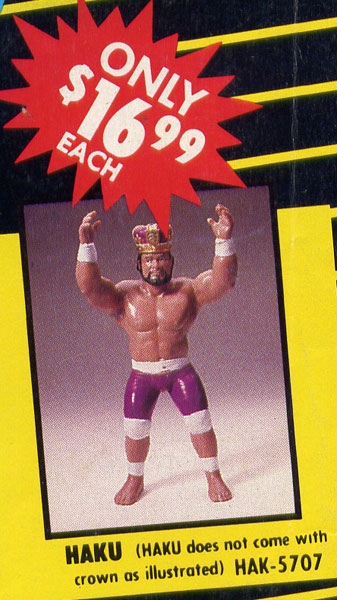 …much like Tonga "Haku" Fifita…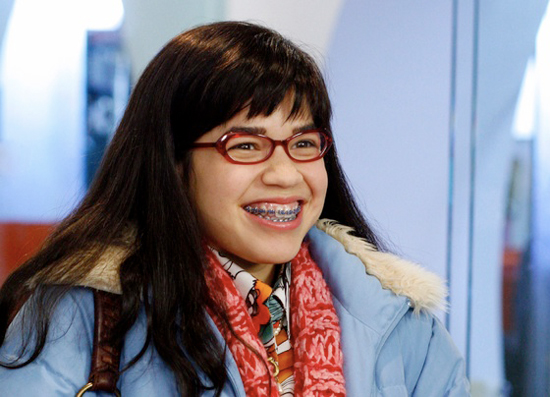 …or Ugly Betty's America Ferrera.
The match ended in a double-countout, allowing Bob Orton to retain the Southern States Title. He could have been a double champion if only he still had his UWF Intercontinental Title, but he vacated that one in 1993.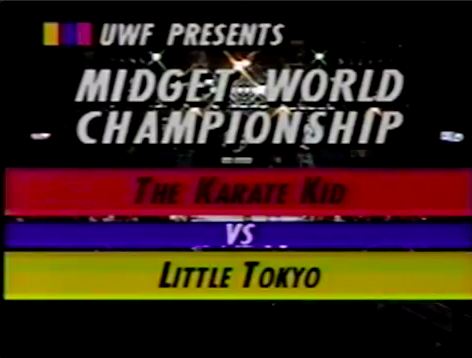 Next was a match for the Midget World Championship. Is that the championship of Midget World, or am I misreading that?
Whatever the case, Steve Rossi bragged that for the first time ever, there would be a world midget champion.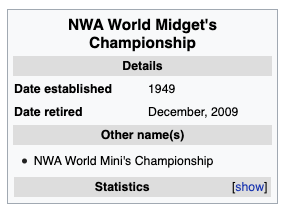 He was off by about 40 years.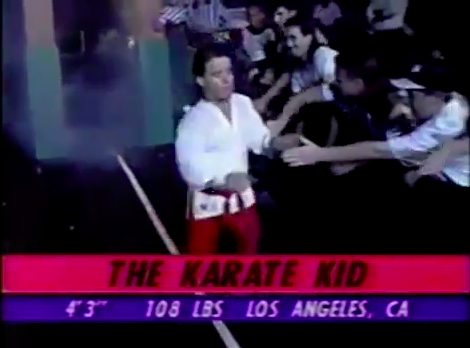 The match featured Little Tokyo and The Karate Kid, who did karate moves. "That's why they call him the Karate Kid, because he's into karate!" explained Tolos.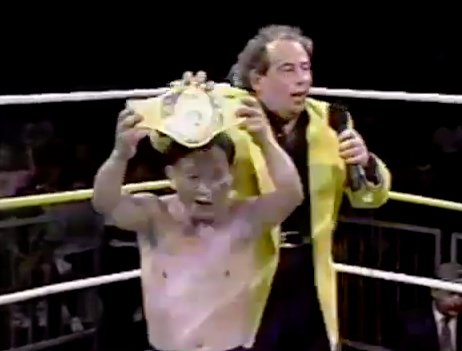 Little Tokyo won the match of the night, after which the much taller Herb Abrams jumped into the ring to congratulate him. After all, Little Tokyo had become the first ever midget champion in wrestling history, which surely came as a surprise to Tokyo, who held the NWA Midgets title in 1974.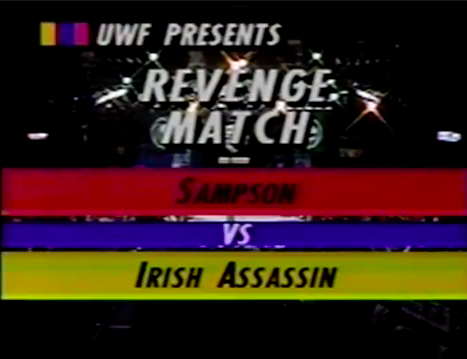 One of the only non-title matches on the card was the "revenge match" between Sampson and The Irish Assassin. Sampson was a sub for someone named Hercules, who probably wasn't Hernandez. Don't let the fact that one wrestler was thrown into the match at the last minute diminish from how much revenge they wanted, for reasons unexplained.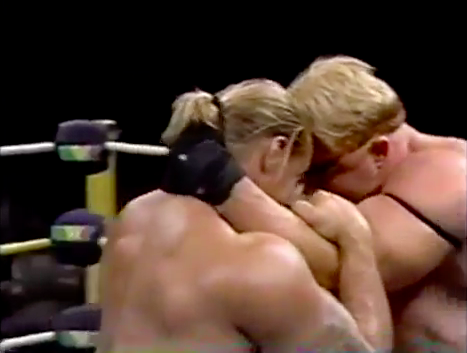 Whatever issue these two men had, it didn't stop them from getting intimately close at the outset of the match, using a loooong collar-and-elbow tie-up an as opportunity to go over spots and figure out what they were even going to do in this match. Their answer: a series of bad clotheslines and slams.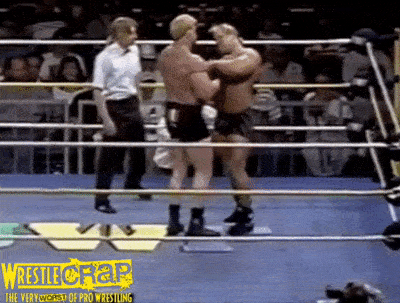 These guys made Tom Magee look like Tom Magee-wrestling-Bret Hart. Couple that with the fact that no one (including the wrestlers and announcers) had any idea who the babyface and who the heel were supposed to be, and the audience was, uh, subdued.
The uncoordinated musclehead ended up winning in four minutes.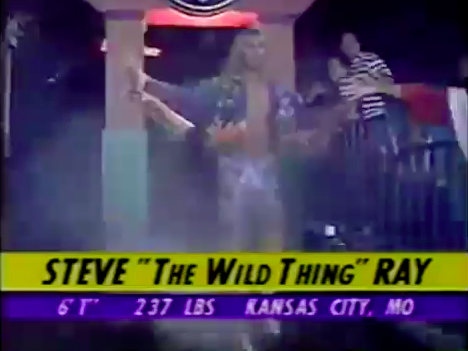 The new MGM Grand Championship was on the line for the first and last time. The first challenger was Steve "The Wild Thing" Ray, who got this pitiful introduction.
My personal highlight: "Look at this guy! Look at that hair!" The announcer couldn't even get his state right.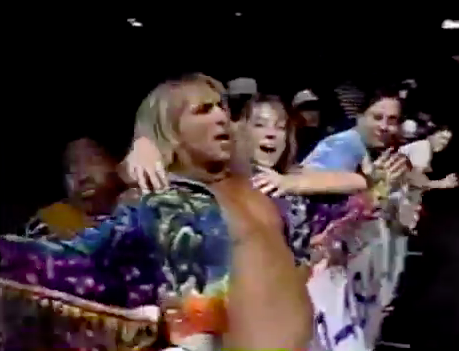 At least Wild Thing was a hit with the girls in the front row. (Editor's note: there was no second row)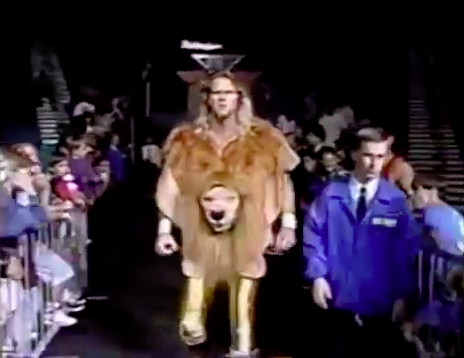 Tyler Mane, on the other hand, was a hit with no one, which is what you'd expect from a guy wearing an infant's pajamas to the ring. I don't know what cartoon animal that's supposed to on his pelt, but it sure ain't a lion.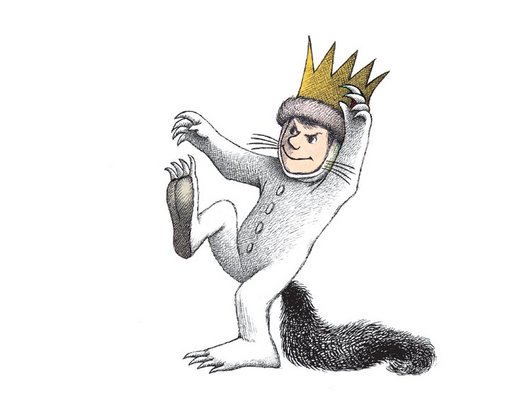 If Herb Abrams actually gave Mane the green light to wear this get-up, he could have at least billed him from Where The Wild Things Are instead of Malibu.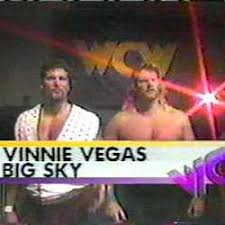 Tyler Mane, a Kevin Nash lookalike, was in fact the real Kevin Nash's former tag partner in WCW – the Cowardly Lion to Nash's Oz.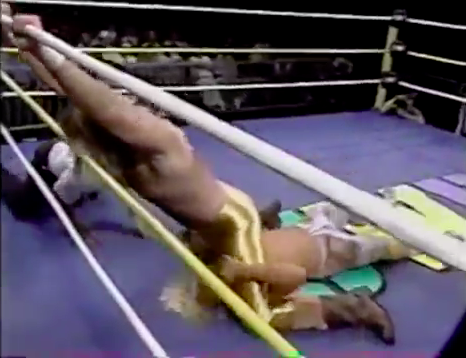 Mane got the last laugh by using the ropes to earn the… tainted victory.
He may have looked like a preschooler in a Halloween pageant, but the cartoony cat costume really prepped Tyler for his role as Sabretooth in the first X-Men movie.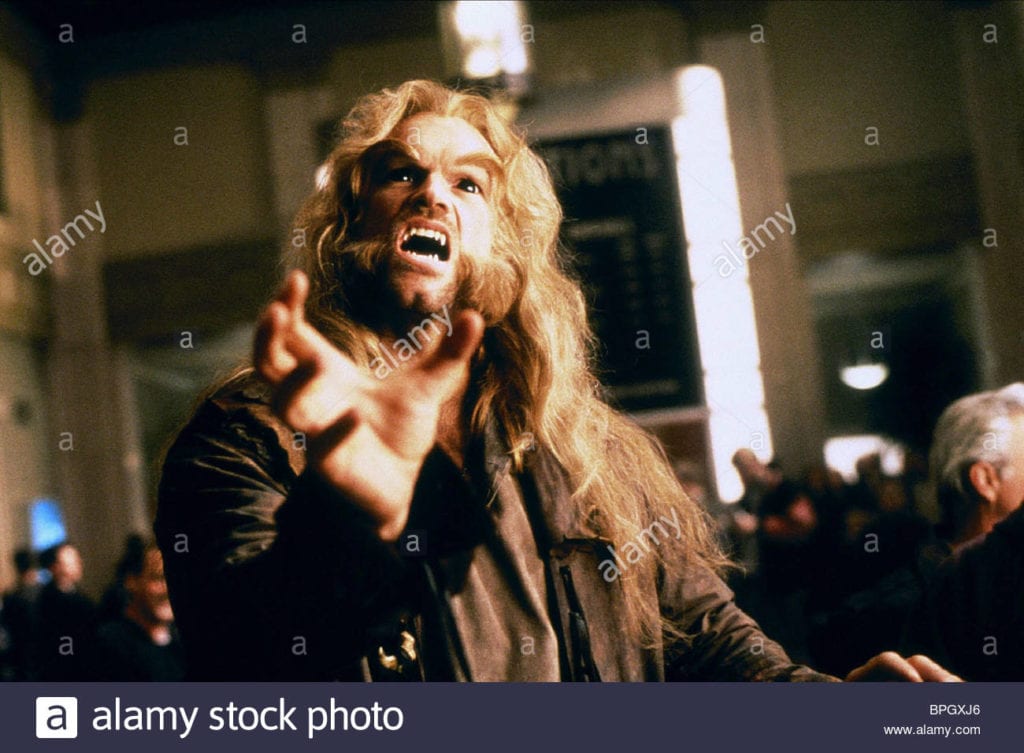 No, I'm not kidding. I guess the real Kevin Nash had scheduling conflicts. No, I'm not kidding about that, either.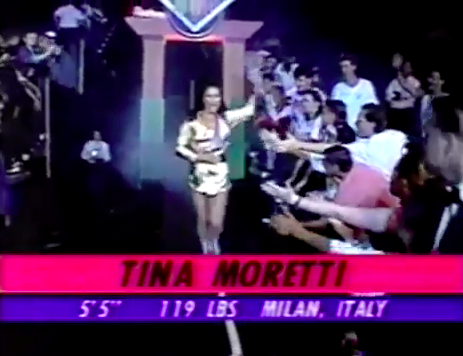 There was the inaugural women's title match, pitting Tina "Ivory" Moretti…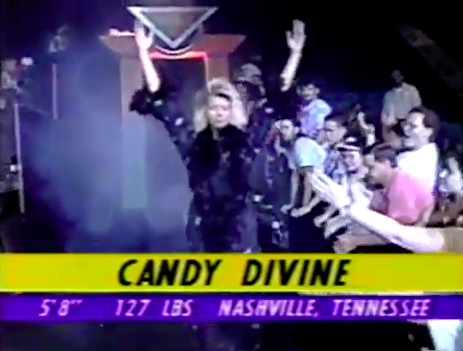 …against Candy Divine, or as Steve Rossi pronounced it the first (and second, third, and fourth) time, "Candy Devian". The commentators claimed Steve was just joking. Then he called her "Devian" twice more after she won.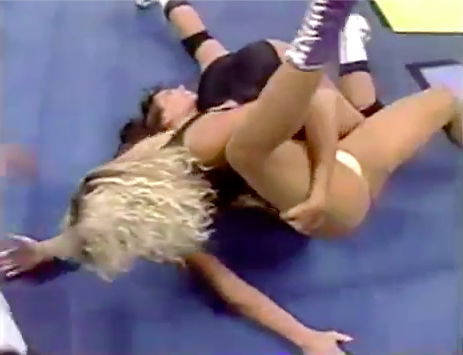 John Tolos was so excited to see the two women wrestle that his colleague offered him a jacket to put over himself. Luckily, the match finished before he did.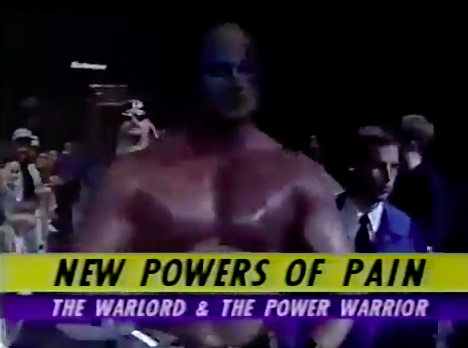 The Killer Bees faced The New Powers of Pain (Warlord and some other guy) for the new tag team titles in what ring announcer Steve Rossi called, "a battle royal".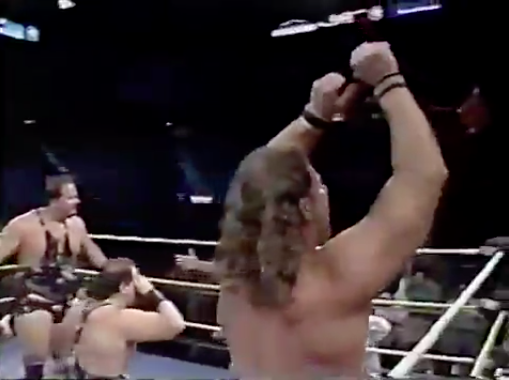 It turned out that that other guy in the New Powers of Pain was actually two other guys. They still lost.
It was then time for the lumberjack match (or as Steve Rossi called it, "a battle royal")…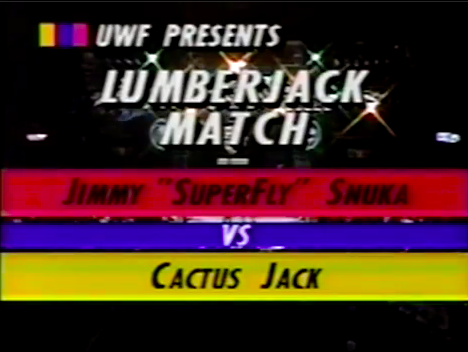 …featuring Cactus Jack and Fiji's Jimmy Snuka, who entered the ring to the theme from Hawaii Five-O.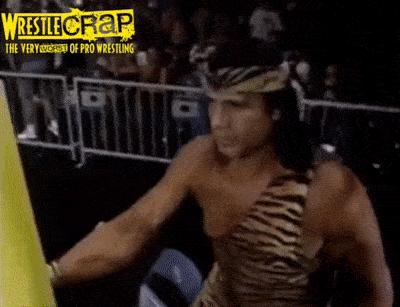 And what an entrance it was! Jimmy climbed the steps before staring blankly at the camera for seven full seconds, as if he just now realized this clown show was actually being filmed. This was as guilty as Superfly had ever looked, and think of the ground that covered.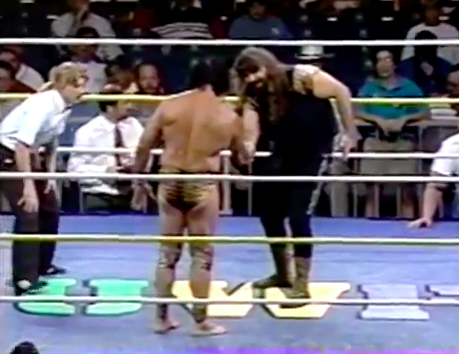 The match started out just as Mick Foley had always imagined his dream match against the Superfly would – with the announcers making John Bobbitt jokes about Foley's severed ear.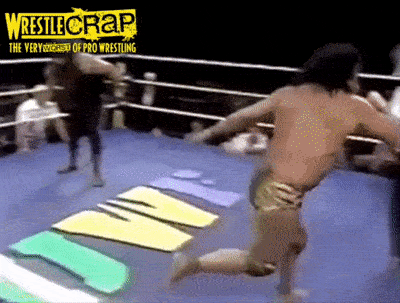 The two hardly did much of anything before Snuka took this unexpected bump to the outside. Snuka and Cactus brawled right into the audience…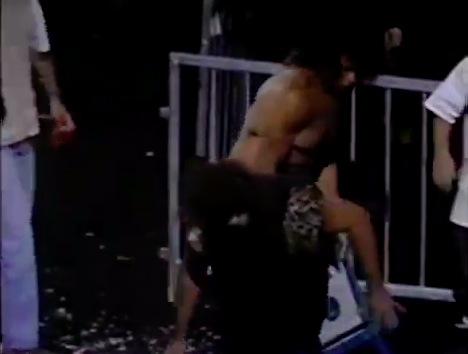 …although, with the arena attendance at less than 4% of capacity, it's really hard to tell which side of the guard rail is which. Was it any surprise that the match ended in a countout? I mean, besides the fact that this was a lumberjack match?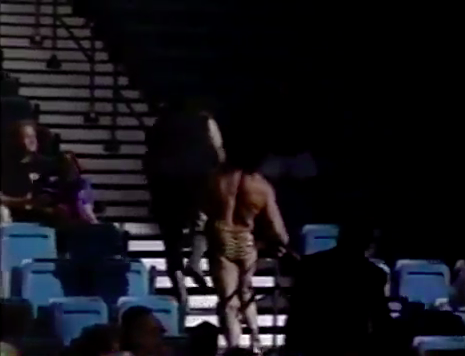 Always the considerate brawlers, Cactus and Snuka continued to fight beyond the floor seats so as not to get in the fans' way.
With the show being as embarrassing as it had been so far, it would really take some devian intervention to salvage it.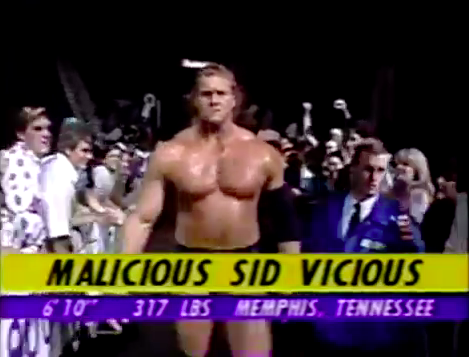 Fortunately, Herb Abrams pulled out all the stops in the main event. Sid Vicious got a new, unnecessary nickname…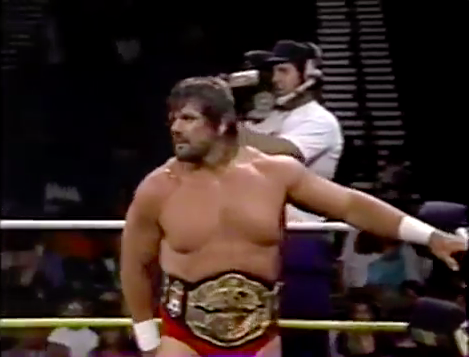 …and Dr. Death got a shiny new belt. The announcers played up all of Williams' defenses of the UWF World Heavyweight Title around the world, as if the title hadn't just been made up that night and handed to him before the match.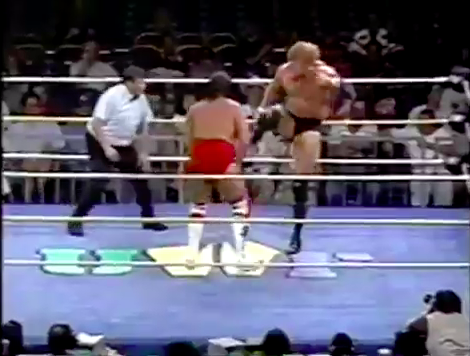 One thing the UWF didn't do was pull the canvas tight enough so that it didn't get pockets of air and start bunching up in the middle of the match.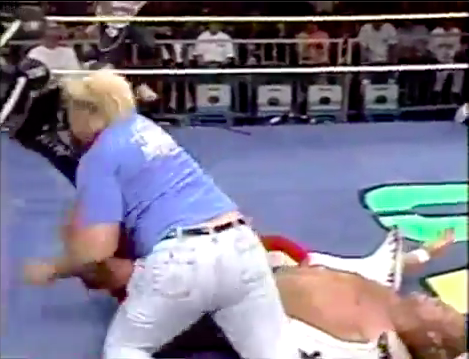 Dr. Death was about to defeat Sid with the Dr. Bomb before Danny Spivey broke up the pinfall.
It couldn't be a coincidence that Herb Abrams simply handed titles ahead of time to the two wrestlers (Williams, Orton) whose championship matches ended in DQ or countout. If the champ was going to retain the title through a BS finish, he had got to at least have a title to begin with.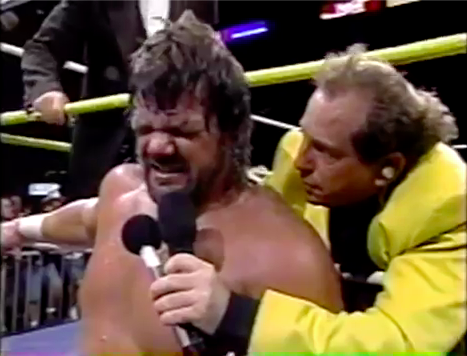 Irate at the shenanigans from the former Skyscrapers, promoter Herb Abrams promised Williams a rematch in a steel cage, which obviously never materialized.
Given the attendance, it should be no surprise that this event was UWF's last, which means that there were a whole lot of wrestlers who got free championship belts to keep on top of their paydays.
And who can say they own their own championship belt?