I can see you looking at your screen right now, saying "So?"
After all, this looks like just another independent guy, right? One of those brawlers that works in front of 50 people, shows a few decent wrestling skills and does a lot of garbage wrestling. What's so different about this guy? He's a dime a dozen.
Well, yes and no. You see, not only is this "Fabulous" Freddie Valentine, who went toe-to-toe with Mando Guerrero and Abdullah the Butcher in some violent bloodbaths over the past few years, but he's also more well-known as b-movie schlockmeister Fred Olen Ray.
Yep, that's right, the same guy who directed such classic 1980's and 90's fare as HOLLYWOOD CHAINSAW HOOKERS and INNER SANCTUM has paid his dues in the middle of a wrestling ring, getting his head busted open by everything from bar stools to barbed wire.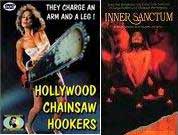 As you can tell from Freddie's entrance here, teaming with Terry Funk, we're not talking about WWE-sized arenas, though. Fred's promotion, ACW, ran out of Florida during the last few years and at least by looking at one of the ACW DVD I have, most of their shows took place in a bar.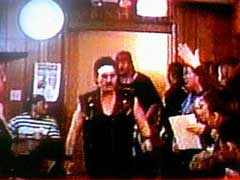 Freddie Valentine, from the best I can tell, was a gimmick with some similarities to the Sandman, except he never drank beer in the ring (ironic, given the setting). He dressed casually (I guess every day is Friday in the indy wrestling world) and just about every match of his I've seen involved barbed wire.
Oh, and did I mention he has a really hot valet, Miss Kim (in actuality his wife)?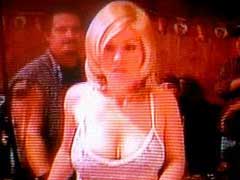 If you get a chance, check out ACW WRESTLING'S WILDEST MATCHES, the DVD released by Fred's company Retromedia. It could basically be called THE BEST OF "FABULOUS" FREDDIE VALENTINE, as he's in every single match on the thing, and to top that off, he's also the ACW Heavyweight champion. Well, at least he's having fun. And after giving the world SCREAM QUEEN HOT TUB PARTY and BAD GIRLS FROM MARS, he deserves it.