Poor Fred Ottman. He joins other luminaries such as ShaneDouglas and MikeShaw as double inductees into the toilet known as WrestleCrap (although, come to think of it, Ottman didn't have it as bad as Shaw who is actually not a double, but a TRIPLE member). Not only was he the horrific Shockmaster, but he floated around the WWF as Tugboat.
Tugboat debuted for the WWF in the late 80's, as a supposed friend of Hulk Hogan's. He was a smiling, happy go lucky good guy, who would toot at the crowd. No, he didn't eat a plate of nachos as Mrs. Santana's before the match, he would raise his fist in the air and go "woo woo!"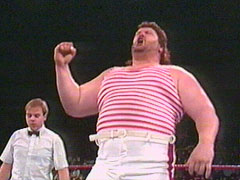 A Ric Flair "Wooo!" it ain't.
Ottman didn't keep the Tugboat character for long. He turned against Hogan and formed the Natural Disasters with fellow blimp Earthquake.
And then, of course, he fell into fame in WCW.