After the first Wrestlemania, Vince and company wanted to capitalize by throwing all the great wrestlers and Corporal Kirchner and Moondog Spot onto one spectacular themed event. This concept would eventually come to fruition at 1987's Survivor Series, but an abortive attempt was made along the way in November 1985: it was a similar concept, but instead of a few long matches, fans were subjected to a bunch of really short matches. The same roster on that night's card could have been put into giant tag matches, but were instead booked into a sixteen-man tournament and squeezed into a three-hour time frame.
See, it's not just the parts that make the whole great, but how those parts are used, whether it's wrestlers on a supercard or words in a sentence. That's how Survivor Series had an "awful lot of wrestling," while the Wrestling Classic only managed a "lot of awful wrestling."
And awful it was. Think Wrestlemania IV was bad? What about King of the Ring 1995? While those tournaments excelled in terms of boredom and Savio Vega, respectively, the Wrestling Classic surpassed them in sheer stupidity.
You could tell things would go awry when we saw the tournament board and it was about eight feet tall. This monstrosity, plus a Hulk Hogan title defense, was supposed to fit into three hours. Our hostess, Susan Waitkis, even needed one of those long pointers that school teachers use just to reach the first match.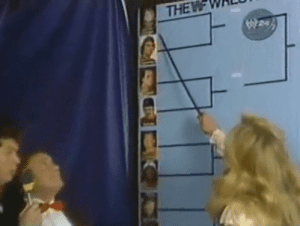 That match was Adrian Adonis (whom Gorilla euphemistically pointed out had "bulked up") vs. Corporal Kirchner. The announcers noted that Adonis had teamed with Jesse Ventura as the East-West Connection (once winning the AWA tag team titles by forfeit while Verne Gagne vacationed in Europe. Geez, and you thought Shawn Michaels's excuses were lame).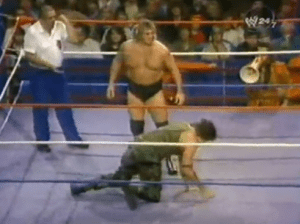 Just as the announcers were explaining that the 10-minute time limit in the first round meant that the wrestlers couldn't mess around, Kirchner drove home the urgency of the match by slapping on a rest hold for a solid minute. Was he both being methodical and trying to put Adonis away early? Whatever the case, Adonis scored a victory anyway in 3:22. Unos, dos, adios!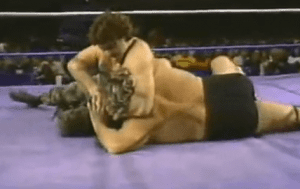 Following the loss, Monsoon said Kirchner was "bent out of shape," which, ironically, were two things that would characterize his opponent's impending run as The Adorable One.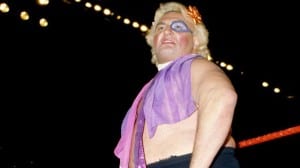 In the second match, The Dynamite Kid interrupted Nikolai Volkoff's singing of the Soviet National Anthem to win in 9 seconds. Nine seconds is also the official length of that year's King Kong Bundy-SD Jones match. Yes, these two matches supposedly lasted the same amount of time: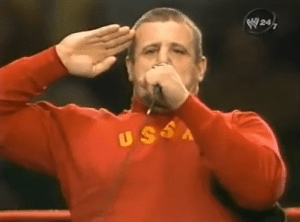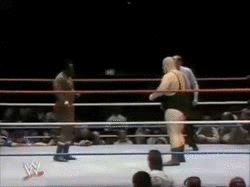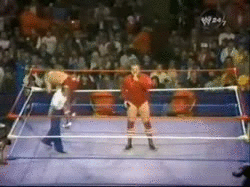 Fans disappointed with the brevity of the previous match should have been happy to see nearly twice the action in newcomer Randy Savage's battle with Ivan Putski. Unfortunately, that still only amounted to about 18 seconds of action in 2:47, with Macho Man scoring a dirty pin on Polish Power.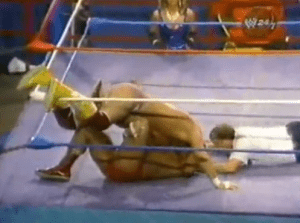 Three matches in, and you could tell that the name "Classic" was just a marketing gimmick, like that year's newly repackaged "Coca-Cola Classic," except at least the soft drink had stopped using cocaine by then.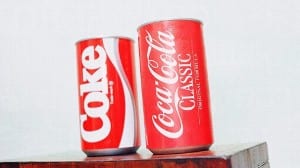 The Wrestling Classic finally appeared to live up to its name, however, when Ricky Steamboat faced off against Davey Boy Smith in a sure-fire technical masterpiece. The Bulldog from Leeds would get off to a lively start with the man unfortunately dubbed, "Steamer" by Monsoon. Sure, the action cooled off about two minutes in, but Gorilla assured us that the match was "a long way from being over." Precisely 35 seconds later, Davey Boy dove into the ropes, injuring his groin and losing the match by referee's decision.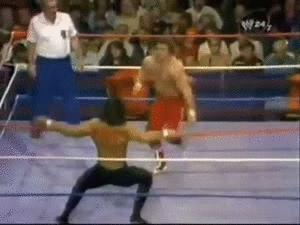 The crowd voiced their overwhelming excitement for Steamboat's abrupt TKO victory, drowning out Mean Gene in his subsequent interview with The Junkyard Dog.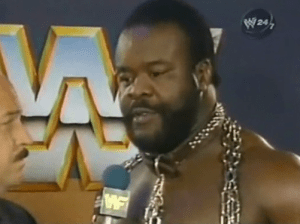 JYD went on to humble the Iron Sheik with a headbutt in 3:27, a marathon by this show's standards.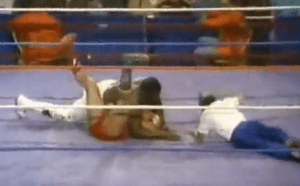 Speaking of former world champions jobbing in short order, Terry Funk lost in under 30 seconds by countout after his plan to sucker his opponent backfired. His opponent was Moondog Spot.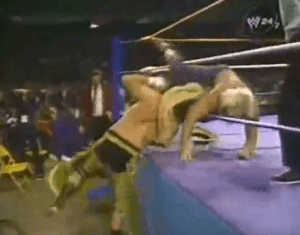 In a battle of future ECW champions, Don Muraco defeated Tito Santana with a pin, but the referee immediately threw out his decision after being told Chico's foot was on the ropes. Santana then rolled up Muraco for a cheap victory after the bell had already rung. A classic heel move if there ever was one, tempered slightly by the fact that Santana was the good guy here.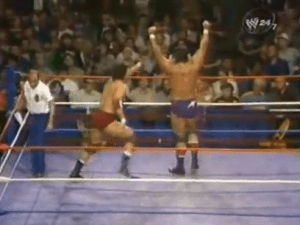 Finally, Paul Orndorff beat Bob Orton by disqualification for use of his cast. That made JYD the only face to win clean in the first round. Don't fret, though, as Junkyard Dog still had three more rounds to pick up cheap victories in.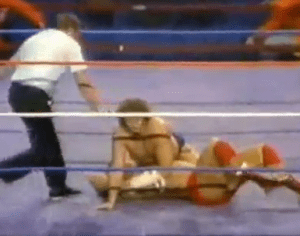 Lord Alfred Hayes took a short break from forcing himself on our female host to give an analysis of the first round so vague, you could have sworn it was his first time hearing of the results. He seemed completely unaware of any of the first-round shenanigans, like, say:
the nine-second Dynamite match
Savage's tainted pin
Davey Boy's TKO
Terry Funk's instant countout
Tito's victory after the bell
Paul Orndorff's DQ victory.
It sounded as though, just maybe, he hadn't even seen any of the matches. That is, until he declared, "I don't think you could have seen a better first round anywhere" and removed all doubt.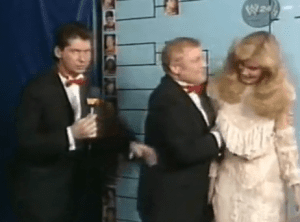 In the second round, Adrian Adonis (who, contrary to urban legend, did not enter to Talking Heads' "Burning Down The House") fell to the Dynamite Kid with his foot on the rope (a fact completely ignored by Monsoon, who commentated the match solo).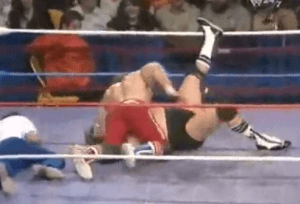 Next, Randy Savage wrestled The Steamer. If you thought his second WWF run as the fire-breathing "Dragon" was bad, imagine what they could have had him do as "The Steamer." In what could best be described as a teaser for their Wrestlemania match a year and a half later, Savage used a foreign object and pinned Steamboat in 4 minutes with his hand down the front of his tights (Macho Man's, not Steamboat's). Sorry fans, but if you wanted to see these two go at it for real, you'd have to pay for it. Again, I mean. Did I mention the WWF charged people to see this?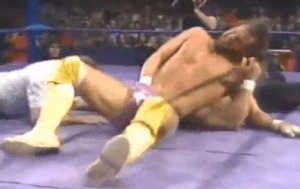 The Federation further lifted its leg on the paying audience with the Moondog Spot/Junkyard Dog match. In this original "Kennel from Hell," no referee was present, so JYD counted his own pinfall after exactly three headbutts, 33 seconds, and zero opening bells.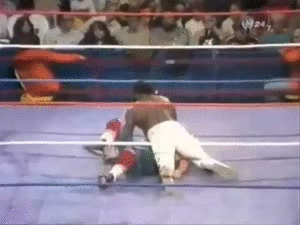 In the last quarterfinal match, Orndorff and Santana eliminated each other via countout while "literally exchanging right hands" on the outside of the ring. Were they detachable, Monsoon? By the way, of the 12 matches so far, there had been 2 clean finishes, in case you're keeping score.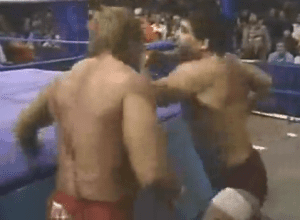 A Hogan-Piper match, the first-ever WWF title match on pay-per-view, ended in yet another disqualification when Bob Orton interfered barely seven minutes into it. So no, there weren't very many decisive victories or clean finishes on this card, but as the saying goes, 2 out of 13 ain't bad.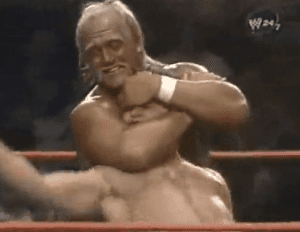 In the semi-final match, Randy Savage faced the Dynamite Kid. Why do I say the semi-final match? Because the Junkyard Dog got a bye to the finals while his two prospective opponents had to battle it out. JYD was a babyface, for the record.
Just like Steamboat-Savage earlier in the night, this was another certain classic that just wasn't meant to be. This time around, both men had to feign exhaustion from their several grueling minutes of action earlier in the night, and Macho Man again won in under five minutes.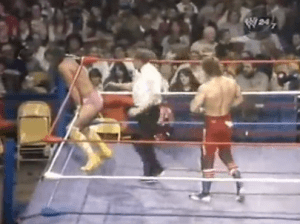 Still, three victories in one night was nothing to sneeze at, which couldn't be said for Savage's next opponent, who, despite being the good guy, had been allowed to referee his own match and get a free ride to the finals.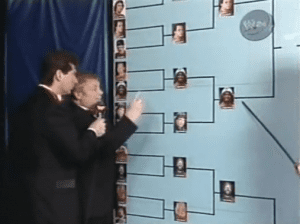 Before the finals, though, the WWF attempted to make at least one fan happy he paid to see this show, giving away a car. The good news for Michael Hamley of Batavia, Illinois was that he won a Silver Cloud Classic Rolls-Royce; the bad news was that Federation President Jack Tunney made him forfeit his other car, which was eventually won by Mr. Perfect.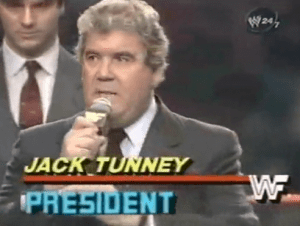 As the main event approached, Jesse Ventura rightly pointed out the injustice of Junkyard Dog's easy road to the finals. Perhaps in an effort to level the playing field, JYD caught Randy Savage's steel chair and proceeded to smash his own head into it eight times. If this were today's WWE, Junkyard Dog would have been fined for each of those chair shots. How much? I don't know; does any mathematician out there know what 8 x (an undisclosed sum) is?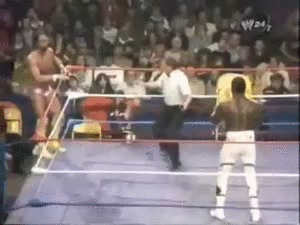 JYD won the match after tossing Savage over the top rope and onto the floor. No, it wasn't a battle royal; Randy got counted out in the main event…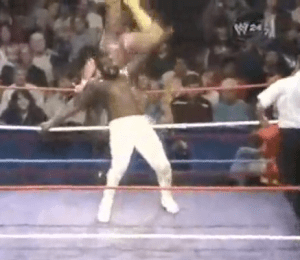 …and Junkyard Dog won the tournament, Berzerker-style.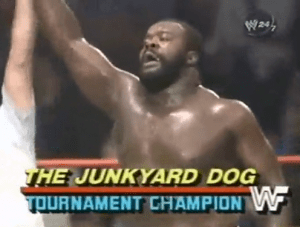 Jesse Ventura then rushed to the ring to protest JYD's tournament win, as if one pinfall, a self-awarded victory, a bye, and a countout hadn't earned him the prestigious victory. Then he left the ring. Not exactly Jerry Lawler "crowning" Bret Hart with his throne, but it was the best finale one could expect from a tournament like this.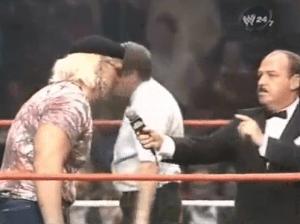 Vince and company then signed off from the "first annual" Wrestling Classic. Or maybe it was the first monthly Wrestling Classic. First weekly? Daily? It really didn't matter, since they only ever hosted one.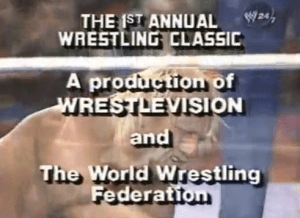 The sole Wrestling Classic event was neither a classic, nor did it feature very much wrestling, but that didn't stop Gorilla Monsoon from hailing it as "undoubtedly the greatest tournament in the history of professional wrestling." Anyone who plunked down cash to watch this farce, though, would no doubt have preferred any other tournament in the sport's history…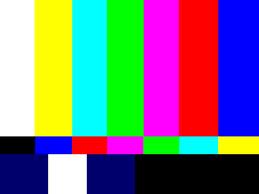 …even if it meant staring at a blank screen for Río de Janeiro, 1979.