Believe it or not, Rick Martel was, once upon a time, a really good and really charismatic worker. When he first arrived in the WWF with Tom Zenk as the Can-Am Connection, they were so over that giving the tandem the WWF tag straps seemed a mere formality.
Of course, Zenk went on to leave the WWF during a contract dispute (and later give some incredibly risque and funny interviews about his time in the wrestling business), leaving Martel without a partner. So the WWF decided to pull a pre-Matador Tito Santana out of singles competition and pair him up with Martel as Strike Force. They won the tag belts, but the fans were far less enamored with Martel-Santana than with Martel-Zenk.
So when the inevitable break-up occurred, it was Martel who was given the heel push instead of the ever-popular Tito. And what a gimmick it turned out to be – that of "The Model".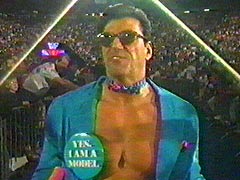 Now don't get me wrong – I've heard from the ladies that Rick Martel is a good looking guy. But dressing him up in a bow tie with sweaters wrapped about his neck is probably a bit overboard. And as if any of the dumb marks in the crowd were confused as to what exactly he was supposed to be, he even had a big button that read, "Yes, I Am a Model."
You can't buy subtlety like that.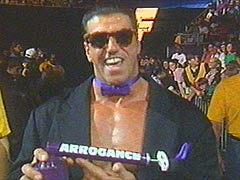 He even had his own cologne – Arrogance. It came in a cute little atomizer pictured above. Sometimes, he would come into the ring and spray it down so as to counteract the odors of his smelly opponents – a trick that goes all the way back to the days of the Gorgeous George (the original, not Randy Savage's porn starlette 20 year old girlfriend). Usually, though, he would spray the smell-good in his opponent's eyes, thus leaving him prey to an easy pinfall.
In fact, this led to Martel's most memorable feud, against Jake Roberts. Roberts "lost his vision" in a series of silly, over the top segments that aired on WWF TV and will undoubtedly be covered on this site in due time. More often than not, however, Martel was stuck in the mid card feuding with other wrestlers with silly gimmicks, like Tatanka.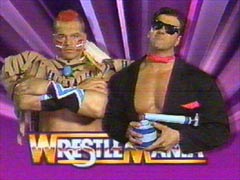 For whatever reason, Martel never truly seemed comfortable in the role. His interviews, while heelish, were so understated that they were no more affective than his bland heel interviews. Sure, he did BAD things, but for the most part, they were boring bad things. And that, combined with his boring interviews served to bore the fans.
Martel hung onto "The Model" gimmick throughout the rest of his WWF career. He had a brief resurgance in WCW in the late 90's, winning the TV title, before an injury forced him into retirement.