GOD, I love Memphis gimmicks! They never fail to amaze me. The things Lawler and company came up with, thinking it would sell (and somehow, it usually did!). That particular way of thinking lasted through the days of the original Memphis promotion, through USWA, Power Pro Wrestling and even the early days of TNA. This particular gimmick showed up for about 4 minutes (literally!) in 1994. During the usual Memphis studio tapings, a strange man dressed in a wizard outfit and painted face emerged from the back no less than three times to wander around the ring area. He was accompanied by various things, including flash-fire.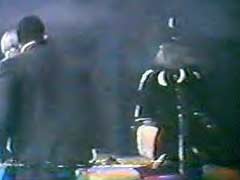 Anyway, he basically just walked around silently, until he showed up while Memphis's greatest jobber ever, T.D. Steel, waited for his scheduled opponent (Koko B. Ware). Steel, tired of Mustapho's show-stalling, got in his face, and in return, got a face full of fire. Twice.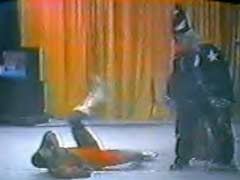 Mustapho (or Mustafo, hell, I dunno, they never bothered to spell it) didn't hang around much longer. But who was this mysterious Merlin wannabe? Well, knowing who he was would greatly explain why he didn't last very long. Look at the close-up pic again. Recognize him? No? Ok, try imagining him with a beard and a flannel shirt. Still nothing? Ok, how about white greasepaint and a squirting flower?
Yes, folks, The Great Mustapho was none other than your friend and mine, "Maniac" Matt Borne, aka Big Josh and the ORIGINAL Doink The Clown! Borne, by this point, was nearing the end of his time in the limelight (though he does still occasionally wrestle). It's hard to believe that one of the guys that starred on the very first Wrestlemania, and was part of a great tag team with Ted DiBiase and Jim Duggan as The Rat Pack in Mid-South was last seen auditioning for a role in a Fantasia remake. Borne was at one time one of THE best workers in the business, but the 90s just weren't kind to him.