Along with Vince Russo and David Arquette, The Crusher is probably one of the most famous imaginary world champions in the world. So, with that in mind, we thought it was fitting to add him.
Crusher actually began his career as a boxer, and in 1948 battled Bugs Bunny in the theatrically released event titled "Rabbit Punch." The winner to the match is still undetermined, as footage from the last minutes of the match seem to have been purposely destroyed at some point in time.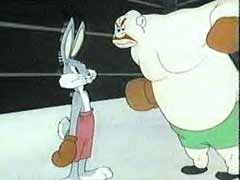 By 1951, The Crusher had left boxing and taken up the life of a professional wrestler. He also went straight to the top, capturing the Heavyweight belt. During his ppv match at "Bunny Hugged" against "Nature Boy" Ravishing Ronald, he squashed the challenger in a quick and brutal match. Ronald's rabbit mascot (years before Jake "The Snake" Roberts was carrying a snake around) just happened to be Bugs, who, wanting to give the crowd a main event worthy of their money, entered the ring as the masked Terror. After a grueling hardcore style match, rare for the early 50's, which saw the use of such objects as sewing needles and steel vault doors, Bugs pinned Crusher to become the new World Heavyweight Champion. He subsequently forfeited the title to devote more of his time to his favorite sport, hunting.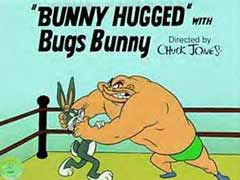 Crusher remained in the business for a few years, but never regained the heat he had going into his match with Bugs. Word has it that he came out of retirement during the 70's, but no footage or photos exist to support the claim. He's received a certain amount of recognition in the last few years, getting a small part in a movie and even made it into Bugs's video game as a "legend."
It's a shame he wasn't around during today. He seems like the kind of "hoss" that Vince McMahon has a jones for. Screw how talented the skinnier, more talented Bugs was! This guy was bigger than the Ultimate Warrior, Matt Morgan and Nathan Jones put together! Imagine the feuds he'd have with Undertaker!
By the way, "Bunny Hugged" was just released on DVD, as part of the Looney Tunes Golden Collection Volume 2. Be sure to pick it up if you're a fan of this old-school champ.