While many fans and columnists claim that Eddy Guerrero's current "Latino Heat" gimmick is racist, I would argue that no gimmick has ever been as racist as that of Saba Simba.
Backstory: Tony Atlas was in desperate need of work, so he contacted Vince McMahon about coming in. Vince came up with the gimmick of an African Warrior. You know, like a tribesman or something out of an old Tarzan movie.
Atlas came to the ring complete with feather laden headdress, wooden shield, and spear. Oh yeah, and he was barefoot. And did we mention that his headdress was so big that he had trouble getting it through the ropes? Or that he danced around like a savage? Or that he would sometimes prance about like he was walking on hot coals?
Shillmeister McMahon tried his best to put Simba over to fans at home, claiming that Simba was a man returning to his roots. Color commentator Roddy Piper wasn't buying it. And when Gorilla Monsoon was translating the Simba name, our old pal Bobby Heenan had a lot of fun.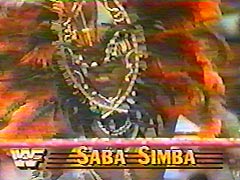 Fortunately for everyone (except, perhaps, Tony Atlas), Saba Simba was one of those "blink and you'll miss him" gimmicks. Good taste seemingly prevailed, and Simba vanished within a few months of his debut.