File another one under, "Only in 2020". This week's induction focuses on a segment nobody asked for, but that nobody was around to say "No" to.
As usual, the July 10th, 2020 edition of Smackdown opened with a number of graphics promoting that night's matches, including one featuring four WWE women Superstars competing against each other. But this wasn't a fatal four-way match for a shot at Bayley's Smackdown Women's Title.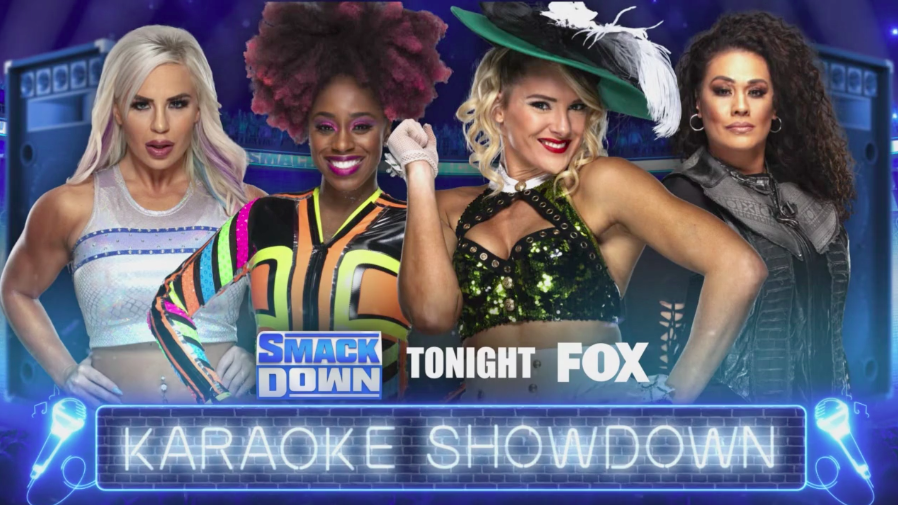 This was a karaoke contest for the grand prize of nothing.
Now, karaoke can be fun for a live crowd, with audience participation being a selling point at karaoke bars…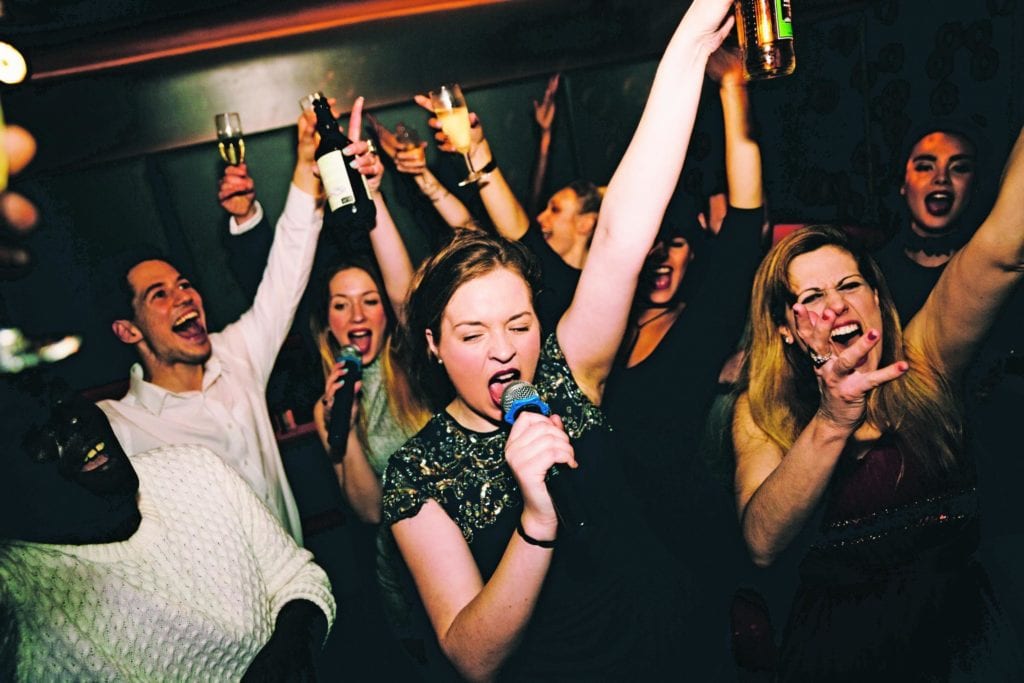 …which makes it even more of a shame that this contest had no audience, aside from a few dozen of WWE's paid plants at the Performance Center.
Notable in this contest was that all four of the participants were babyfaces – even Lacey Evans. If you'll recall, as an ex-Marine who put the "milf" in "milfitary veteran", Lacey was chosen, along with Natalya, to compete at Crown Jewel 2019.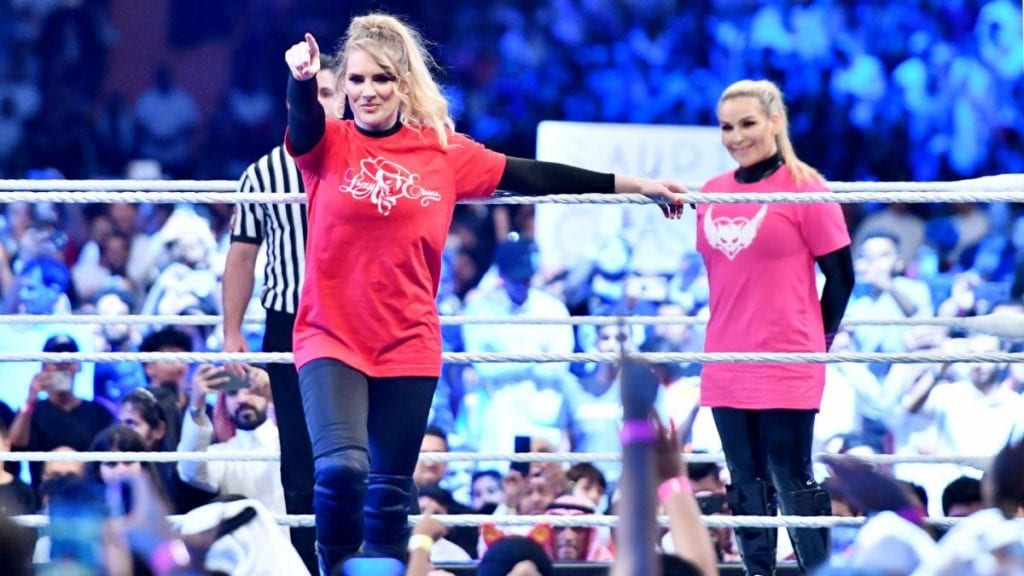 There, they made history, or should I say, herstory, by being the first women to wrestle in Saudi Arabia, where women had herstorically been barred from even attending athletic events. Ever since, Lacey had been treated as a babyface.
But wrestling was one thing; singing was another, especially in the herstoric first-ever Smackdown Karaoke Showdown.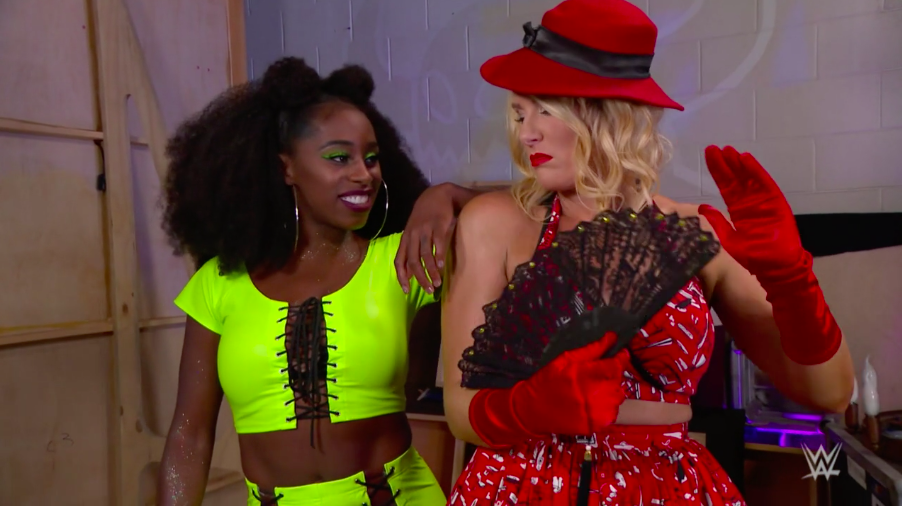 As the contest approached, Lacey Evans warmed up her pipes backstage. She was soon joined by Naomi, whom Lacey gave a dirty look before walking away. Why? Well, that should be obvious. Lacey was trying to focus on her singing.
The first-ever Smackdown Karaoke Showdown began inauspiciously; Michael Cole introduced the contest as if it were part of the ad copy he had to read, intoning it with the same faux-enthusiasm he's forced to express for things like Snickers, Cricket Wireless, or, on this night, Progressive Insurance.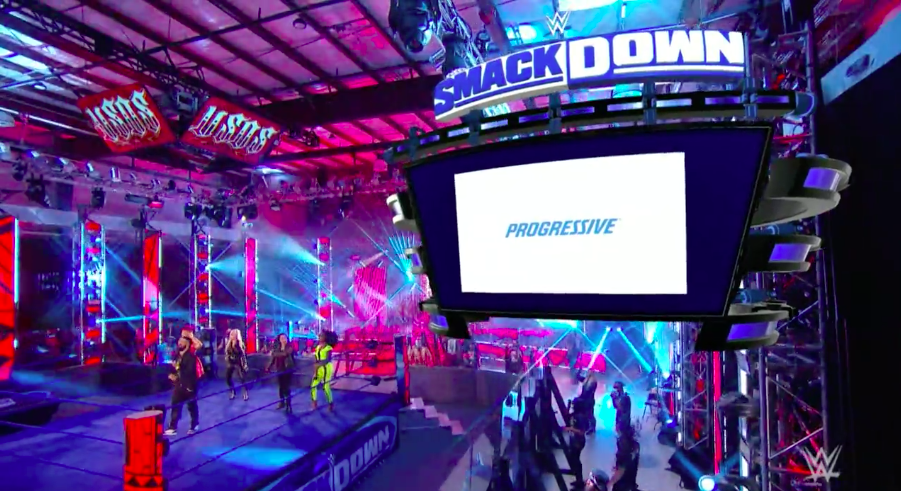 "Friday Night Smackdown is sponsored by Progressive. Save when you bundle auto, home or… motorcycle insurance! Hey! It's.. karaoke time!"
"Finally…" said Corey Graves.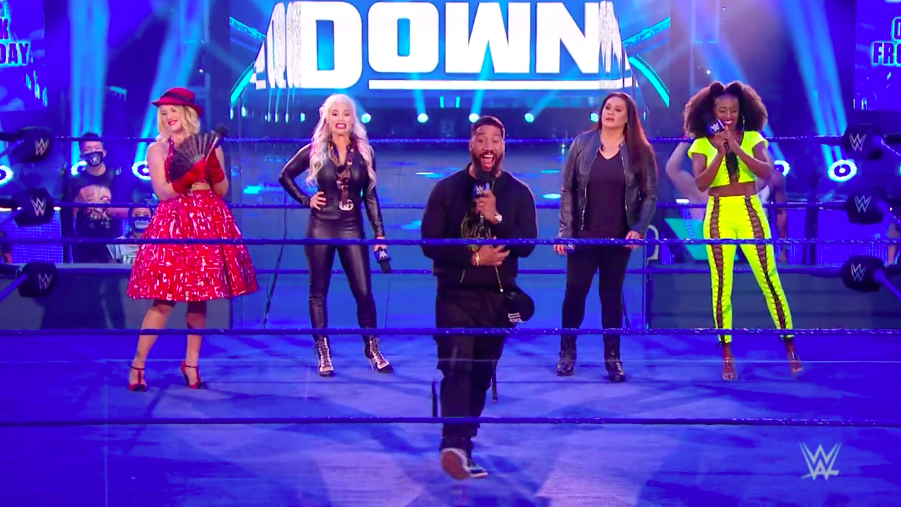 Jey Uso was trying his best, too, as host of this first-ever Smackdown Karaoke Shooowdooooown. Did anyone in the world suspect he'd be main-eventing a pay-per-view two months later?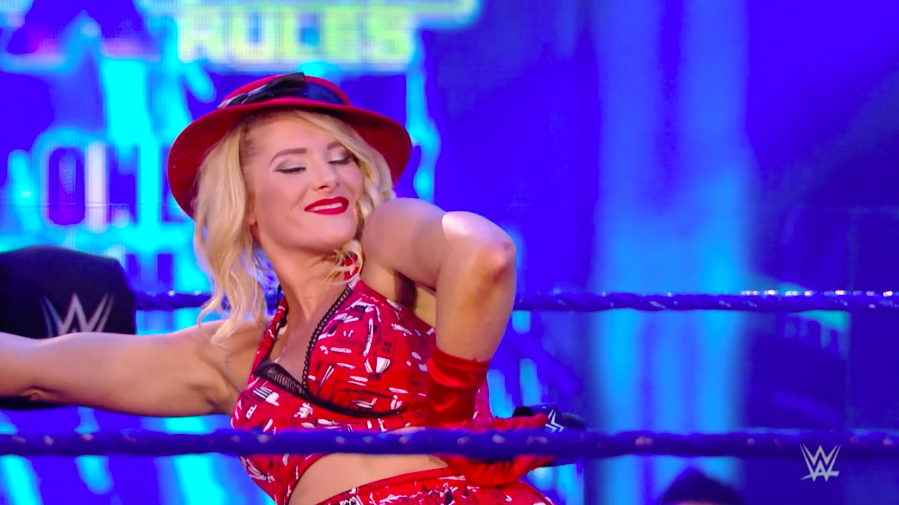 The first contestant was Lacey Evans, WWE's answer to the Twitter meme, "What's something that feels racist but isn't?".
Her tune of choice? The 1995 Double-J hit, "With My Baby Tonight".
"Oh this is gonna be good," said Michael Cole, who hated this segment so much that he had gone full-circle and sounded like he'd actually enjoy it. "This is gonna be really good!"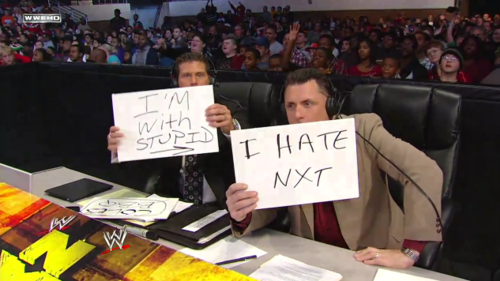 Cole was pumped. It's hard to believe this was the same guy who used to spend all night trashing the Divas' season of NXT back in the day. I guess the difference was that, instead of airing on wwe.com, this contest was airing live on Fox.
I repeat: this singing competition between four amateurs on a wrestling show with no crowd was airing live on network television during prime time. In a situation like that, saying the show sucked was frowned upon.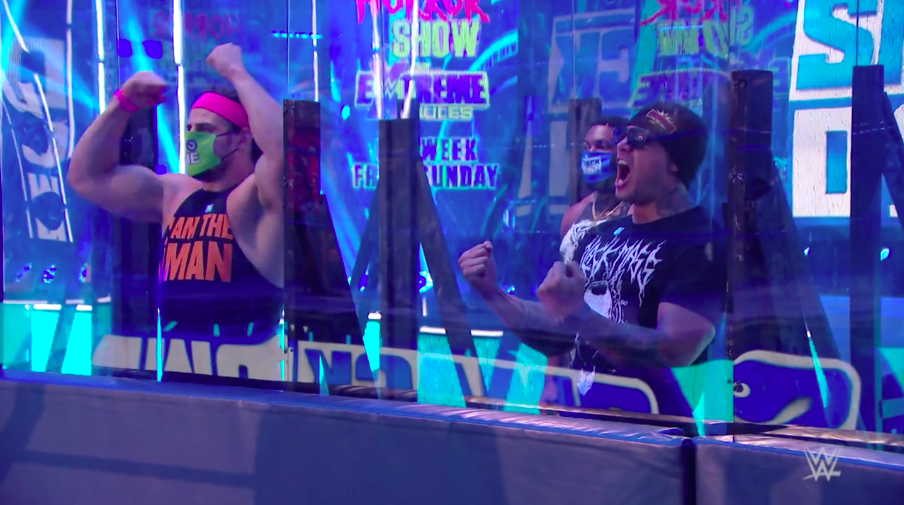 Besides Michael Cole, you know who else was pumped for karaoke? These three guys behind the plexi-glass, especially the tattooed guy in the metal-inspired Aleister Black shirt.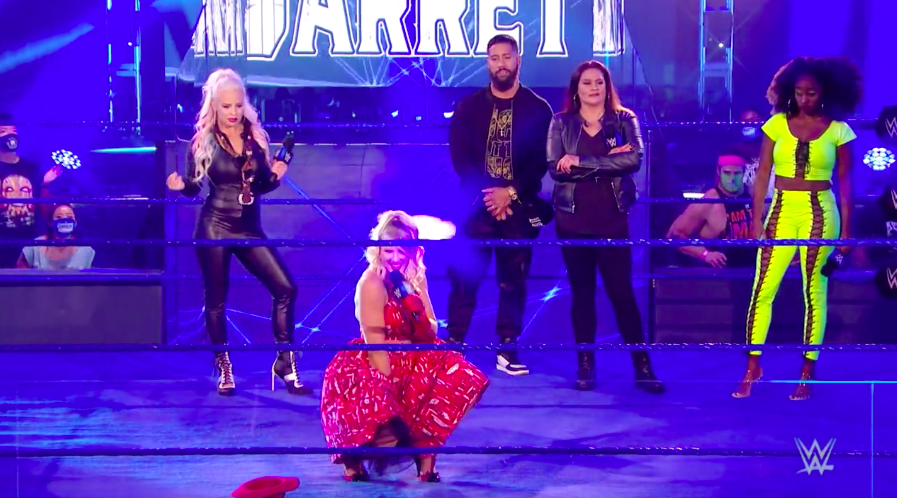 Lacey Evans started out her song in the wrong key, but quickly recovered. She even got most of the words right, which was not easy to do while thinking about Road Dogg and grinding. Sadly, Lacey's horniness got the best of her when she completely screwed up the end. She didn't so much sing the wrong section as moan the wrong section.
The sexy, sassy, classy Southern Belle then bent over to lift up her hoop skirt, saying, "Oh Lord, would you look at it?" said Lacey.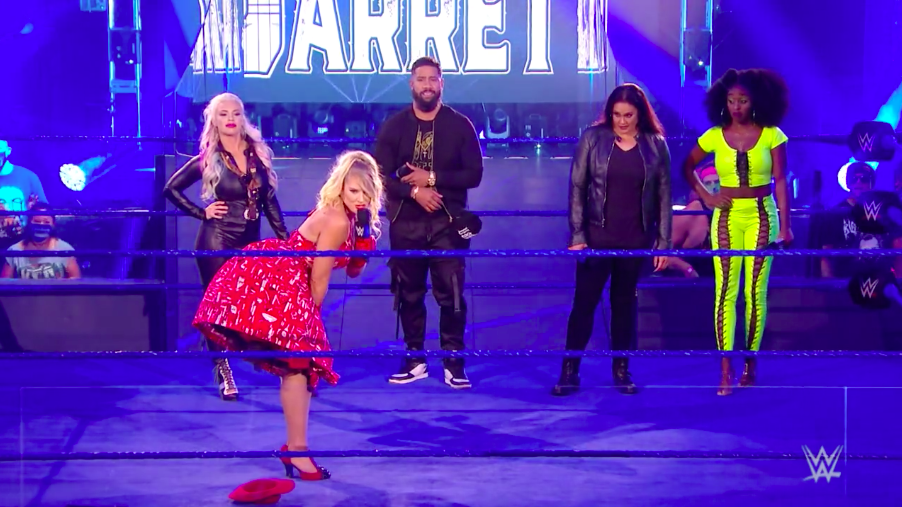 It should be noted (by me, I guess, since I'm the one writing this thing) that the contestants weren't doing karaoke in the traditional sense, but merely singing over an already complete track, original vocals and all.
Next was Dana Brooke, who received this introduction from Jey Uso:
"She usually flaunt that flex appeal/
But tonight, she showin' us a different side with _______"
Quick: Have a guess at what Jey rhymed with "flex appeal".
If you said, "pecs o' steel", you're wrong, but you still get points for creativity. Good job!
Dana would channel the Honky Tonk Man in singing, "Cool, Cocky, Bad".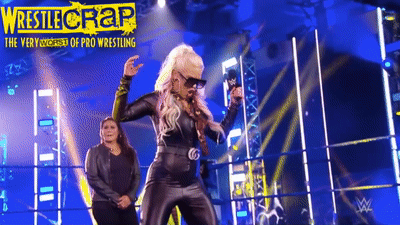 Dana's performance soon veered off into Jillian Hall territory as she sang, "I'm cool, I'm cocky, I'm bad".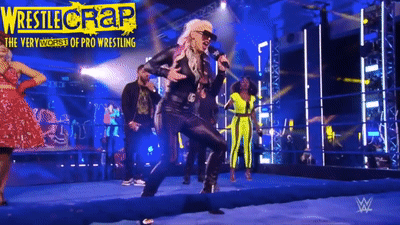 "Hey you know what?" interrupted Jey. "You are bad!"
Boooooo! I can't even begin to tell you how hackneyed a joke that was.
Uso's former enforcer Tamina was up next to sing Triple H's theme song. Could she succeed where Lemmy himself failed (twice) and actually remember the lyrics?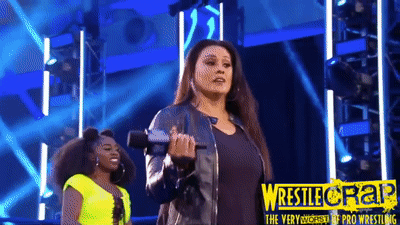 Is this not a look of total and utter confidence?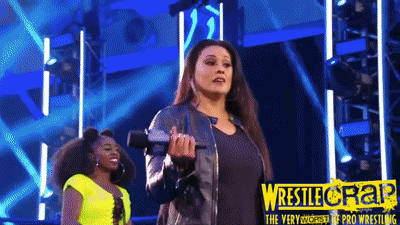 But it just wasn't to be; such are perils of live TV. Smackdown was airing on a seven-second delay, and so was Tamina.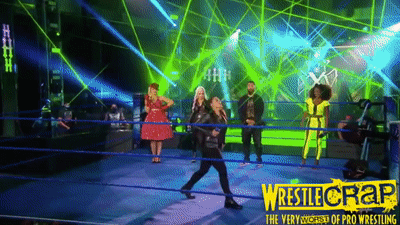 What Tamina lacked in timing, she tried to make up for in headbanging; you'd have thought that Mosh and Thrasher had made another completely random comeback to Smackdown. Jey pulled the plug on the performance when it got too in-his-face.
Finally, it was time for Naomi, who just happened to be Jey's sister-in-law. No, wife.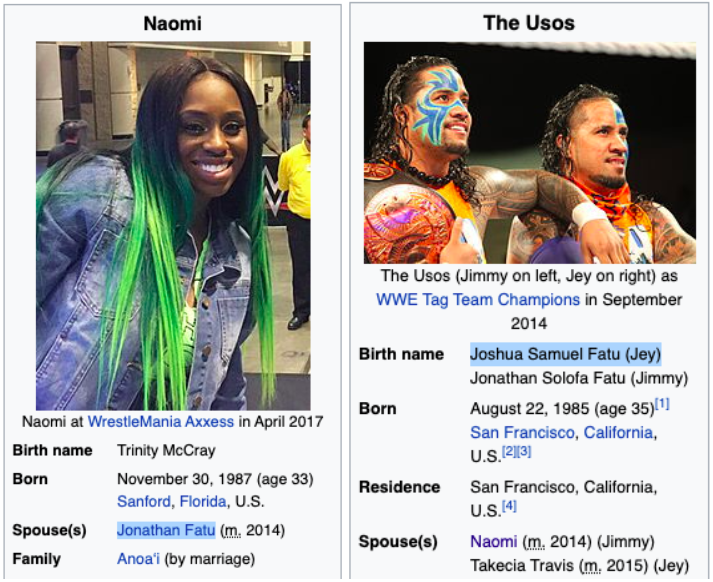 No, I was right the first time. Sister-in-law. Sorry, I haven't watched Total Divas in years.
Though it seemed on the surface to be a conflict of interest to have a contestant's family member be the MC, remember that it would be the live audience who would decide the winner.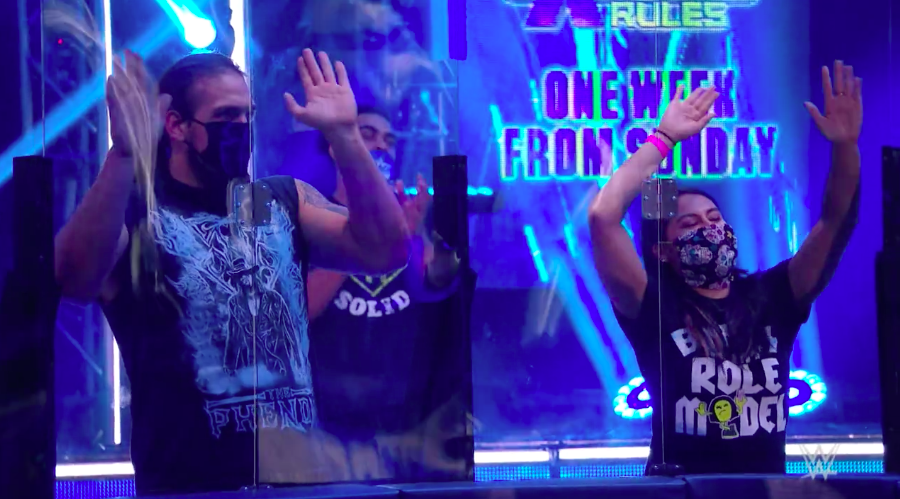 That impartial, independent-minded live audience.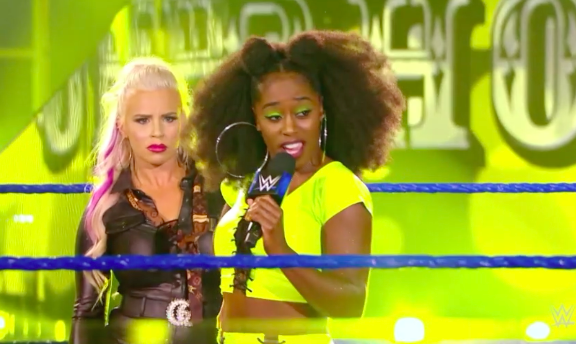 Naomi sang Dusty Rhodes's WWF theme (as opposed to his totally unrecognizable WCW theme). And at first, she was really good. But then she started dancing and understandably fell out of tune. It is, after all, quite difficult to sing and dance at the same time, which is why the Beyonces and Justin Biebers of the world lip-sync through much of their concerts.
(Pink, on the other hand, sometimes sings for real while working a four-minute wrestling match.)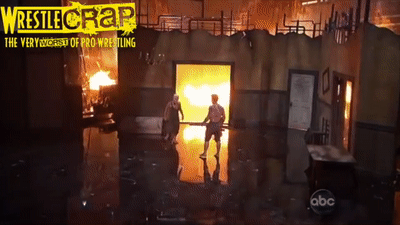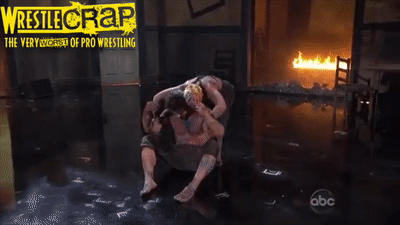 Naomi got in Lacey's face during the lyric that said, "Redneck funky, that's okay"…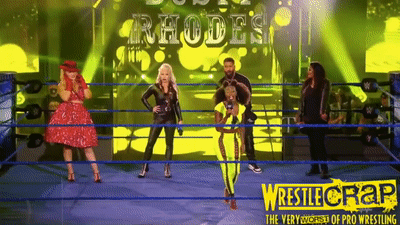 …to which Evans promptly responded with her own version of the Rear View.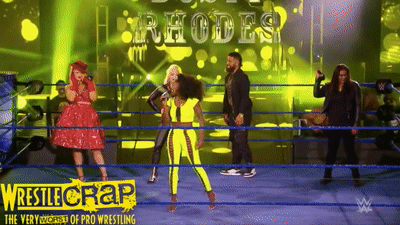 By the end of her allotted time, it looked like an all-out war would break out between the two women and their respective asses. Lacey looked about ready to call Naomi a nasty (or something like that).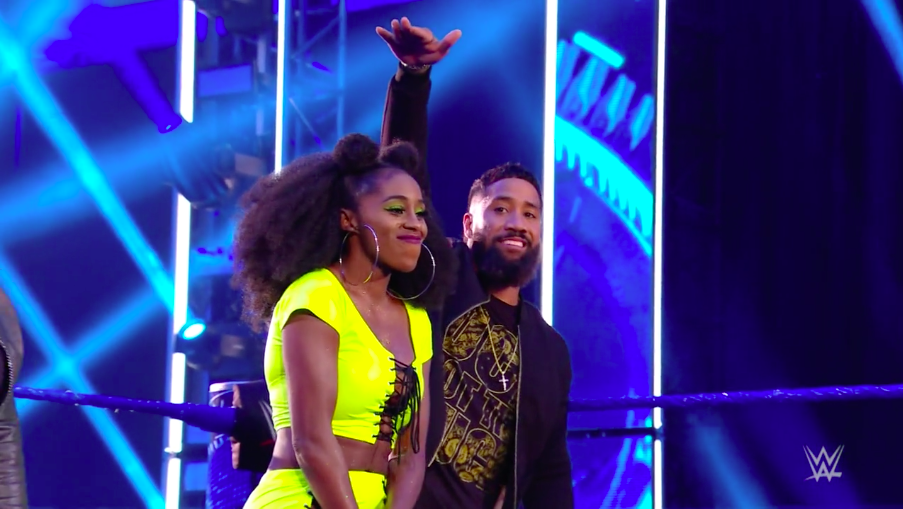 Naturally, the Performance Center trainees picked Naomi as the winner, hands-down . But when she started singing again in celebration, Lacey blindsided her.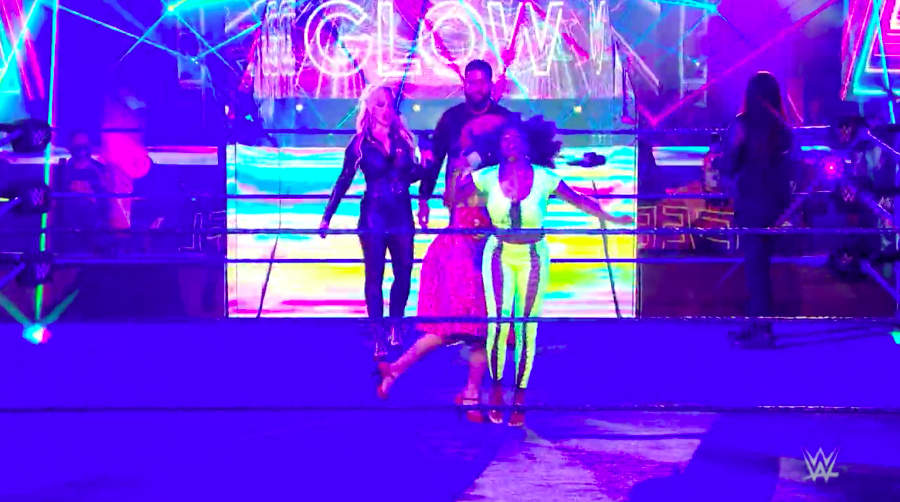 The Southern belle resented the idea that someone like Naomi could be better than her, because… you know. (She's a sore loser)
This was how Lacey Evans turned heel, by the way, in case you're wondering how she got from bringing women's rights to Saudi Arabia…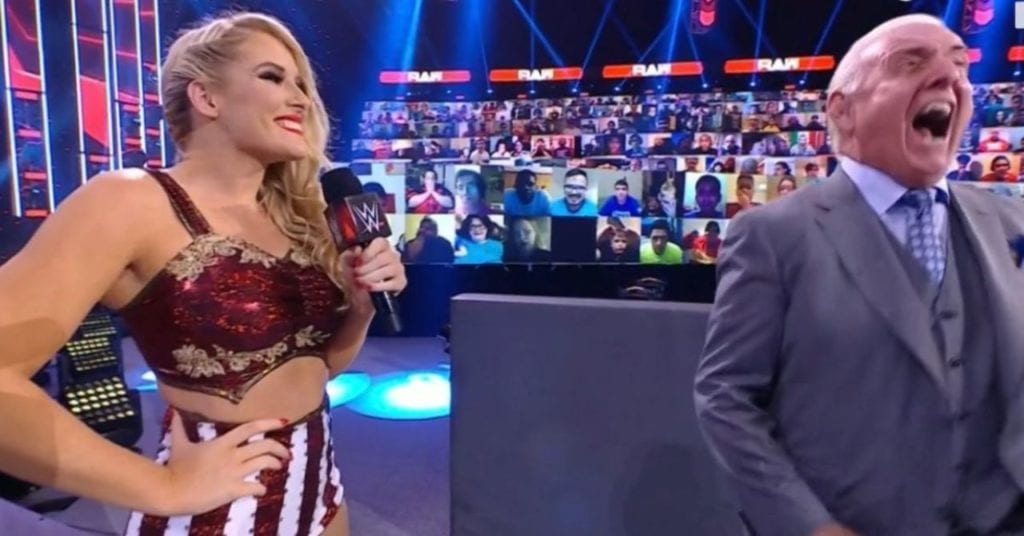 …to carrying Charlotte Flair's half-sibling.
The two Superstars engaged in a pull-apart brawl before Smackdown cut to commercial. At least this segment was over.
"Over" with the live audience, that is! The sparse Performance Center crew loved the karaoke contest so much that they were begging for the fun to continue, which it did in the form of Lacey Evans vs. Naomi. It was a good thing Cole was on hand to explain this complex, evolving story to the television audience.
Under normal circumstances, Michael Cole and Corey Graves would be told to bury the segment on commentary. But on this night, with no fans around to turn against the segment, Vince McMahon clearly thought the karaoke contest and its fallout was making for some great TV.
So instead, Cole and Graves joked about Naomi making Lacey sing the blues.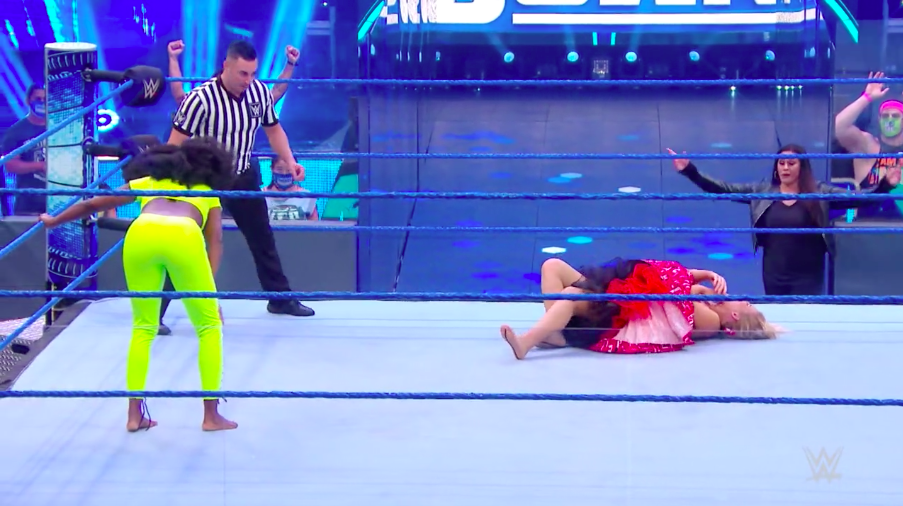 When Lacey wasn't hopelessly lost in her antebellum underwear…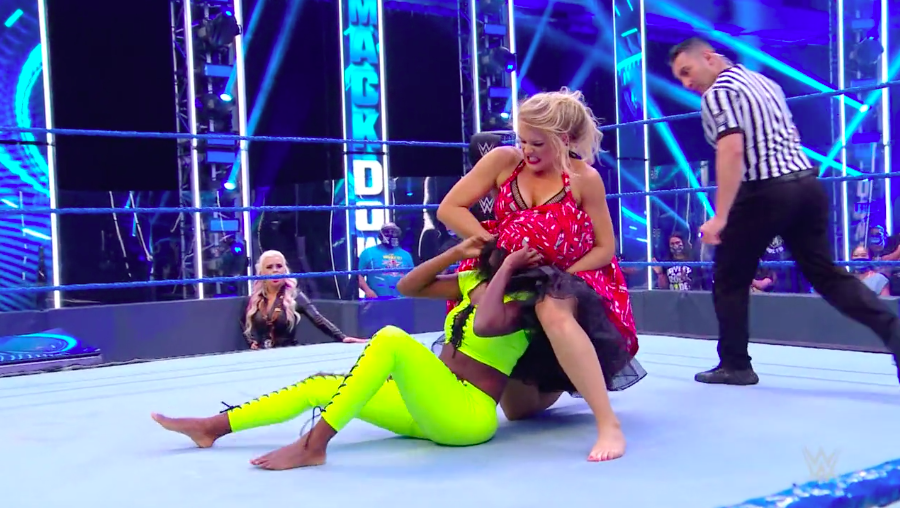 …she was taking a page out of Vito's playbook.
Once out of the ring, Lacey pushed Dana Brooke…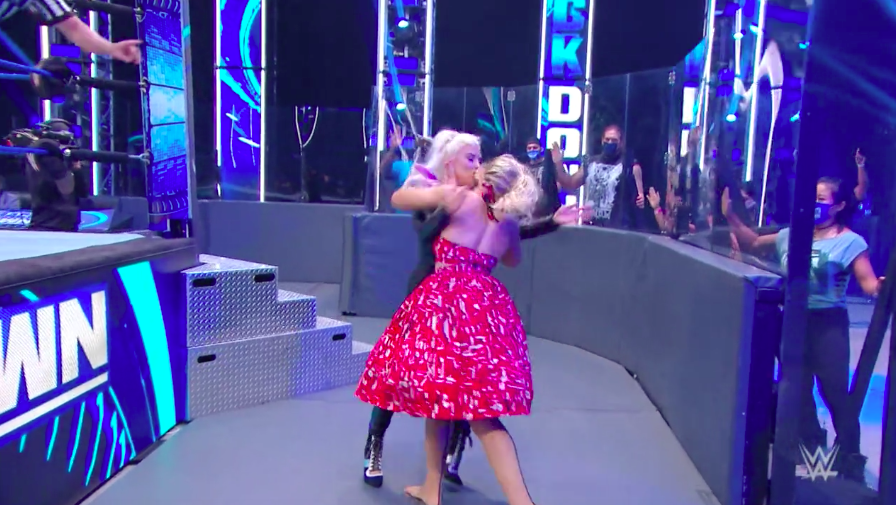 …then pushed Tamina…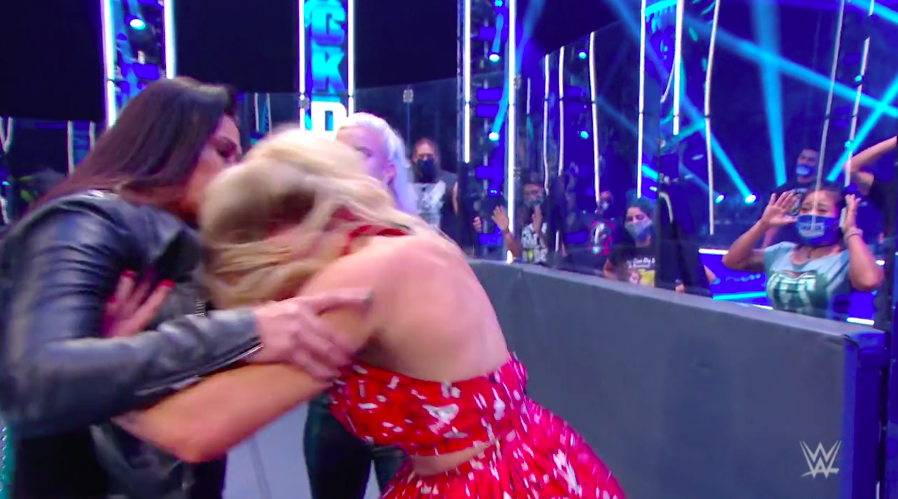 …then returned to the ring to brawl with Naomi.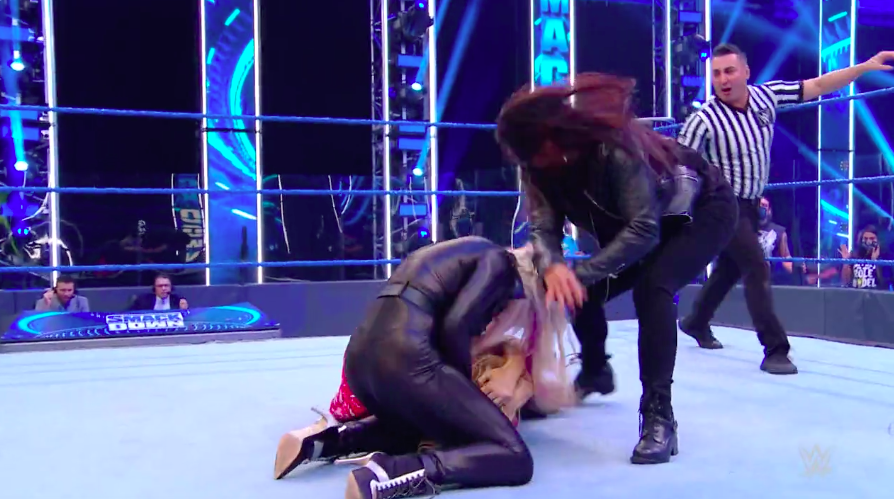 Dana and Tamina then tried to get a piece of Lacey…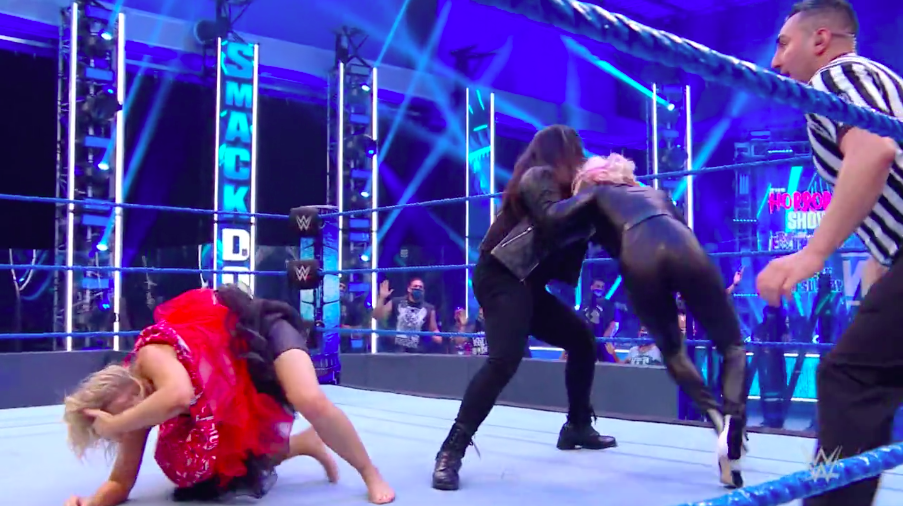 …but, failing that, decided to fight each other. This, despite the two women both being babyfaces and not having any history together. Or should I say, herstory together.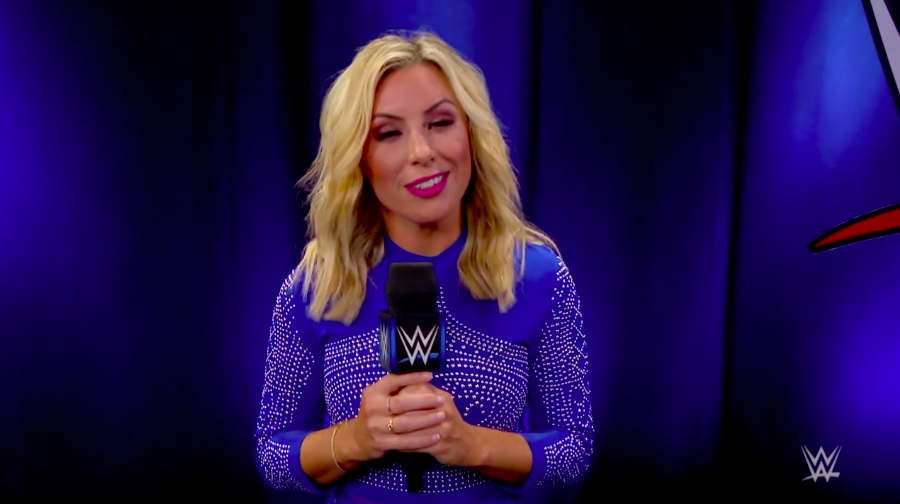 "Well, it looks like some people take their karaoke very seriously," said backstage interviewer Sarah Schreiber to cap off this baffling pair of segments.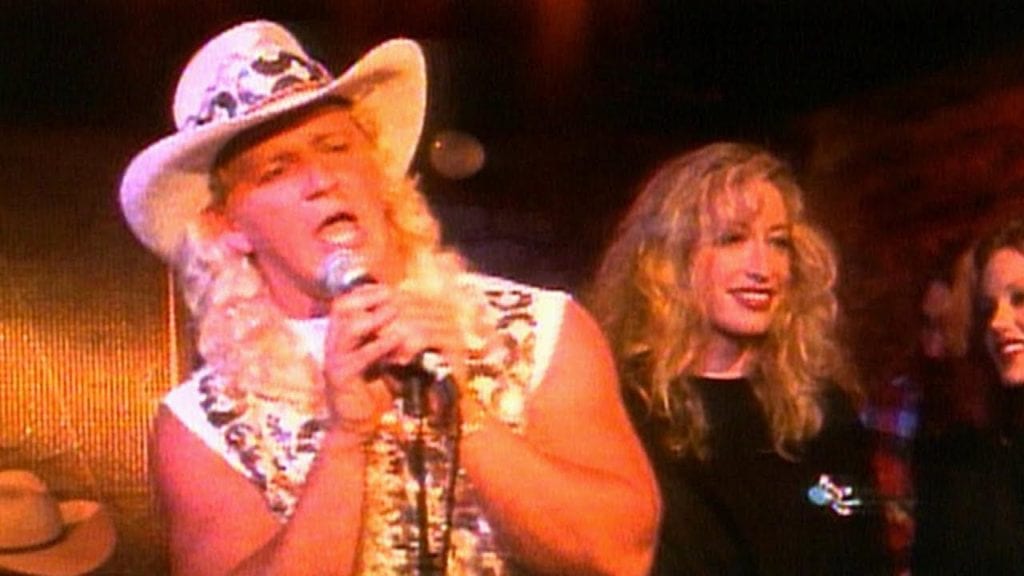 At least Jeff Jarrett, Jesse Jammes, and Jim Johnston could finally rest easy knowing that twenty-five years on, two wrestlers finally got to feud over "With My Baby Tonight".