Wrestling and religion don't mix.

In the last seven years of running this site, I've written that line so many times that you'd think I'd just assign it to a function key or something. But there's a reason it's so cliched – and that's because it's true. Whether you're talking about the buffonery of Brother Love, the old school absurdity of Friar Ferguson, the Memphisosity of Brother Ernest Angel, or the First Church of McMahonism, anytime you combine church and ring, the end result is always bad. So it should come as no shock that when D-Von Dudley decided to revisit his religious roots, the hymn remained the same.

It was the spring of 2002, and the WWF creative team came to the conclusion that the Dudley Boyz were well played out and in need of a change. And mark your calendars, kids – for once, they were right. D-Von and Bubba had been a team for over five years straight. The whole act, the whole Wazzup and "D-Von get the tables"…we'd all been there and done that so many times that you can't really blame the booking crew for trying to freshen the guys up.

Instead of giving them some time off, or giving them a new look or new attitude, the decision was made to split the pair up completely. And so Bubba went off to Raw, and D-Von to Smackdown. And while Bubba remained basically the same big tough fat guy he'd been portraying while teaming with his brother, D-Von was about to go a very radical change.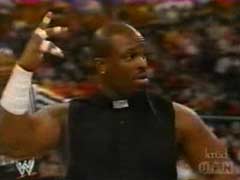 I'm supposed to be a PREACHER? You're kidding me, right? Right?
A change of Biblical proportions!
Taking a cue from his trademark "Testify!" catchphrase, D-Von begot Reverend D-Von! Gone was the tie dye and camoflage, and in their place was a black shirt with a white clergy collar. Sinners of the world be damned! Reverend D-Von had arrived!
But the born again Dudleyvillian wasn't alone. No no, he had this man with him: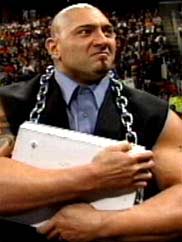 I love my briefcase.
What's that? You don't recognize his "Deacon"? What if I told you he was still on the WWE roster? Better yet, what if I told you he was a former (and very likely future) WWF champion? What if I were to tell you that this man was none other than…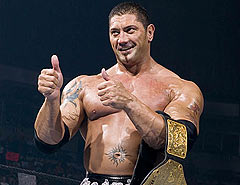 AYYYY! SIT ON IT, POTSIE!
DAVE BATISTA!
That's right – this was Big Dave's first shot at the big time was as Deacon Bautista. Eh, it could have been worse. After all, in developmental he was Leviathan, a man who rose from the deep murkey depths of the OHIO RIVER (and yes, there was even footage shown of this development). Makes you wonder why the guy even bothered to stick around. God knows if I was a MERMAN and then told, "Kid, you're going to the big time!" and they made me D-Von Dudley's collection plate passing lackey, I'd pack up my crap and head home faster than you could say "Man this writing crew sucks."
But Deacon Dave was just a small part of the formula. The main focus, of course, was D-Von preaching to the crowd about all the horrible sins we'd committed and how we were all going to hell. The worst of these sins, you ask? Why none other than MASTURBATION, of course!
No doubt you are thinking that line was just some two-bit WrestleCrap Radio-esque attempt at a joke. Hey, I don't blame you. It sounds exactly like something Blade Braxton would blurt out. But no, I am in earnest. In fact, here's the audio evidence.
Thankfully, Faarooq came to the defense of self-pleasurers the world over, explaining that he enjoys a good jerk now and again. (And can you imagine poor Ron Simmons' reaction backstage being told his lines, not only that he likes to wank off, but also that he wanted to get sinful on D-Von's ass? Considering that the sin in question was, in fact, punching the clown, well…that's a visual I'd rather not have had.)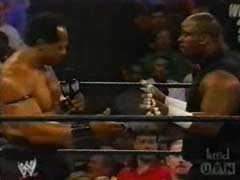 No no – that's just mayonnaise on my hand. DAMN!
Alas, all the mockery of monkey spankers such as you and I did little to get the Reverend over. Soon enough, Deacon Dave joined up with Ric Flair, Triple H, and Randy Orton to form Evolution. And with both Bubba and D-Von floundering, the two reunited and Reverend D-Von was never heard from again.
And with good reason. After all, for lack of a better phrase, the gimmick went over like a fart in church.
– Reverend D-Von: "Greenville, South Carolina! I've come to help you! I've come to address your problems! Tonight's sermon has to do with MASTURBATION! Oh TESTIFY! You see, masturbation that's a sin! Oh that's a sin! And each and every one of you masturbators will surely burn in hell!"

– Faarooq: "Oh you don't masturbate no more? Well guess what man, I do! And reverend, I'm about to get real sinful on your ass!"