For months, the Shining Stars have been bragging to the mainland Americans about how beautiful Puerto Rico is.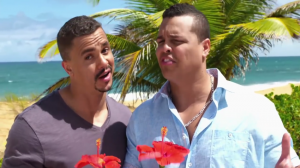 I'm not sure how this is supposed to make us mad, as I can't imagine any viewers offended to hear that Puerto Rico is a better vacation destination than, say, South Dakota.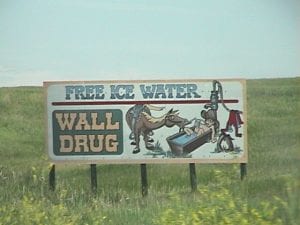 (Wall Drug excepted)
But contrary to what the Colón family has told you in the past, Puerto Rico isn't all sunshine and people who want to be cool. Take, for example, the WWF live event on October 19th, 1985, which featured 39 of the dampest minutes of action in wrestling history.
It was the WWF's first card in Puerto Rico, and they clearly had high hopes, booking the Hiram Bithorn Stadium.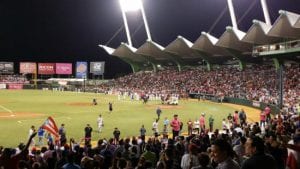 The venue could hold over 18,000 fans, and that's for baseball games, where they couldn't even seat fans on the field. It must have been disappointing then, during the height of Hulkamania, when the WWF drew only 1200 fans to the outdoor venue. Could the Sanjuaneros have known something the Federation didn't? Like that the city averages nearly 18 rainy days in the month of October?
This show was unusual not just for its low turnout, but for the squared circle itself.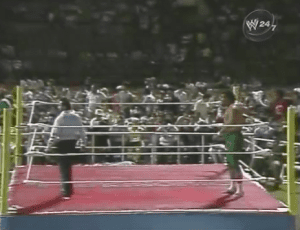 With its smaller size, Panasonic logo, and lack of turnbuckle pads, this clearly wasn't a regulation WWF ring, so any title changes that might have occurred would have surely been nullified by Jack Tunney.
Little did the WWF know that this house show wouldn't just be the Federation's first event in Puerto Rico; it would, for many years, be its sole event.
And what better way to open this sole event than with Tony Atlas? He went toe to toe with Steve Lombardi.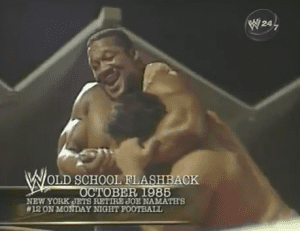 Not realizing how precious time would end up being on this card, both men worked each other over with rest holds for five and a half minutes until Tony Atlas put his foot down and won with a press slam.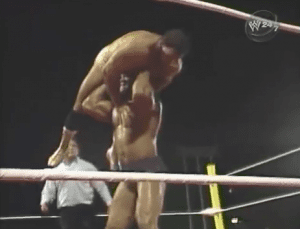 The match certainly didn't knock anyone's socks off, even if Tony Atlas understands heel-face dynamics better than anyone.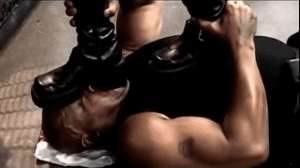 He has a foot fetish, is what I'm getting at.
Next up was seven minutes of Corporal Kirchner vs. Tiger Chung Lee.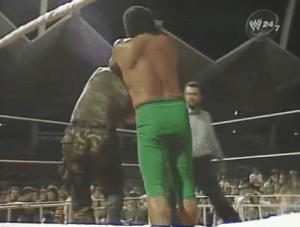 Now is as good a time as any to point out that around this time, the WWF often ran two or three house shows on the same night, spreading the roster pretty thin.
How thin? Not only was Gorilla Monsoon all alone at the commentary table, he took over ring announcing duties, too.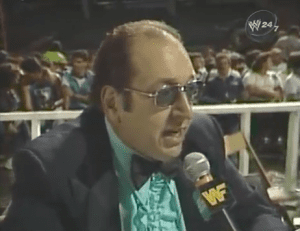 Eventually, he got the hang of switching microphones.
The Corporal won with a clothesline.
Ricky Steamboat went four and a half minutes with Moondog Spot before finishing him off with an enziguiri or, to be more specific, "a karate kick."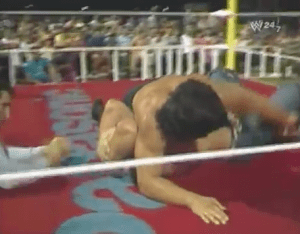 Four and a half minutes may seem short for "The Dragon," but for Spot, whose two matches at the following month's Wrestling Classic averaged 31 seconds, it was a marathon.
Fortunately, if the WWE Universe – sorry, excuse my anachronism – WWF Universe had been waiting for a match with a workrate, their wait was over!
Right after an additional unexplained wait!
Wendi Richter's music hit, but she and Cyndi Lauper didn't even show up on the field for another three minutes.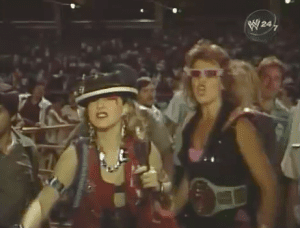 Possibly, they didn't realize that the generic theme playing throughout the stadium was meant for them. (Unless WWE has simply dubbed over "Girls Just Wanna Have Fun" in post-production to avoid paying royalties…)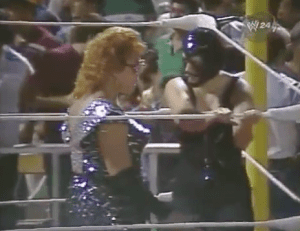 Waiting patiently all the while were the Fabulous Moolah and her protege Spider Lady, who likely trained at the same gym as Leopard Lady and Jaguar Woman.
Gorilla Monsoon said that the official for this women's match would have his hands full. "Literally," he clarified.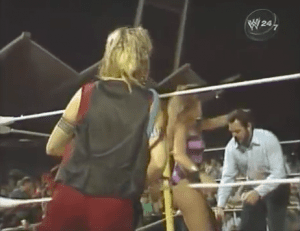 Hey, refs just wanna have fun, too.
Richter defeated Spider Lady in the only athletic match of the night…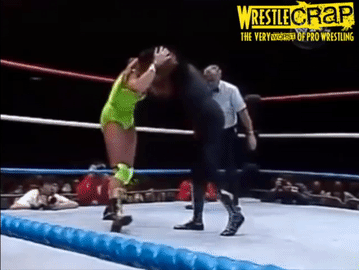 …but a month later, it would be Spider Lady (with Moolah under the hood) who would "pin" Richter for the title in the original Screwjob.
(And incidentally, three days before that, David Sammartino perpetrated wrestling's first and only reverse Screwjob…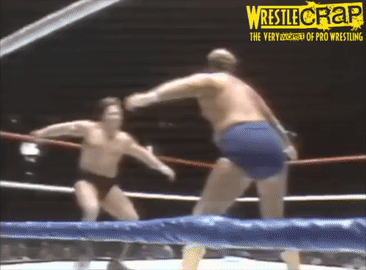 …breaking the script by submitting to jobber Ron Shaw.)
It was then time for the WWF title match between Hulk Hogan and Big John Studd.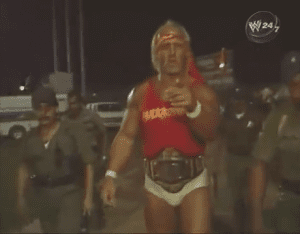 Why was Hogan wrestling so early on the card? Maybe it was the impending storm, but he was also a very busy man, wrestling 400 days a year by his own recollection.
Hogan and Studd really took their time at the outset of the match, although Hogan didn't spend much time playing to the crowd due to the fact that there wasn't one.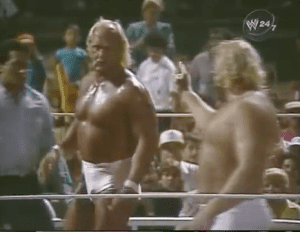 Studd dominated early on, wearing down the Hulkster with a test of strength, a bear hug, and another bear hug.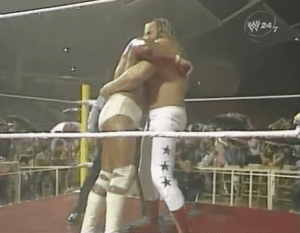 By the time he had locked in his third bear hug, the rain had started pouring.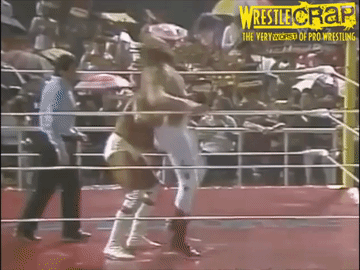 Hulkster quickly made his comeback, hitting Studd with a very slippery atomic drop that caused him to not only stain his pants, but spill to the outside.
The referee then delivered the fastest ten-count in wrestling history to get the match over with.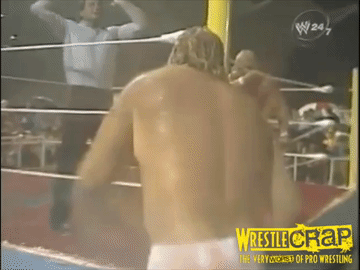 "The rain continues to come down in buckets, but the action has not stopped," said Monsoon. He said this just seconds after the referee called for the bell and raised Hogan's hand to end the match. Monsoon, oblivious to the fact that Studd had already been counted out, claimed Studd was simply walking out of the match. It's a pretty big gaffe for a commentator to completely miss the finish of a match, especially when that commentator is also the ring announcer in charge of telling the live audience the official decision.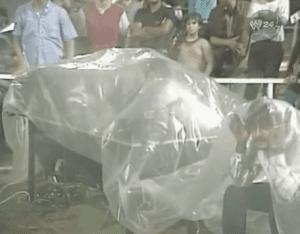 And that official decision, which Monsoon figured out after some more hints from the referee, was a victory by countout for the "Fabulous" Hulk Hogan. I'd stick with "Incredible" and take my chances with a lawsuit from Marvel.
"The sky has literally opened up," said Monsoon after an intermission, by which time the storm-weary crowd had literally vanished into thin air (figuratively).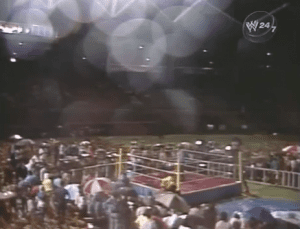 Two nights later, the WWF sold out Madison Square Garden.
But what a reward the Federation gave all the fans who stuck around: The Killer Bees vs. Mike Sharpe and Barry O.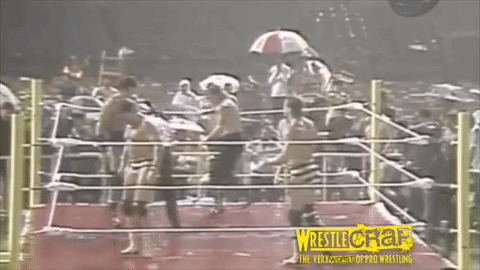 Barry figured this would be the only time he'd get to slide across the ring, so he did.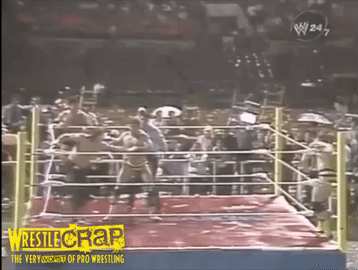 Twice.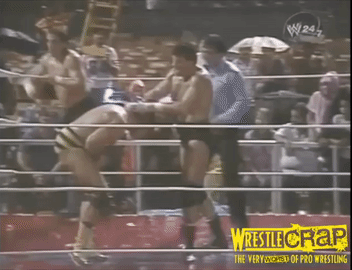 Hey, he's stomping the mat as he punches! Salem the Cat was right!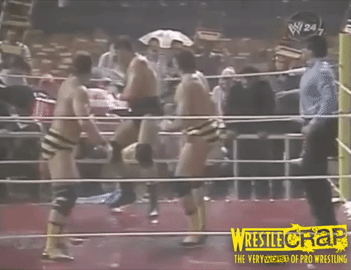 "This is supposed to be a wrestling match, not a bleedin' splish-splash show."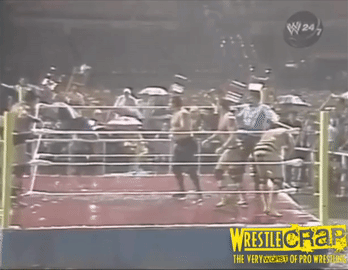 Barry O appears to disappear into a very deep puddle in this GIF, then regenerate in the Killer Bee's place.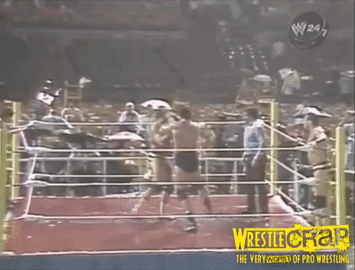 The guys figured that the only safe moves were arm-wringers and punches, which they used for most of the match…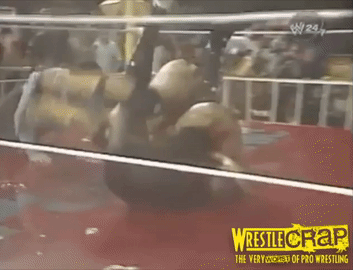 …before Brunzell scored a pinfall at 4:10 with a small package out of nowhere.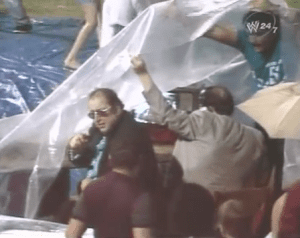 He got out of there in a hurry, as a certain announcer hiding under a tarp might say.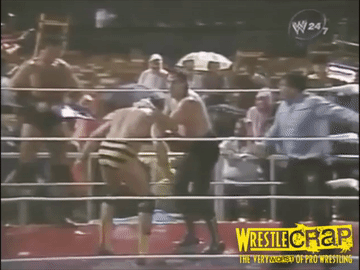 By the way, this embarrassment wound up on Coliseum Video's Best of the WWF, Volume 16.
Next up was an IC title match between champion Tito Santana and challenger Randy Savage. The two men spent most of the match minutes stalling, with Santana accusing Savage of hiding a foreign object, and Savage constantly hiding it in new places on his person.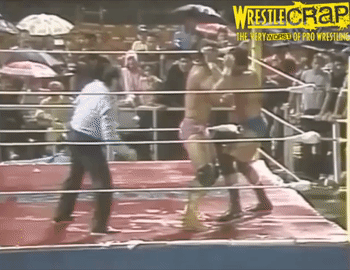 After Tito nearly blew out his knee throwing a punch, Randy actually got around to using the mystery weapon…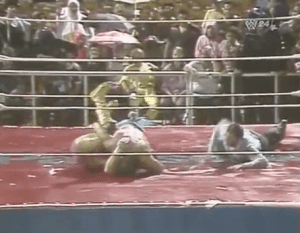 …but Santana scored a pinfall at 8:08 with a small package out of nowhere.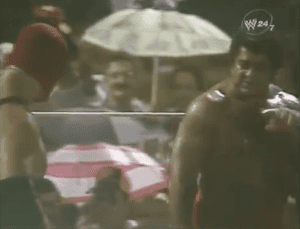 By the time the main event rolled around, featuring Puerto Rico's own Pedro Morales vs. The Spoiler, the crowd had dwindled to TNA BaseBrawl levels.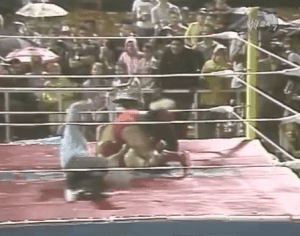 Morales scored a pinfall at 1:14 with a small package out of nowhere.
Once the storm kicked in, this event featured more small packages than a Mr. Antarctica swimsuit contest, and the World Wrestling Federation hightailed it off the island.
Before they would host another event in the nearby US territory, the WWF would tour such countries as Canada, the UK, Germany, South Africa, Kuwait, India, Japan, The Philippines, Singapore, and Australia.
To be fair, I doubt fans on the island were itching to see the Superstars again after this performance, and WWE wouldn't return to Puerto Rico until New Year's Revolution 20 years later.
It was indoors.