The ubiquity of advertising is a fact of life in America, and wrestling provides no sanctuary. And while you'd expect commercials during a broadcast TV show like Smackdown on FOX, you'd think that some shows — ones you plunk down money to see — would be ad-free. Not so!
In fact, WWE has long made a practice of jamming ads and product placement into their pay-per-views, even the prestigious Snickers Presents WrestleMania. In 2021, though, they outdid themselves by at long last welcoming fans back to their big events, only to subject the captive audiences to in-ring advertisements.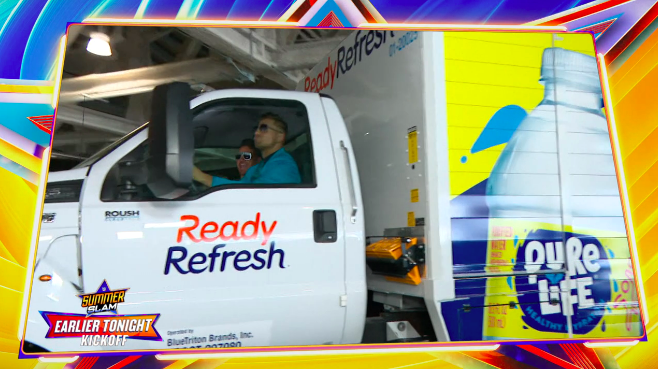 At Summerslam, The Miz and John Morrison rode into Allegiant Stadium in a big water truck. But this wasn't the kind of water you could get from the public water supply — this was Nestlé PureLife*!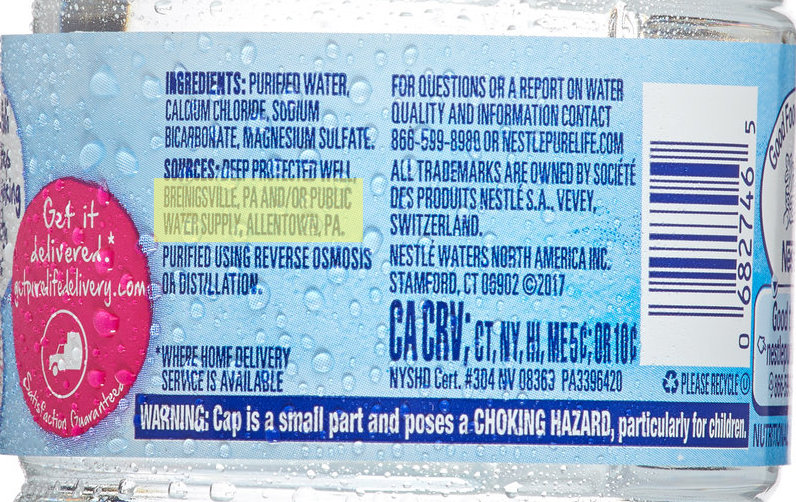 For months, John Morrison had tormented his fellow Superstars with a nine-inch long object he called a Drip-Stick: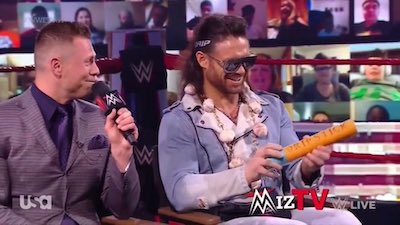 Vince McMahon even had plans to sell the Drip-Stick through WWE Shop. Then he realized what would happen if thousands of fans used them at a live event.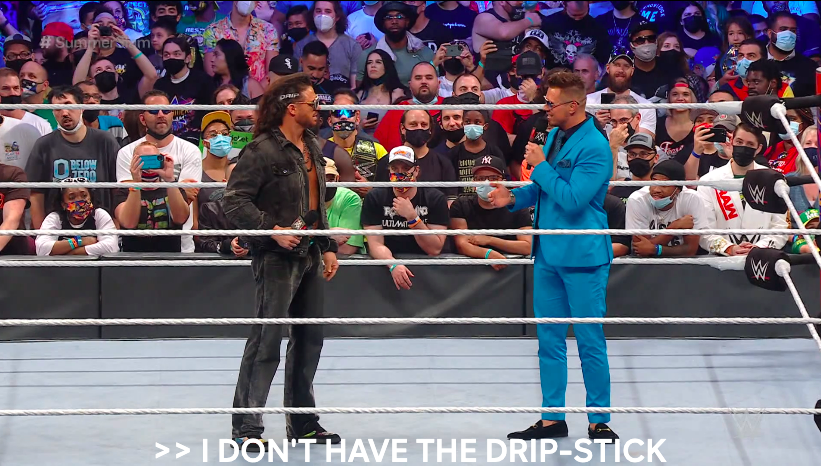 Now, Miz and Morrison promised to demonstrate a never-before-seen Drip-Stick 2000. Problem was, neither of them could find it.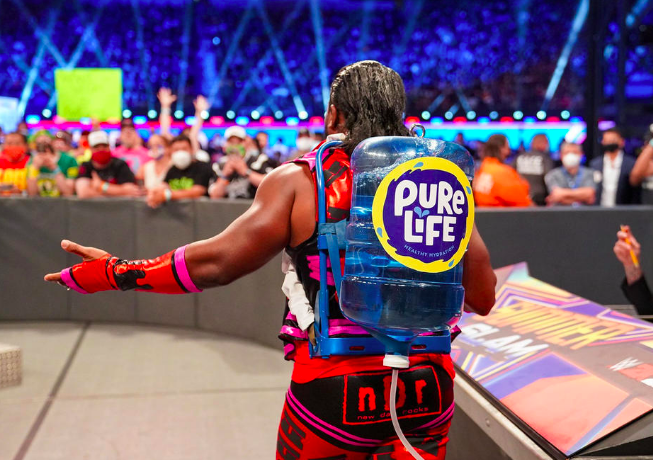 Enter Xavier Woods, walking through the crowd with a big jug of PureLife strapped to his back…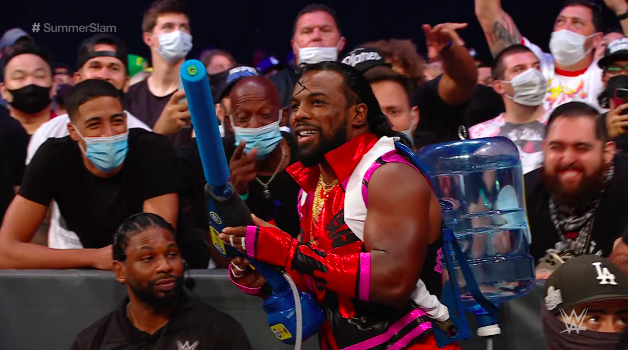 …while also dressed as Scott Hall for some reason. The announcers, for their part, totally ignored Woods's special gear and hair.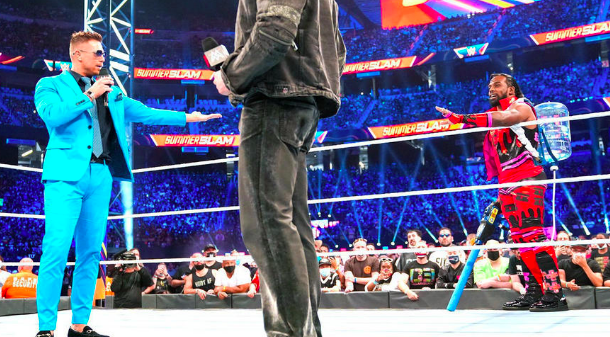 Though Xavier brandished André the Giant's enema, Miz and Morrison weren't afraid.
But they were annoyed. John Morrison demanded the Drip-Stick 2000 back so he could soak all the dry, dry fans who were, in his words, "hurtin' for a squirtin'".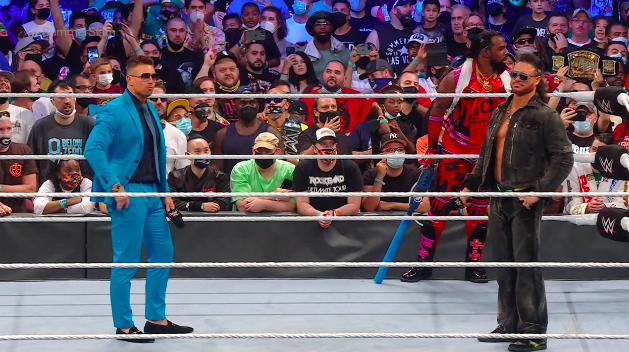 "The only people who are dry in this building right now," said Xavier, "are you two." Woods is a class act; I'd have said Maryse and Frankie Monet.
Miz and Morrison were confident they could get back their Drip-Stick 2000, telling Xavier Woods that there were two of them and only one of him.
But, as JBL used to say about The Shield each and every single match, Woods had a numbers advantage even when the numbers were even. And with the Drip-Stick 2000 as his tag team partner, the numbers were definitely even.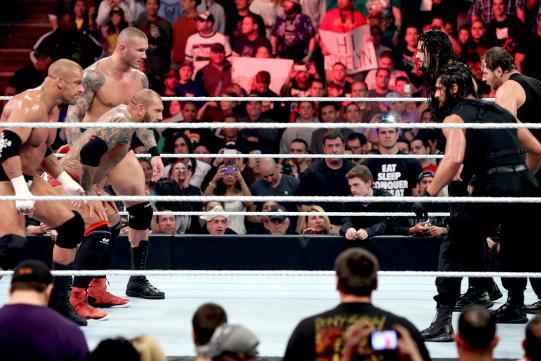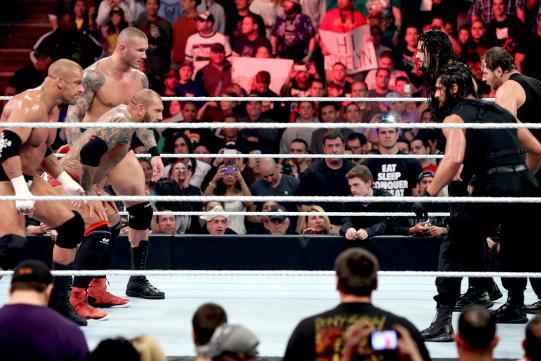 Like morons, Miz and Morrison continued making demands of Woods even as he pointed the water gun at them.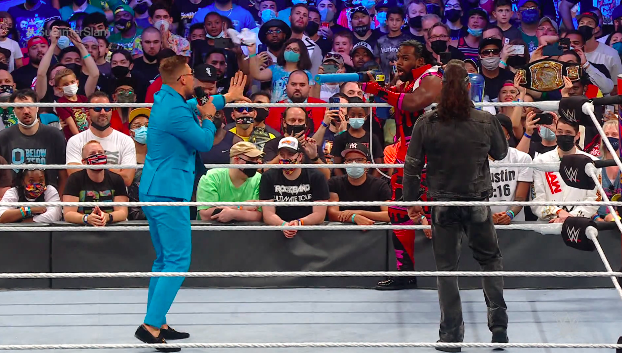 Obviously, the heels ended up getting sprayed and driven out of the ring. The fans, many of whom attending their first live event in a year and a half, responded with silence. Damn stadiums and their bad acoustics!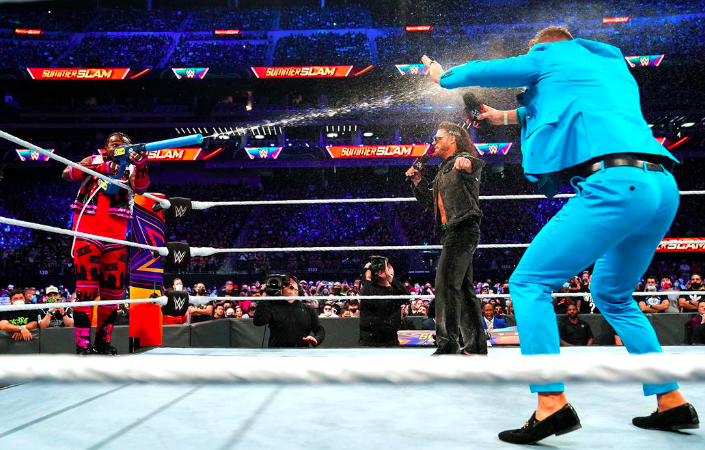 Maybe Miz and Morrison's comeuppance would have garnered a bigger pop had the fans not seen it already.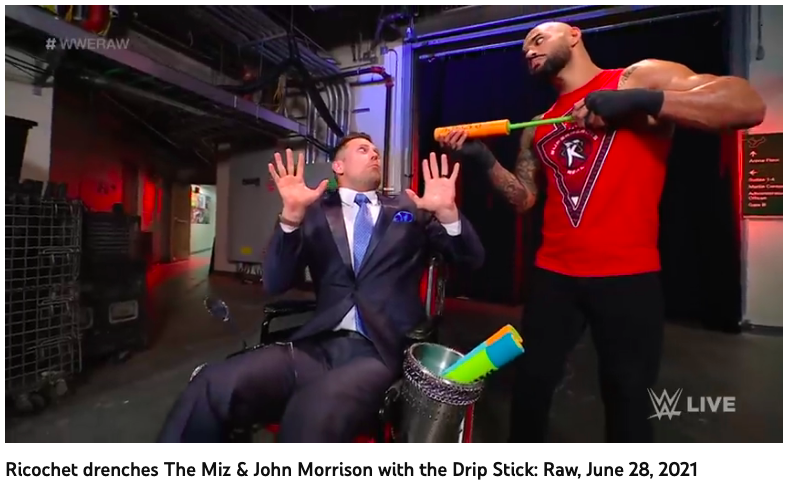 The segment didn't even make sense from an advertising standpoint — why use this premium filtered water when hose water would do just as well? What was next, a PureLife toilet?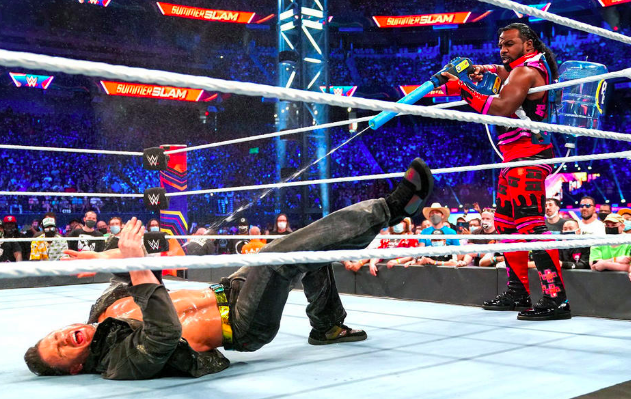 And shouldn't Miz and Morrison want to be sprayed with the delicious PureLife water, perhaps opening their big yaps to get a mouthful?
With the money Nestlé paid WWE for this skit, they could have bought unlimited access to Michigan's groundwater for a whole year (assuming they paid WWE at least $200).
…
The product placement train rolled on at Survivor Series, an event billed as the 25th anniversary of The Rock's debut. Notably, this "anniversary" event already featured a completely different promotional tie-in with the film, Red Notice…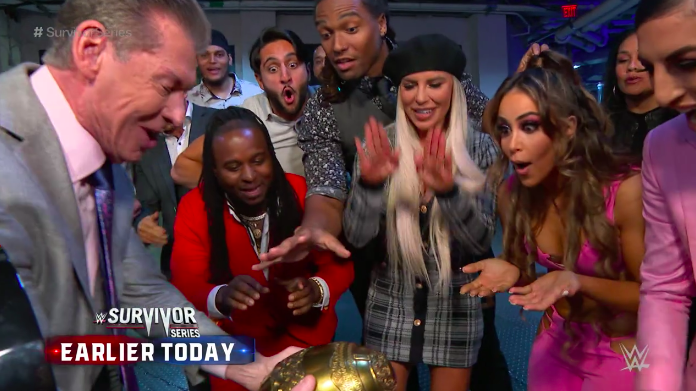 …and more notably, did not actually feature The Rock.
To celebrate the event's absentee guest of honor, WWE hosted a special match called, "The Rock's 25th Anniversary 25-Man Battle Royal"… sponsored by Pizza Hut.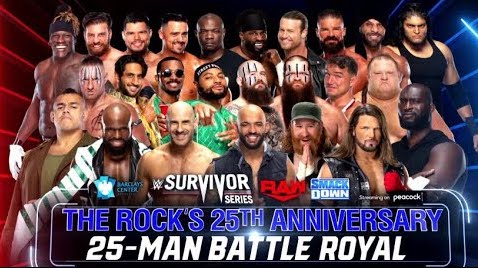 The battle royal part makes some sense, as The Rock once won a battle royal on Shotgun Saturday Night, last eliminating Dennis Knight.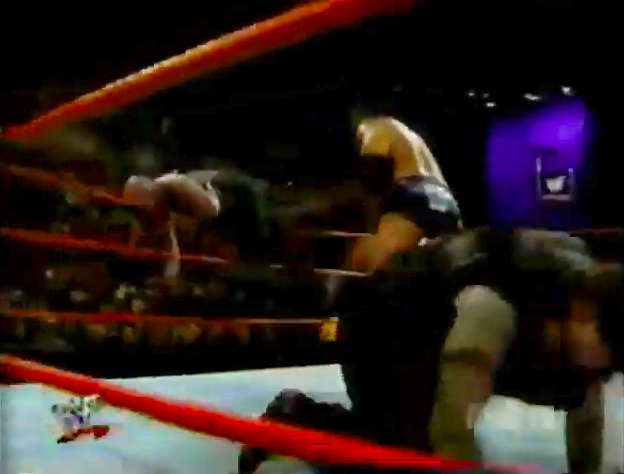 "[O]ther participants included: Mosh, Thrasher, Bob Holly, Dan Severn, Bradshaw, Golga, Kurrgan, the Giant Silva, Farooq, Skull, 8-Ball, Marc Mero, Mark Canterbury, Sho Funaki, Dick Togo, Mens Teioh, Papi Chulo, Tiger Ali Singh, Miguel Perez Jr., Scott Taylor, & Jesus Castillo"

The History of WWE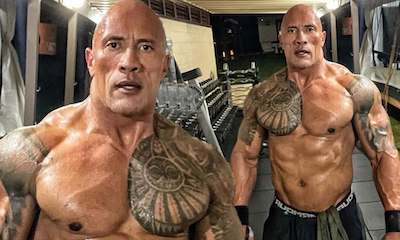 But the Pizza Hut tie-in was puzzling, considering Dwayne Johnson probably hasn't eaten a carbohydrate (or "carb", as I call them) in the last decade.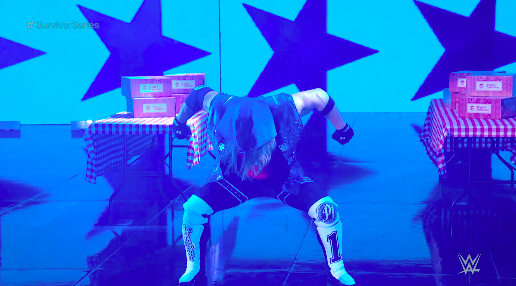 Sitting on stage were tables full of Pizza Hut pizza…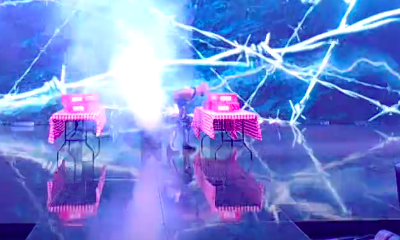 …which Ricochet took a moment to sniff before entering the ring.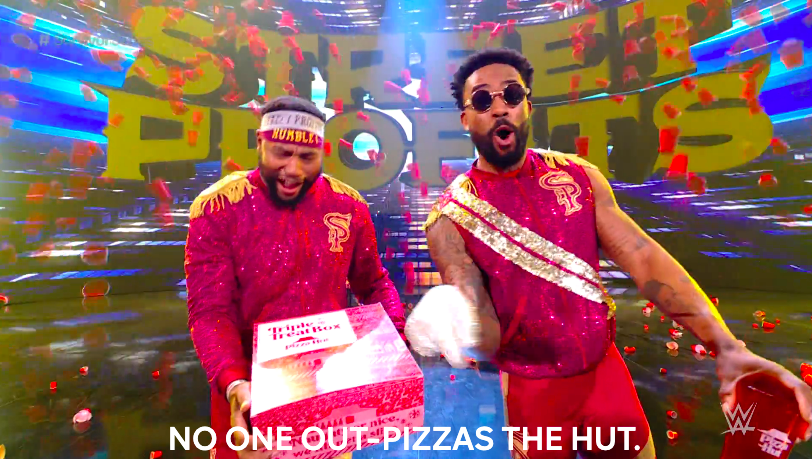 The Street Profits were the last men to make their entrance, showing off their brand new sponsorship from Pizza Hut. The main perk of the endorsement deal, besides the branded cups, was the complimentary pizza box they carried to the ring. And where else (besides from the nine identical boxes on stage) could a wrestler score pizza at Survivor Series?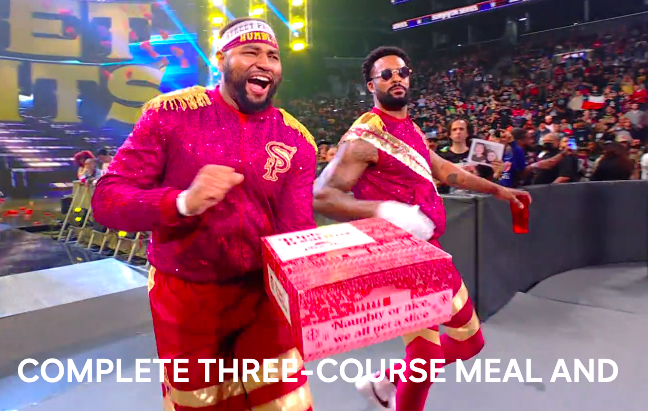 "It appears as though they are toting the Triple Treat Box, a complete three-course meal in one holiday-themed box", observed Michael Cole. Whatever they were called, these pizzas were piping hot, like my laptop attempting to stream Peacock.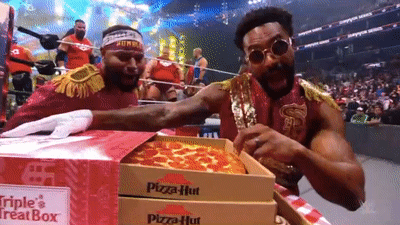 Ford gave a ringside pizza the old in-and-out, before Dawkins presented the team's personal stash to Byron Saxton.
Byron's reaction skipped straight past funny to stupid, then looped back to funny, before finally going too far and landing on perverted.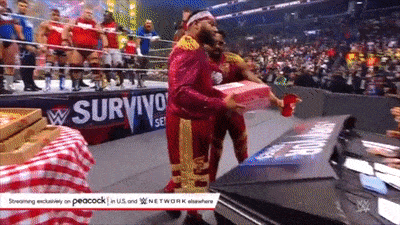 But instead, Dawkins gave the pizza to Cole and Graves. I hope it wasn't a racial thing. Meanwhile, Saxton was crushed. After all, where else (besides three feet from the commentary table) could an announcer score pizza at Survivor Series?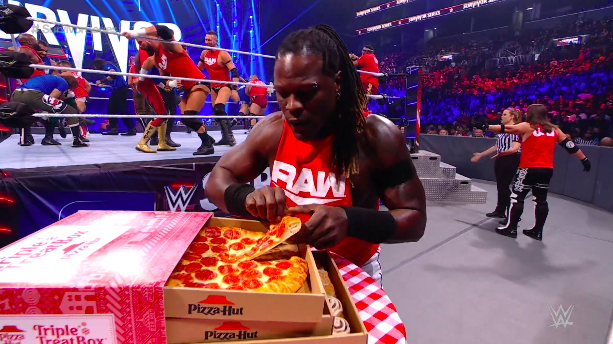 Although battle royals are billed as every-man-for-himself affairs, R-Truth nonetheless tried to forge alliances with WWE's tallest and thiccest Superstars via pepperoni diplomacy.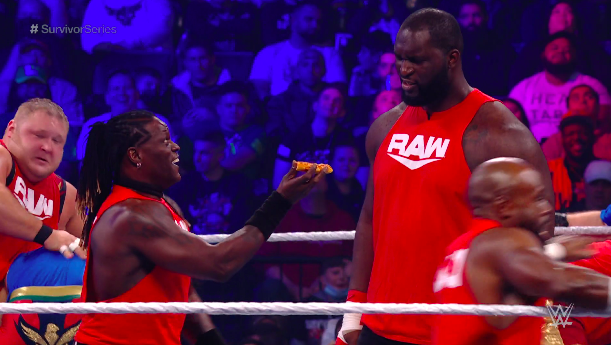 Omos could not be bought…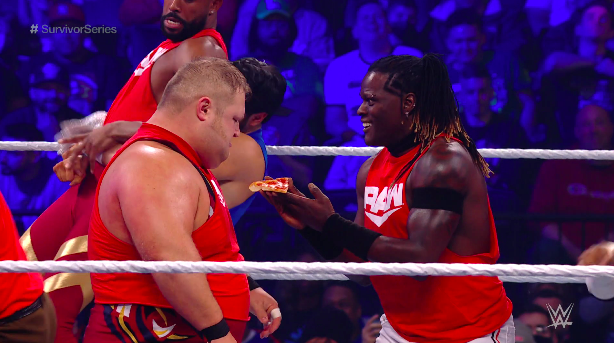 …but Otis dropped everything and ate his slice, completely transfixed…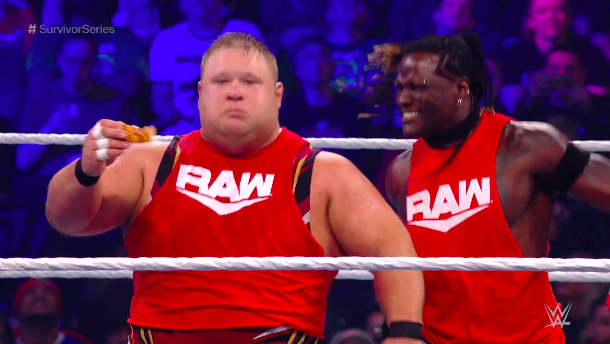 …that is, until Truth's ill-advised butt-slap, which snapped the big boy right out of his pizza zone (his P'Zone, if you will).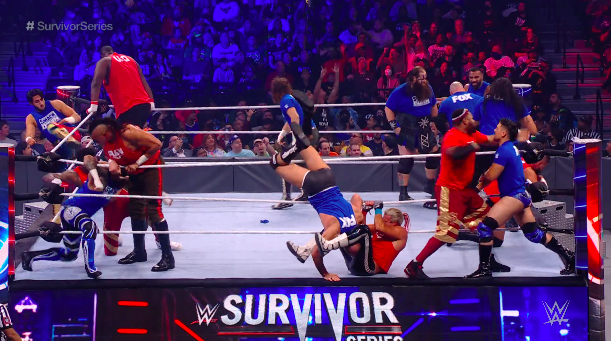 Later, as fans chanted, "We want pizza!", Sami Zayn picked a slice up off the mat and flung it into the audience. "Sami Zayn, per usual, not endearing himself to the WWE fans", said Cole. It seemed no one liked greasy, airborne pizza slices getting chucked at them.
Besides the Pizza Hut tie-in, the story of the match was Omos's dominance, eliminating a dozen men including the less-heralded giant Shanky…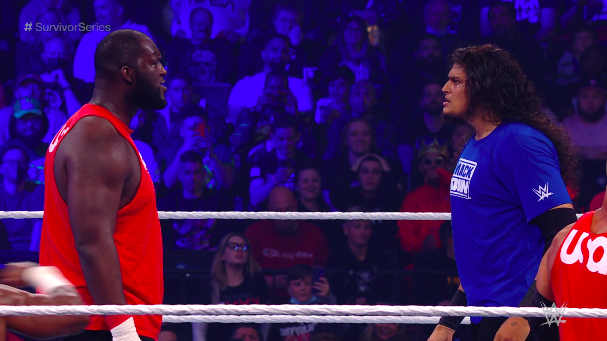 AJ Styles returned to the ring to celebrate his bodyguard's victory… with pizza!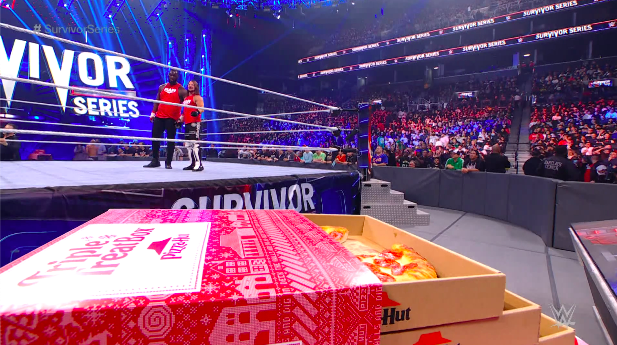 But before Styles could secure the Triple Treat Box, Montez Ford kicked him.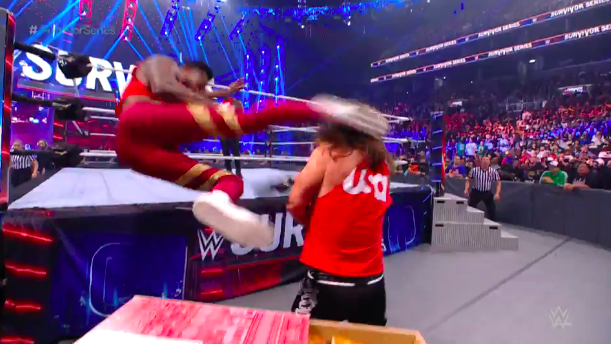 Ford then started flinging individual slices into the crowd like Frisbees, which five minutes earlier, Sami Zayn had established as heel behavior.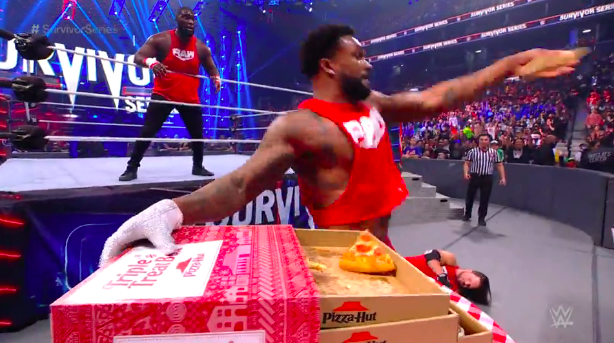 Montez snatched the rest of the pizza and ran to the top of the ramp, where he and his partner chowed down.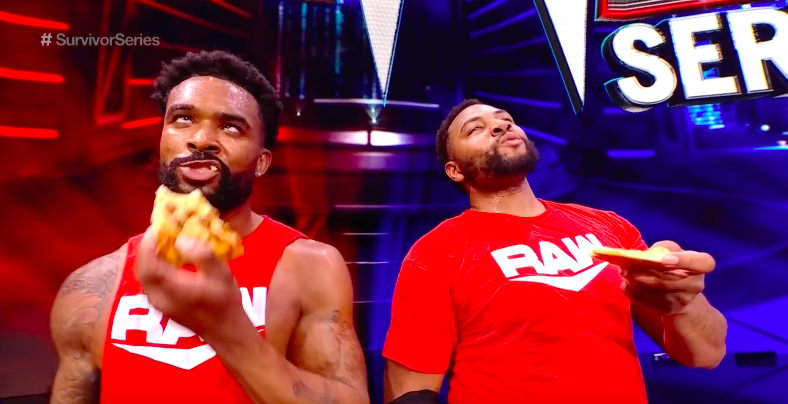 Before departing, 'Tez again started throwing pizza out to the fans, few of whom had thought to bring their mitts.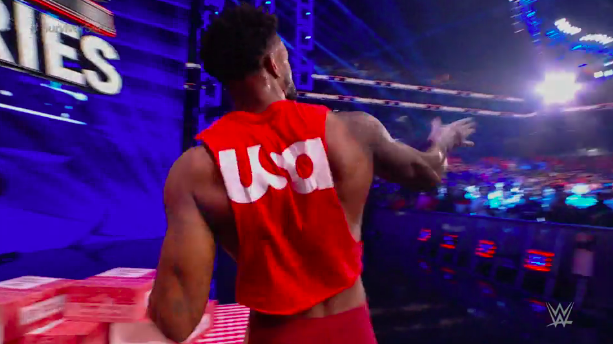 While the exact fate of the pizza slices is unknown, most of them likely ended up on the floor. If the fans had brought their own Drip-Sticks, they could have at least jet-blasted away the tomato stains.
WWE actually posted the Pizza Hut-related highlights to YouTube but edited out the pizza-flinging; Pizza Hut couldn't have been too happy about their product's presentation…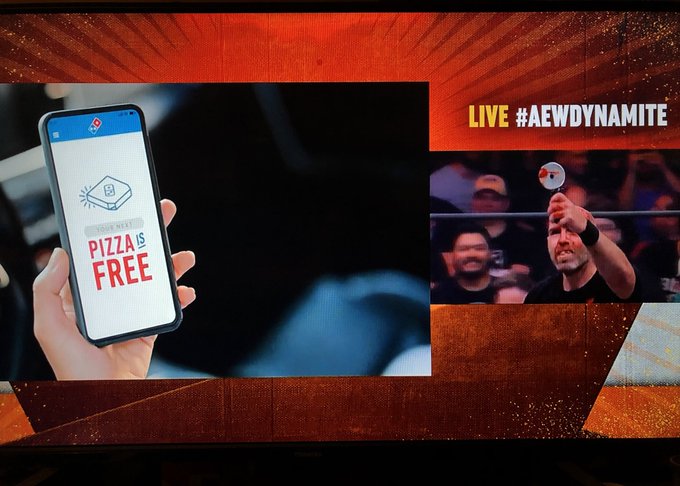 …but I guess it could have been worse.