If there's one thing that "Brawl Out" proved, besides that Ace Steel is nuts, it's that AEW is not just The Elite's promotion anymore. In the aftermath of the infamous backstage fight, owner Tony Khan issued suspensions not just to CM Punk, but to the Young Bucks, Kenny Omega, and many of their backstage allies who were only incidentally involved.
Since its inception in 2019, AEW has strayed far from The Elite's original creative vision…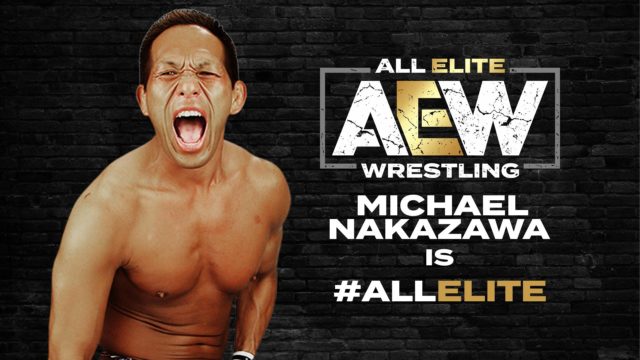 …which, as we'll see in tonight's induction, is not necessarily a bad thing.
For example, one of the promotion's first signings was Michael Nakazawa, a friend of Kenny Omega's and a staple of the Being The Elite web show.
As The Elite's answer to Big Dick Johnson, Nakazawa wore the skimpiest of trunks and employed so-called Turkish oil wrestling techniques to break free of his opponents' grip.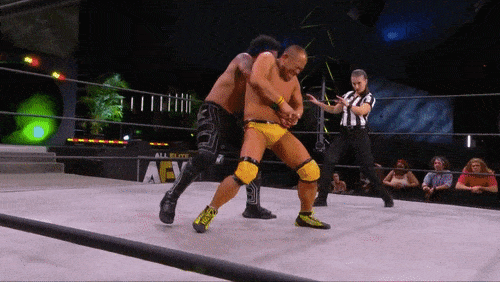 In practice, this meant squirting his body with baby oil mid-match and gyrating his way out of waistlocks.
I understand it was very entertaining if you regularly watched Being The Elite, but for those fans who neglected their weekly homework, it was off-putting to say the least. Besides, it looked like a nightmare to clean up.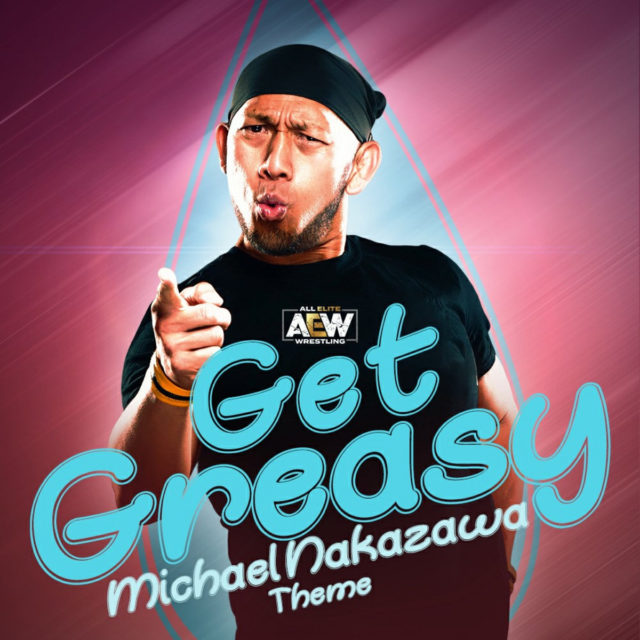 This didn't stop Kenny from putting Nakazawa into pre-show matches to set the tone for his special events. In fact, Nakazawa's greased-up antics were among the first in-ring action fans saw from AEW's inaugural pay-per-view, Double Or Nothing.
Before that, Kenny had put Nakazawa in what could be loosely dubbed a "celebrity match" at…
CEOxNJPW: When Worlds Collide
A stateside collaboration between New Japan and the CEO video game event, the show broadcast live on Twitch…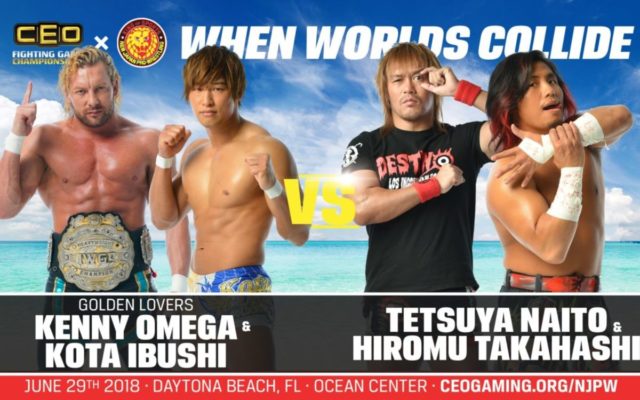 …headlined by Omega & Ibushi vs. Naito & Takahashi…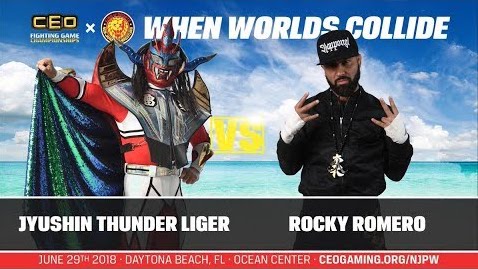 …and featuring Jushin Liger on the undercard.
But earlier in the evening, Nakazawa did his thing.
In the second match of the night (and the first without a registered sex offender), Michael Nakazawa issued an open challenge to any American. Answering the call was a wrestler to this day identified only as "Skinny Boy".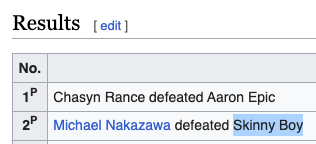 Frankly, if I were involved in this match, I wouldn't want my name on Wikipedia, either.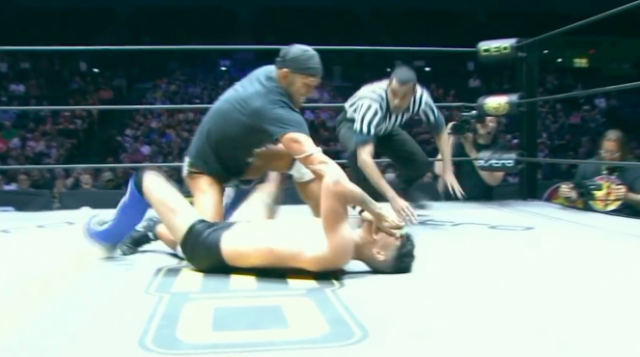 In barely a minute, Nakazawa made Skinny Boy tap out to Venom's Tentacle.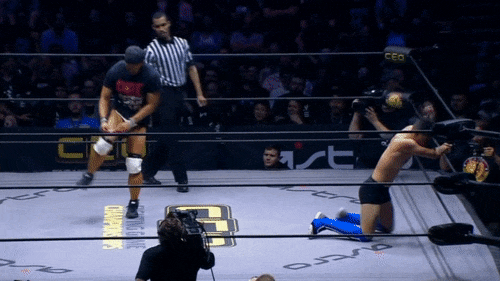 Never heard of that move? It's where Nakazawa removes his thong, turns it inside out, stretches it across his hand, and shoves it in his opponent's face.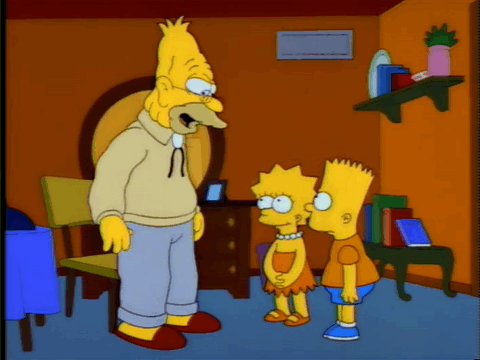 Further impugning Americans' wrestling and gaming skills, Michael Nakazawa issued another challenge, one that was answered by… uh, I don't know.
Eventually, the announcers identified the challenger as none other than Alex Jebailey. Awesome! Who the hell was that?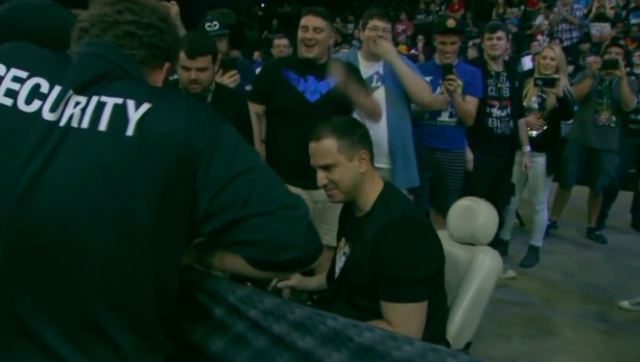 Jebailey, it turned out, ran the video game event. He was also wheelchair-bound thanks to a ruptured Achilles' tendon. With security unable to open the guardrail to let him through, Jebailey took matters into his own feet by standing up, hobbling to the next rail, and attempting to open that one up.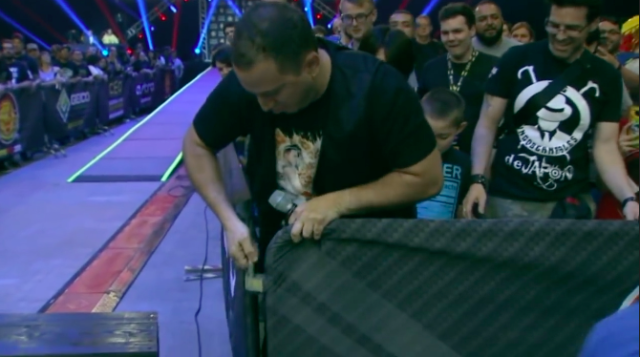 It didn't work the second time, either, so he needed the security guards to lift him over the barricade…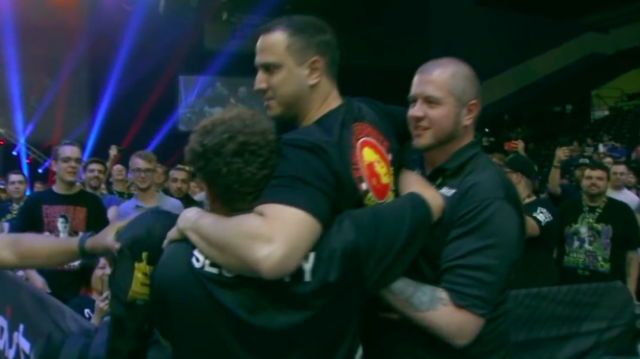 …where some staff provided him with crutches. How did Jebailey expect to win this match when he couldn't walk, much less wrestle, much less run an ADA-compliant event?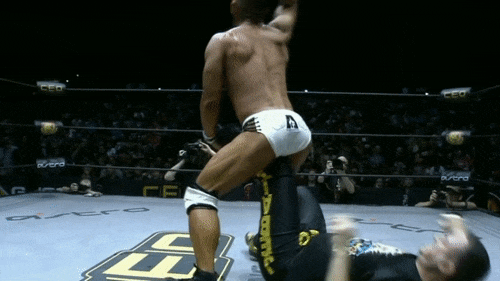 Michael Nakazawa immediately stomped Jebailey down, then broke out the baby oil for a spinning toe hold that ended with him grinding on Jebailey's injured leg.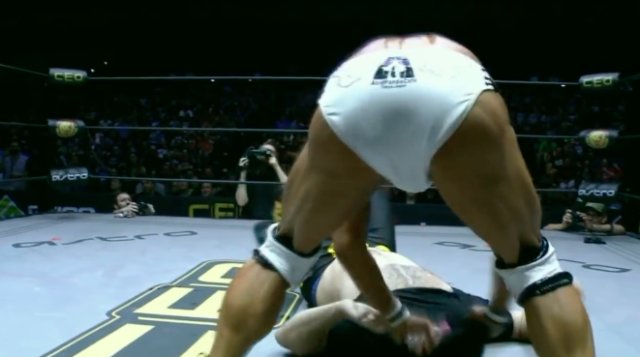 Then, he exposed Jebailey's pale belly and squirted oil on that, too, before sliding on it.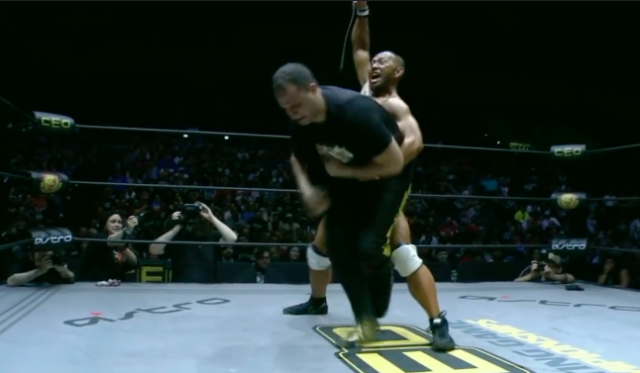 You know what Michael Nakazawa hadn't tried yet? Baby oil!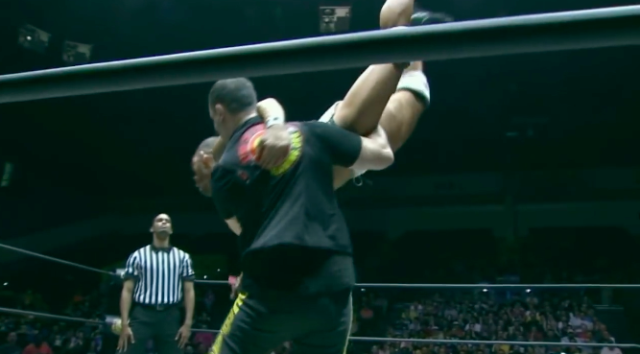 In another brilliant move, the untrained Jebailey made his comeback, lifting his oiled-up opponent off the oiled-up mat and slamming him. Miraculously, Nakazawa avoided the world's dumbest career-ending injury.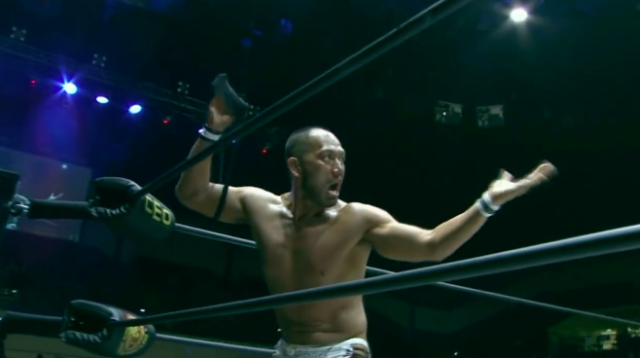 Nakazawa then took off another thong and put it on his hand, but Jebailey countered, shoving the thong-hand into the referee's face, where it got stuck.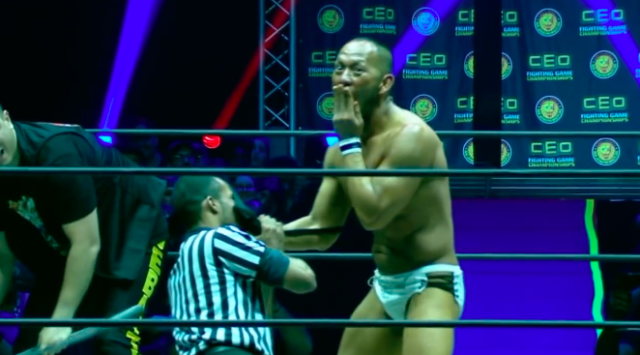 Jebailey hit Nakazawa repeatedly with a crutch…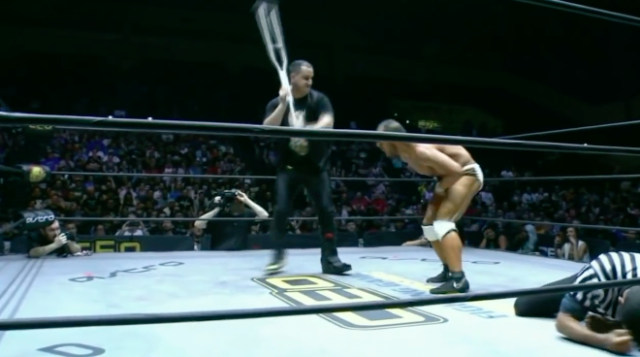 …then AA'd him for the victory.
And despite everything I've just written, they decided to book this match again the next year.
Except this time, "they" was an upstart promotion called AEW in its second-ever event, a free show called…
Fyter Fest
As AEW had done a month earlier at Double or Nothing, they put on a pre-show on YouTube called the "Buy-In", despite the main show lacking a gambling theme and being free to view.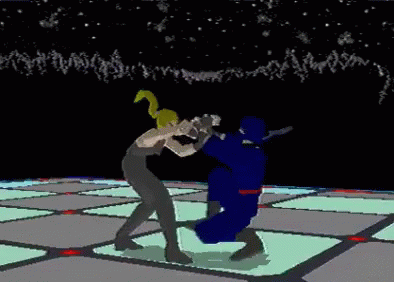 A more appropriate nickname would have been the Ring-Out, as this event was fighting-game themed, while the pre-show was designed to drive viewers far, far away.
I mean, how else to explain The Librarians?
Closing out the Buy-In was a hardcore match once again pitting Michael Nakazawa against Alex Jebailey…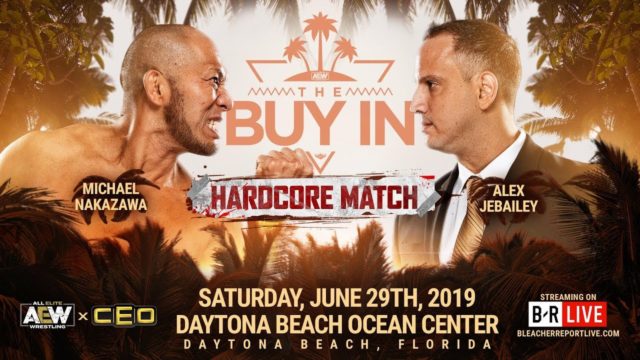 …who a year earlier had made history as the least famous person to ever win a wrestling match.
This time around, the men used a kiddie pool…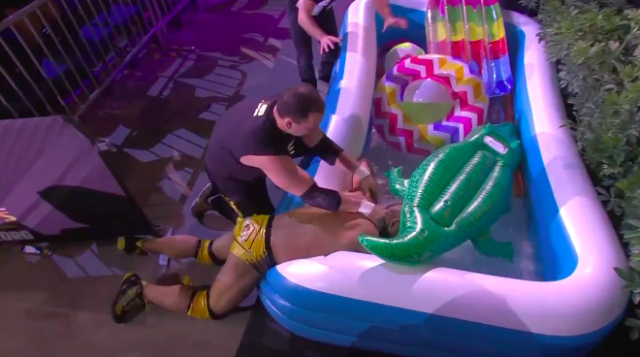 …video game controllers…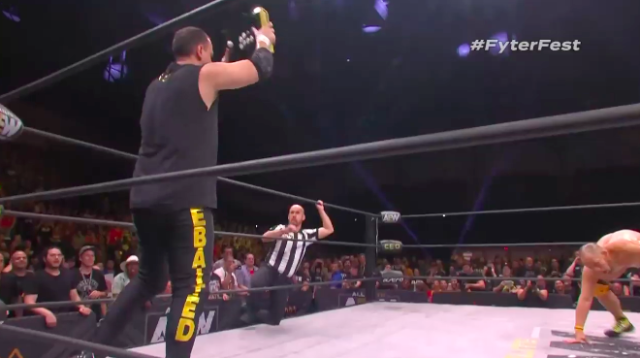 …and arcade cabinet buttons.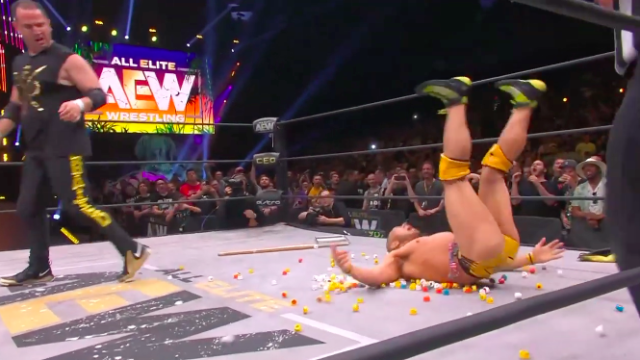 The Baby Oil Man even used baby oil!
Not only that, but he removed his thong, turned it inside out, stretched it across his hand, and shoved it in his opponent's face.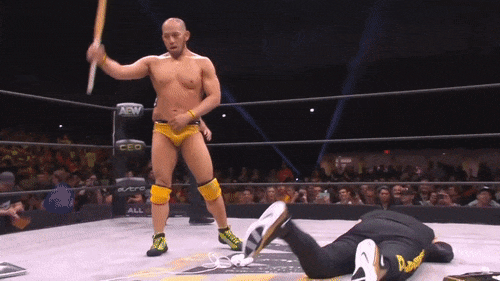 Or should I say, the referee's face, after Jebailey countered the move, if you can imagine that!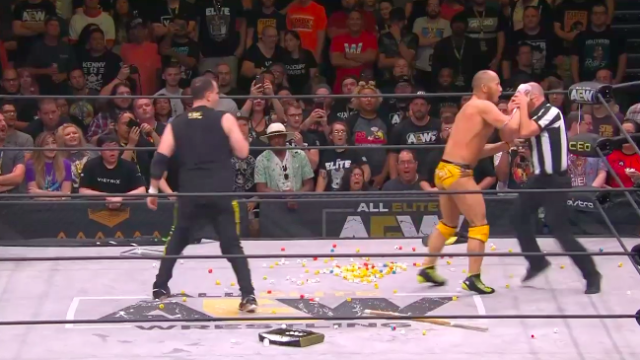 Along the way, Jebailey threw some of the worst-looking forearms you ever saw in your life…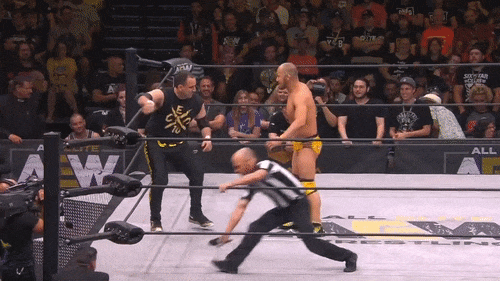 …even when compared to other rookies like Lawrence Taylor.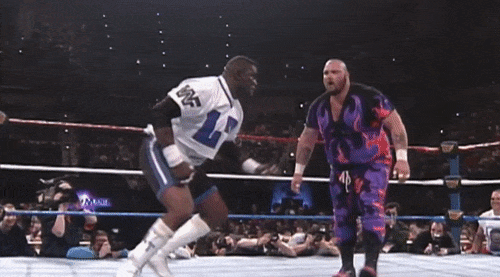 And LT had never even wrestled a match before! What was Jebailey's excuse?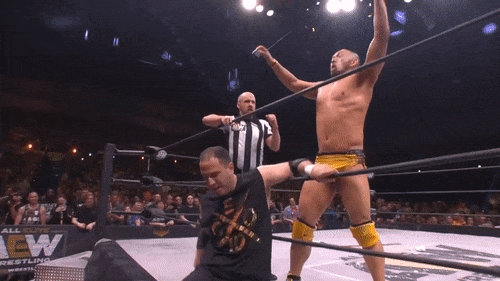 His selling could have used a lot of work, too. Here, he's holding back laughter as Michael Nakazawa chokes him with a controller cable.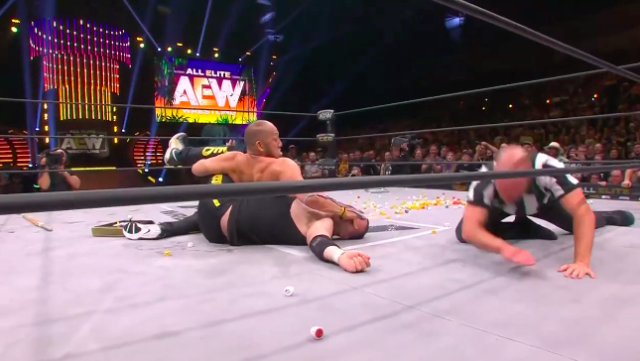 Nakazawa tied the series at 1-1 when he reversed Jebailey's pin, temporarily knocking his opponent out with his thong.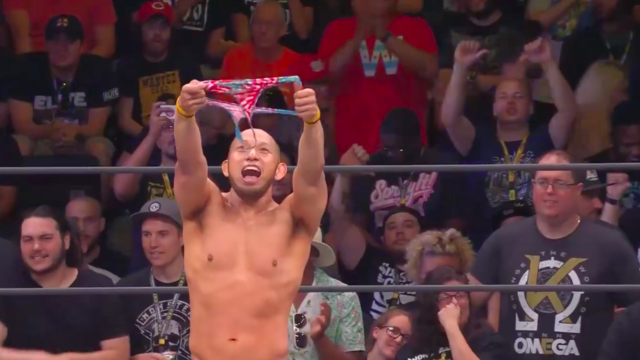 Celebrating his victory, Nakazawa posed with the match-winning string, which came straight from the Asuka collection.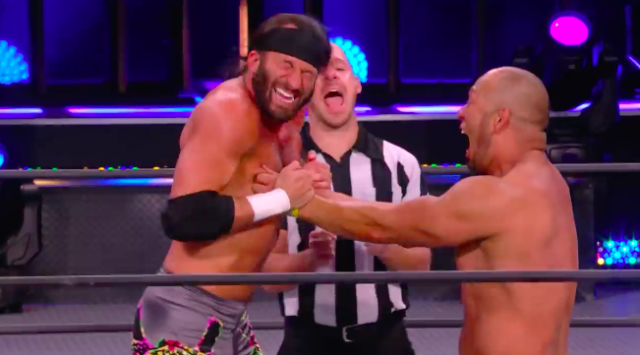 In later AEW bouts against trained wrestlers, Michael Nakazawa got to show off more of his offense, such as the Areola Pinch…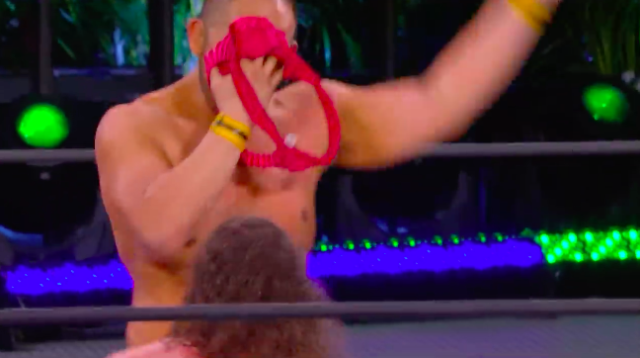 …and several variations on the Mandible Crotch…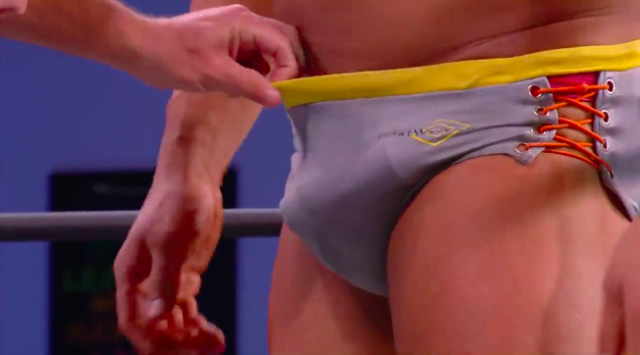 …while continuing to hide baby oil in every available crevice.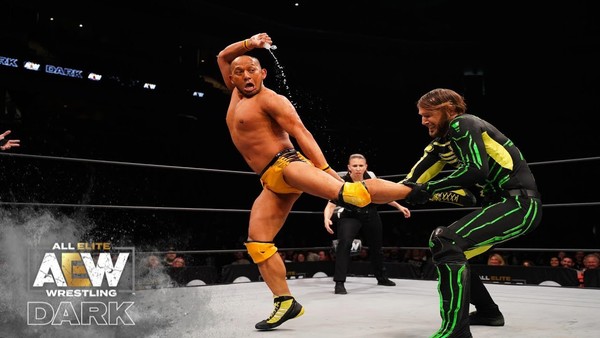 And AEW itself hid Michael Nakazawa from TV viewers in a crevice called, AEW Dark.