It's kinda embarrassing to admit this, but one of my favorite annual rituals every October is diving into pro wrestling's past and finding ridiculous Halloween matches. While long-time Crappers will yearn for the days of Abdullah the Butcher being "electrocuted" in a chair of torture or Barry Windham dressing up as a 6'6″ Sting (both available in the WrestleCrap archives, which you can access rightchere), I've grown fond of more recent encounters with the women of pro wrestling playing dress up in horrible battle royals. With the emphasis currently on women in the business being actual athletes instead of pinup models (well, save for you, Lacey Evans) it's possible these matches will be or are already extinct.
And that's too bad.
I love these train wrecks not only because it's easy fodder for a site priding itself on delivering the very worst of pro wrestling, but moreso due to the fact the women involved seem to be actually having fun. They know they're not being tasked to put on a ****** Dave Meltzer approved classic – they're out there to be a kid going trick or treating again, this time in front of a live audience.
Now before I delve into this particular match (which took place on Halloween night in 2014), I want to revisit my all time favorite pro wrestling Halloween costume moment, one that almost NO ONE remembers.
I mean, unless you read this site because I bring it up on here all the stinkin' time.
In late 2012, there was a show that I absolutely loved: Saturday Morning Slam. It was a WWE show for children…and thus it has limitations placed upon it that were alien to all other WWE programs. For instance, they never showed anyone punching, nor did they show any trauma of any sort to the head. Finishing moves were often replaced with random crowd shots, almost making what you were watching a sort of visual Mad Libs. It was patently absurd and delightfully surreal. And I miss it dearly.
The more creative folks in the company didn't view what was placed before them as limitations – they viewed them as challenges. So we would get stuff like Daniel Bryan rolling himself into a ball and Curtis Axel running the ropes back and forth through a commercial break as his opponent Sheamus sat outside the ring and watched him wear himself out. As fun as all that was, it paled in comparison to Kaitlyn teaching children how to dress up as a penguin.
I've probably reposted this more than anything else in the history of WrestleCrap, but it's Halloween and it's my site and I don't care!
Command-C!!! Command-V!!!
---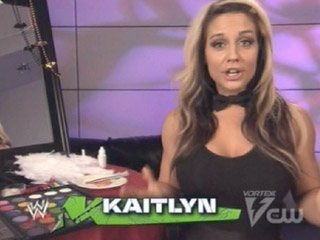 This would be from the fantastically fantastic pre-Halloween 2012 edition of the show, in which Kaitlyn decided to show all the kids how to make their OWN Halloween outfit. "The penguin," she notes, "is like nature's tuxedo."
LET'S COMMENCE WITH THE FUN!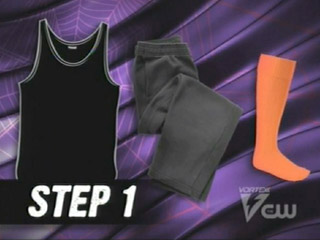 STEP 1: FIND A BLACK TANK TOP, SOME SWEAT PANTS, AND ORANGE SOCKS!

STEP 2: RUN AROUND THE HOUSE AND HOPE YOU CAN FIND ALL THIS CRAP!

STEP 3: RUIN CLOTHES THUSLY!

REALLY, SHE'S NOT KIDDING!

STEP 4: ADHERE THOSE FEATHERS!

IF YOU DON'T HAVE TAPE, RUBBER CEMENT WILL DO!

STEP 5: BREAK OUT THE SHARPIES AND DRAW A BEAK ON YOUR FACE!

STEP 6: BRUSH ORANGE PAINT ALL OVER YOUR FACE. DAD MAY HAVE SOME SPRAY PAINT IN THE GARAGE IF YOU'RE LUCKY, IT'LL MAKE THIS STEP A LOT FASTER!
AND…

TA-DA!!!!
---
Ok, where was I?
That's right – Halloween 2014! Smackdown! And yet another idiotic Diva Costume Battle Royal!
Let's see who's coming down the aisle…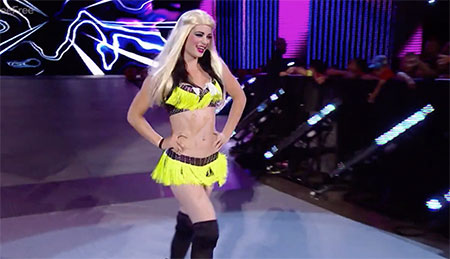 Why look, it's Paige! And she's dressed up as…I literally have no idea! A Go Go dancer perhaps?
Apparently, she is supposed to be Summer Rae. Let's see…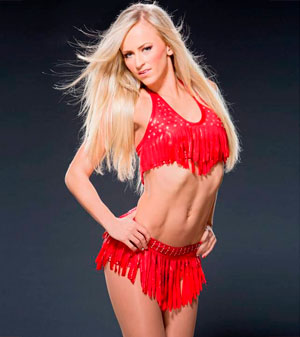 Ok, yeah, I guess so.
I wasn't going to rate this one very high due to my utter confusion, but since the commentators pointed out that she had spray tan smeared across her to try and make her look bronze, I'll go…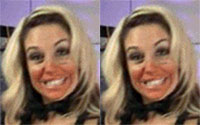 …two Kaitlyn Penguins.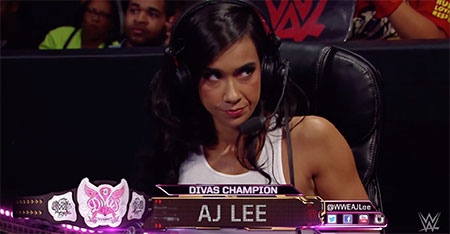 It would be a failure of epic proportions if I didn't note that particular bout features AJ Lee on commentary. And she is AWESOME on here, absolutely on fire mocking the whole thing. You see that look? Now just imagine that in audio form for the duration of the six minutes of these festivities.
It's crazy, just crazy, how badly I undersold this woman during her run in WWE. Looking back on everything she did (especially the run with her as Daniel Bryan's girlfriend where she drew massive heel heat telling the world they liked to spoon!), she may be my favorite female performer not named Trish Stratus. Just absolutely love her.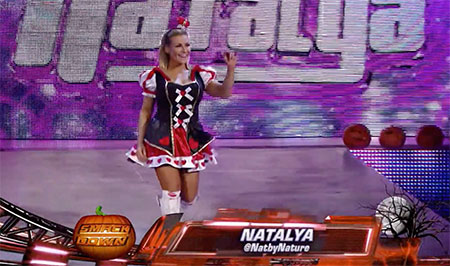 Nattie comes out and she is the Queen of Hearts. Eh, that's ok I guess. Fits her character kinda sorta somewhat. You know what would have been a million times better?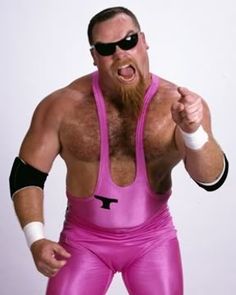 If she came out as her dad, The Anvil.
But she didn't. So I guess I'll go…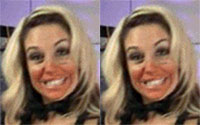 Yeah, the same. This battle royal ain't doing much for me so far.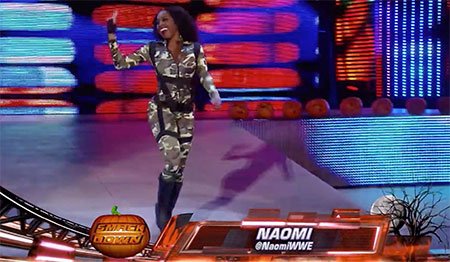 Naomi does little to turn the tide, come out as a paratrooper. We aren't told any reason why she is dressing up in this manner, but I am going out on a limb and saying she has family in the military. Or maybe she was in the military herself. I don't know, and I'm honestly too lazy to even Google it.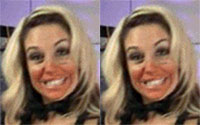 I'm also too lazy to make a new graphic, so Naomi also gets the double KP.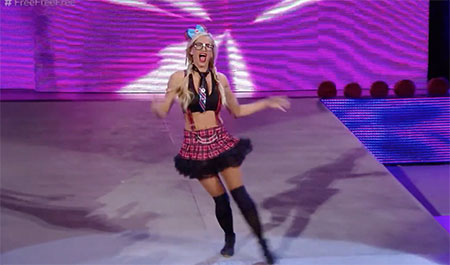 Here comes Summer Rae, who is not dressed as Paige. Did these women not remember the awesome switcharoo Trish and Mickie James pulled years back? Another wasted opportunity. Instead, she comes out as, and I am quoting here, "a school girl nerd."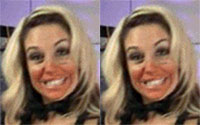 Like you even needed to ask.
No wait, AJ just noted that she looks more like a Sexy D-Von Dudley.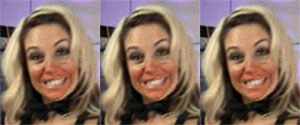 I revise my score.
Summer Rae really should keep AJ on her Christmas card list just for that.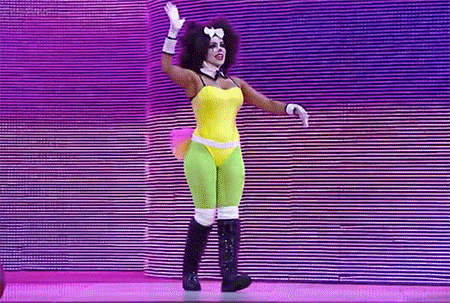 HOLY CRAP! It's The Deever! And she's gone completely crazy, dressing up as a MIME (AJ: "She looks like a Sexy Skittle!") and doing a whole freakin' Marcel Marceau routine.

As Billy Crystal said in This is Spinal Tap, "Mime is money!"
And so is The Deever!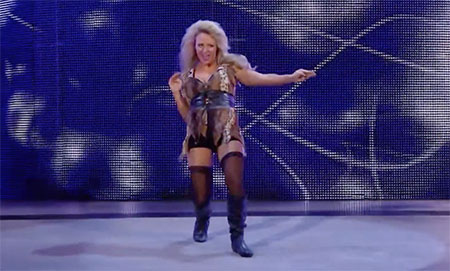 Emma is Tarzan.
Or Jane.
Whatever, it looks awful and gets my lowest rating thus far:

Yep, just a half a KP.
I was tempted to go DUD, but I wasn't sure how to transform lovely Kaitlyn into such a thing.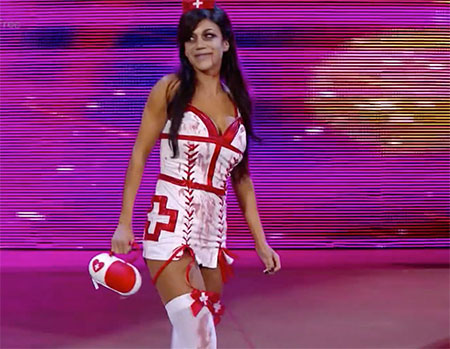 Zombie Nurse Rosie Medes hits the aisle next. Eh, it's different, but she doesn't look undead enough. If you're going zombie, you gotta go ZOMBIE, with full white face and neck bolts.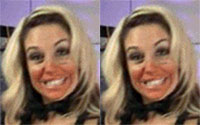 Wait, that was Frankenstein. My bad.
AJ: "Are you sure she isn't a sexy used bandaid?"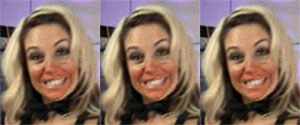 Girl, you keep wrecking my scale!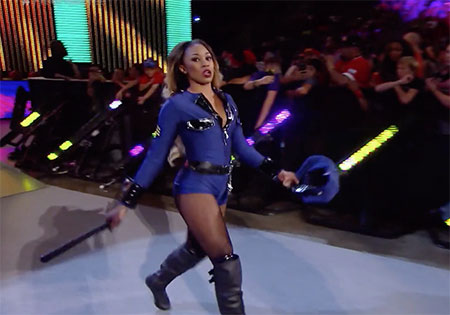 Cameron is out next as a police officer. Well, she looks nice enough I guess…and that's about all I can say. Even AJ has nothing to add, so we'll just go with…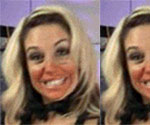 …one and a half Kaitlyns.
And just because I love it so much, let's go back to when she told Steve Austin about her all-time favorite wrestling match:
That never gets old.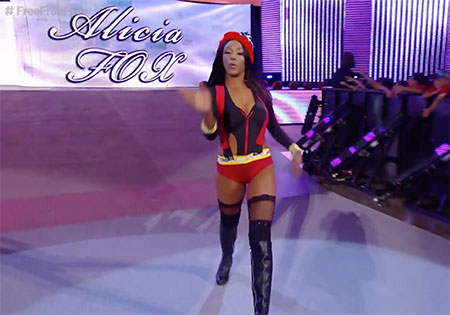 What a thrill it must have been for Cameron to be in the ring with her all time favorite performer!

But seriously, Alicia, is that the BEST you could do? That screams "I have to get a costume for tonight? I ain't spending more than $10 and three minutes in this Spirit Halloween joint!"
Egads, Nikki Bella is even WORSE. Apparently she's a cat, which had to have taken her a whole 30 seconds with a mirror.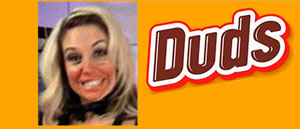 Sorry, that's the best I could come up with. I guarantee I spent more time coming up with that graphic than Nikki did on her outfit.
And if you're asking where her sister Brie is…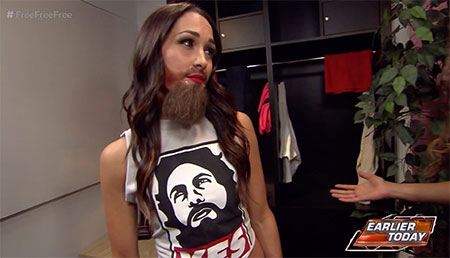 …well, she's not in the match, despite having an awesome Daniel Bryan costume.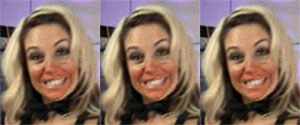 I'd complain about her not being out there, but it would bring up more of that awful Nikki-Brie feud.
Trust me, the less of that the better.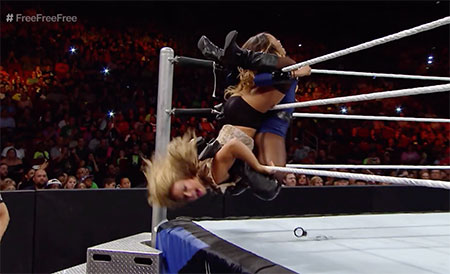 The match is what the match is. We get idiotic stuff like Emma putting a submission move on Cameron. You will note that puts her outside the ring. Which is where, last I checked, you get eliminated and lose.
Dumb, but I've seen stupider things. Like when Cameron didn't know she couldn't pin an opponent who was laying on her stomach instead of her back.
Good times!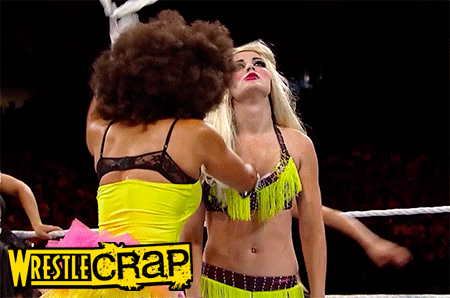 Back inside the ring, Layla reaches into Paige's top and starts pulling out tissues.
"Oh my," AJ notes. "I'm having flashbacks to high school right now."
Even as great as AJ is, she somehow pales in comparison to the best performer in the match, that being The Deever…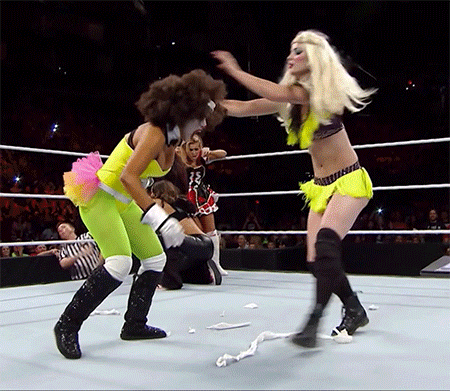 …who gives us the greatest elimination from a battle royal ever.
The jazz hands at the end just puts it over the top!!

Gotta go the full monte for Layla now.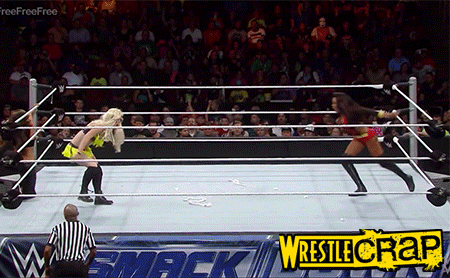 The match ends with Fox spearing Paige near the ropes. Alicia, being Alicia, sends not only her opponent out, but herself as well. Just one word for that: dumb. And thus, the woman with the worst costume in the match wins it.
I'd complain, but really…this match gave us this: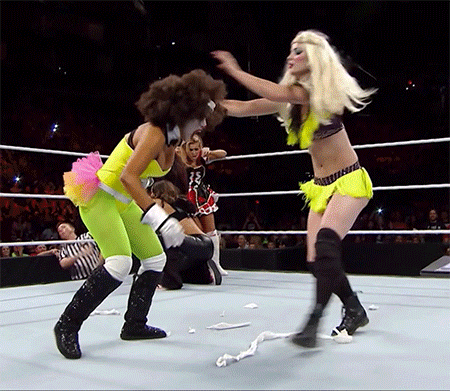 If that doesn't make your Halloween just a little bit happier, I don't know what could!