Ok, before you start emailing us and claiming that the idea of this column is nothing more than a lame, lazy attempt at an induction and should be more in the realm of a Someone Bought This?!, I want you to take a look at the action figure above and answer us this question:
Who on earth would ever buy a MIKE FREAKIN' KNOX action figure?
We rest our case.
So hey, let's take a look at what I stumbled upon this past weekend at the local Toys R Us, shall we? And what the hell, let's go ahead and call Blade up and get his take. It is, after all, 8:30 at night, so he may actually be awake for a change. Possibly, if we're lucky, even sober.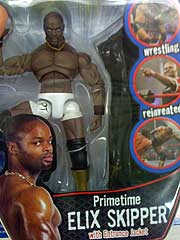 ELIX SKIPPER TNA FIGURE
RD: Ok, dude, I found this, believe it or not, in the CLEARANCE AISLE. I like the fact that this figure comes complete with, get this, ENTRANCE JACKET.
Blade: Had Elix only been banging Stephanie McMahon, the ENTRANCE JACKET would be the most lethal foreign object in wrestling today.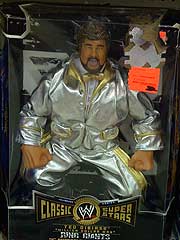 TED DiBIASE CLASSIC FIGURE
RD: The Million Dollar Man? In the CLEARANCE AISLE? That's blasphemy. I bet if he saw that, he'd start kicking kids out of a public pool again just out of spite.
Blade: Or he'd just have Virgil kick Geoffrey Giraffe's ass.
RD: And then Geoffrey could punch Virgil in the nutsack.
Blade: Repeatedly.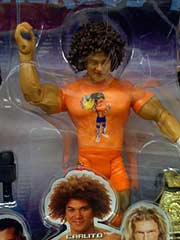 CARLITO ACTION FIGURE
RD: After watching Raw this week, in which Carlito cut his hair and now appears to be a 12-year old version of himself, this figure may wind up being a collector's item.
Blade: You know, if you put a Barbie dress on him, he could double as the Deever.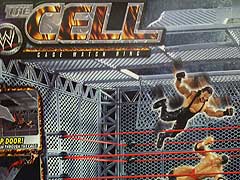 THE CELL CAGE PLAYSET
Blade: Speaking of things on cell…
RD: What?
Blade: You know, like cell. Sale. That kinda thing.
WrestleCrap Radio Crickets: Chirp. Chirp.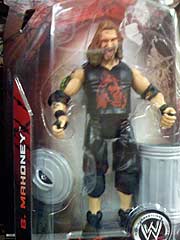 "B. MAHONEY" ACTION FIGURE
RD: Hey look, it's my favorite wrestling personality. I think. I would guess that the B. in B. Mahoney does, in fact, stand for BALLS. I could be wrong though.
Blade: It could stand for a lot of things. But judging by this week's ECW, maybe it stands for "Baby Tears."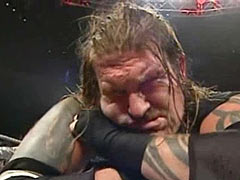 Thanks to Forum Member Cornfed the Professional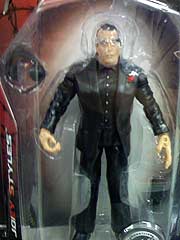 JOEY STYLES NON-ACTION FIGURE
Blade: I think you may have that caption wrong, Deal. With what appears to be SAFETY GOGGLES, I believe this is the special Joey Styles "HIGH SCHOOL WOODSHOP" limited edition figure.
RD: Table saw sold separately.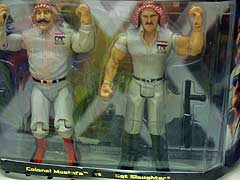 IRON SHEIK AND SGT. SLAUGHTER CLASSIC TAG TEAM FIGURES
RD: Man Sarge is skinny here. I think they must have re-used the Rocky King figure mold for his physique.
Blade: I bet the Sheik comes with "Suplex him, put him in the camel clutch, and f*** your ass" action.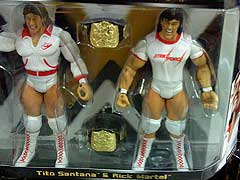 STRIKE FORCE CLASSIC TAG TEAM FIGURES
Blade: I know why Martel turned on Tito: Tito got to wear the panty-moistening satin ring jacket while the soon-to-be Model was stuck wearing that crappy t-shirt.
RD: Somehow I don't think that Rick Martel, proud Canadian, should be strutting around wearing a ring jacket emblazoned with a SOMBRERO.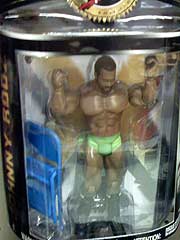 JOHNNY RODZ CLASSIC FIGURE
RD: Johnny Rodz? JOHNNY RODZ? I think they're starting to really stretch the definition of the word "Classic."
Blade: While I have great respect for the man, the myth, the unpredictability of one Johnny Rodz, this gives me hope that I will one day get that Mr. X figure I've been waiting two decades for.
RD: Personally, I'm holding out hope for a Rosatti sisters three-pack.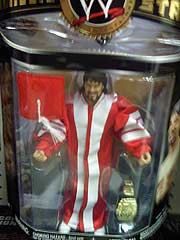 THE GENIUS CLASSIC FIGURE
RD: Now this…THIS…is a legend. I just wish it was a Leapin' Lanny with Killer Perm version instead.
Blade: I like it that he has a belt.
RD: Dreams can come true. Even at 1/24 scale.
Blade: Eh, even with a belt, I have no need for this one. I'm satisfied with my custom-made Lanny Poffo figure I have sitting on my shelf.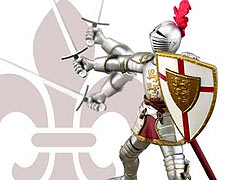 RD: I soooo want one of those.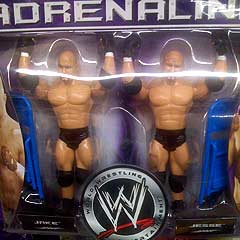 ??? TAG TEAM FIGURES
RD: I seriously have zero idea who these men are. It says "Jesse" and "Jake". Any idea?
Blade: They just look like two walking penises.
RD: Don't give Russo any ideas.
Blade: Too late.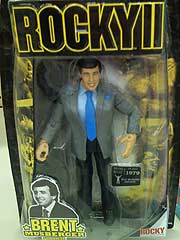 BRENT MUSBERGER ROCKY II FIGURE
RD: I think this just proves that it's not just WWE making action figures no one could possibly buy.
Blade: Yeah…where's my Rocky Robot figure?
RD: I just want Paulie's hat.
Blade: That's back when life was good. Apollo was alive…
RD: …and talking robots were walking around groping kids.
Blade: And then the fucking Russians had to come along and ruin it all.
RD: I don't know…I'm kinda glad they did. Paulie seemed to be wanting to bang the robot. That was pretty weird.
Blade: So…thank God for the Russians?
RD: Thank God for the Russians indeed.