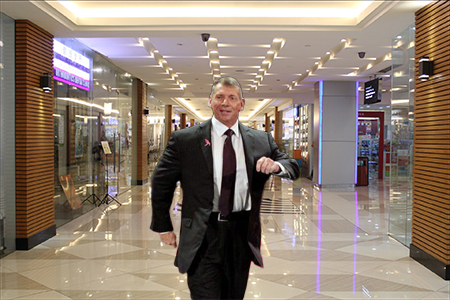 Stamford, CT – The now-former CEO of WWE Vince McMahon spent his first day of retirement walking around his local mall.
At almost 77 years old, McMahon joined other seniors this past Saturday power-walking around Stamford Town Center. "Got to stay active," McMahon told himself as he stepped out of his stretch limo. "Keep my mind sharp and my body sharper. It's also a great way to beat this blasted heat."
Walking through the automatic doors of the mall, McMahon paused and let out a low whistle.
"I can't believe they make shopping centers indoors now," he said, his voice a mixture of surprise and awe.
Sporting a jogging suit not worn since he hosted Prime Time Wrestling, McMahon swished his way through the mall. Arms swinging vigorously, he kept a brisk pace across multiple levels.
"On your left!" barked McMahon as his breezed past a group of older ladies.
Two hours into his workout, McMahon stopped for a quick treat at Funland Frozen Yogurt. Celebrating his retirement, he decided to spoil himself with a small cup of French Vanilla yogurt. The exotic flavor opened a whole new world to the septuagenarian.
Forgoing his hourly ICOPRO protein shake, McMahon decided to actually look at some of the stores.
The billionaire wandered around the As Seen On TV store, chatting up the bored assistant manager. He then rearranged all the wrestling books at Barnes & Noble so all the WWE titles were in front. Finally, McMahon tried on several hats at Lids.
Vince's big day out sadly came to an abrupt end when he was asked to leave the mall after making everyone uncomfortable in Forever 21. He has vowed to return in 30 days.