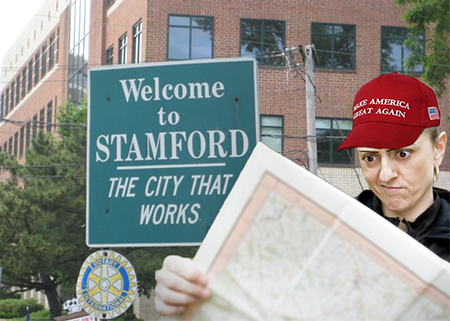 After several days of searching, a group of Donald Trump supporters were unable to find and storm the WWE Hall Of Fame.
The six car and one 1997 Pontiac Astro Wagon caravan began their journey in Florida, slowly making their way up the East coast towards Connecticut. The poorly planned trip worked on the assumption that the much-advertised hall of fame actually existed.
"How can you advertise something for years and just not follow through?" asked Brandon Cuckler, without a shred of irony.
"We're all just really big supporters of Hall of Famer Donald Trump and we want to show those WWE know-it-alls what's what," said 56-year-old Rodney Fnerp. "That is, if we can find the dang place."
Days of aimless driving and dwindling snacks put a damper on the once-rowdy group. An emergency meeting was called at the Stamford La Quinta Inn breakfast buffet.
Carvan leader Tabitha Snow tried to lift the group's spirits with a speech and rousing rendition of Run DMC's Wrestlemania Rap. When that failed, she tried reenacting Trump's famous awkward punches on her husband, Gary. The efforts were in vain as several members decided to give up their mission and go home.
"To be honest, I was really just tagging along so I can see the Bobo Brazil memorial," said Armand Dolmayan.
"This never would've happened if we went to the Impact Hall Of Fame," complained Beth Bucket.
Undeterred, Snow vowed to continue her search for the WWE Hall Of Fame.
"We'll find it one day. I'm sure of it," said Snow. "Just look at this entire blue part of the map. This must be that Parts Unknown they always used to talk about. Nice try, Vince. I see right through your fake news."